| Year | Population |
| --- | --- |
| 1970 | 1,983 |
| 1980 | 3,234 |
| 1990 | 4,263 |
| 2000 | 5,083 |
| 2010 | 6,031 |
Geographic Data
N. Latitude
43:06:04
W. Latitude
70:54:35
Maine House
District 20
Maine Senate
District 34
Congress
District 1
Area sq. mi.
(total) 55.8
Area sq. mi.
(land) 54.7
Population/sqmi
(land) 110.3
County: York

Total=land+water; Land=land only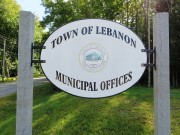 [LEHB-uh-nun] is a town in York County, settled in 1743 and was known as "Towow" or "Towwoh." It was incorporated on June 17, 1767 from Lebanon Plantation as Maine's twenty-third town. A meeting house was erected in 1753, two garrison houses were built in 1755, and a parsonage in 1759.
Lebanon annexed unincorporated land in 1785 and some from Sanford in 1787. Later it swapped land with Shapleigh, giving some in 1793 and annexing some in 1825.
The village of Center Lebanon (N43° 24′ 52.46″ W70° 55′ 3.98″) is the site of several early buildings in the town's history.  They include the 1765 First Parish Congregational Church and the old town hall. Directional signs on the town hall point to destinations on the Heath, Jim Grant, and Center roads.
The Gazetteer of the State of Maine in 1881 included this anecdote:
The chief natural curiosity of the town is "Gully Oven," situated in a deep ravine. It is on the road from West Lebanon Village to Acton, and one and one-half miles northerly of the former. Six miles south of the cavern, during the old French war, the Indians captured a boy of eleven years of age named Phillip Door; and they spent the succeeding night in the Oven. He was detained many years, but finally returned and became one of the first settlers of Lebanon. He said that he was captured by the Indians in the forenoon as he sat astride of a fence singing a popular song of the period, –
"As sure as eggs are bacon,
I'll go to Canada and wont return,
Till Canada is taken,"
— which came true, sure enough.
– – – – –
The Gazetteer also notes, "During the war of the Rebellion, Lebanon furnished what would be equal to 121 three-years men for the army. Besides these, many young men, residents of the town, at the first breaking out of the war enlisted in New Hampshire regiments, for which the town never received credit from the authorities." The Civil War Memorial is near Center Lebanon; World War II and Korea veterans are honored on the old town hall.
North Lebanon village has its own historic site: the Second Baptist Church, 1777 burial ground for early settlers, and a 19th century schoolhouse.
Lebanon is the birthplace in 1851 of U.S. Congress member, Maine legislator, and Maine Attorney General, Charles Edgar Littlefield.
This western-most town borders New Hampshire on the Salmon Falls River.  A rapidly growing rural commuter community, Lebanon tripled its population between 1970 and 2010, adding 20% between 2000 and 2010.
Form of Government: Town Meeting-Select Board.
Additional resources
Chamberlain, George Walter. The Beginnings of Lebanon, Maine. West Lebanon, Me. G.W. Chamberlain. 1936.
Chamberlain, George Walter. Soldiers of the American Revolution, of Lebanon, Maine. Weymouth, Mass. Weymouth and Braintree Publishing Co. 1897.
Jones, Samuel Wingate. A History of the Town of Lebanon, Maine: with a short biographical sketch of some of its first settlers. Lebanon, Me. Lebanon Historical Society, 1992.
Pray, Alicia. Where to Find Records of Lebanon, Maine: the new town lately granted by the General Court at the Head of Berwick, on the easterly side of Salmon Falls River. Lebanon, Me.? A. Pray. 1985.
Sinnett, Charles N. Historic Lebanon: Lebanon, Maine, and the grand work of its Congregational Church in one hundred and thirty-eight years. Haverhill, Mass. C.C. Morse & Son. 1903.
Varney, George J. A Gazetteer of the State of Maine. 1886. pp. 312-313.
National Register of Historic Places – Listings
Grist Mill Bridge, Little River Road across the Little River
Old Grist Mill, Little River Road East Lebanon
West Lebanon Historic District, irregular pattern along West Lebanon, Rochester, Milton, Shapleigh and Meeting House Roads.