The Brothers and Hay Ledge Preserve, St. George. These four islands off Port Clyde provide a 12 acre home to a number of nesting sea birds such as the black guillemot, common eider, double-crested cormorants and various gulls, which prefer the dense grasses and shrubs. As such, the preserve is closed during nesting season. Managed by The Nature Conservancy.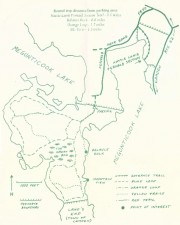 Fernald's Neck Preserve, Camden and Lincolnville. This preserve, managed by the Nature Conservancy and, at the southern end, by the Town of Camden, is open for "careful day use" and covers 315 acres of a peninsula jutting into Lake Megunticook. 

  Nearly 3 miles of shoreline are protected.
Densely covered with forest in many places, the area provides a refuge for many small and some large mammals. A wetland in the preserve's center supports many bog species such as sedges, blue flag iris, pitcher plant and rose begonia. Cliffs offer impressive views from the western edge.
According to a Conservancy publication,
Three centuries ago, settlers came to the southern portion of Fernald's Neck. The land was cleared and intensely farmed for the next 200 years. Nathaniel Fernald came to the neck in 1806, using the open pasture for grazing animals and cutting the forest for timber. Evidence of the land's history is still visible. Wire fencing, old farming equipment, stonewalls and log ramps offer mute testimony to the lives of the people who came before.
Lane's Island Preserve, Vinalhaven. Rolling moors run down to meet the sea on a 43 acre island joined to Vinalhaven by a stone causeway. Rough trails lead to beaches and bold shoreline, where the surf is spectacular on a stormy day. Managed by The Nature Conservancy. Southern tip of Vinalhaven.
Meadow Mountain. A 259 acre town forest in Warren.
Vinalhaven-North Haven Archipelago. Six islands (Big Garden, Big White, Sheep, Smith, Brimstone and Little Brimstone) orbit the larger islands of Vinalhaven and North Haven in Penobscot Bay. An impressive array of birds including a variety of raptors (Bald eagles, sharp-shined hawks, peregrine falcons, kestrels, merlines and osprey), common eiders, black guillemots, common and arctic terns, and cormorant can be seen at various times of the year. Most of the islands, with the exception of Brimstone, are without trails though are nice location for picnics and walks along the beach. Little Brimstone is closed to the public during nesting season. All managed by the Nature Conservancy.
St. Clair Preserve, Northport. The preserve protects nearly all of unspoiled Knight's Pond. The sanctuary, 304 acres of mixed forest, bogs, swamps and fields has been home to black bears, bobcats, fishers, foxes, and deer. Loons and raptors are also common. Ducktrap Mountain rises over 700′ from the ponds edge. Managed by The Nature Conservancy. Accessible by canoe and trails from the town landing on Knight's Pond Road.
Simonton Corner Quarry Preserve, Rockport. 11 acre abandoned, water filled, limestone quarry; dangerous cliffs. Managed by The Nature Conservancy. West Simonton Corner.