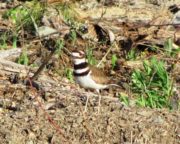 This "shorebird" was far from salt water in a rough open area in Stacyville, northern Penobscot County near Aroostook County.  That was in late May 2012, a bit earlier than when Killdeer are normally expected to be in Maine for the summer breeding season. The changing climate may have something to do with its early arrival.
According to the Cornell Lab of Ornithology,
"Look for Killdeer on open ground with low vegetation (or no vegetation at all), including lawns, golf courses, driveways, parking lots, and gravel-covered roofs, as well as pastures, fields, sandbars and mudflats. This species is one of the least water-associated of all shorebirds."
See more on birds.
Additional resources
"Killdeer." http://www.allaboutbirds.org/guide/killdeer/id