| Year | Population |
| --- | --- |
| 1970 | 1,326 |
| 1980 | 1,512 |
| 1990 | 1,525 |
| 2000 | 1,408 |
| 2010 | 1,370 |
Geographic Data
N. Latitude
44:33:17
W. Latitude
69:30:54
Maine House
District 138
Maine Senate
District 6
Congress
District 2
Area sq. mi.
(tot.) 100.7
Area sq. mi.
(land) 28.5
Population/sq.mi.
(land) 48.1
County: Washington

Total=land+water; Land=land only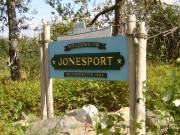 [JONES-port] is a town in Washington County, incorporated on February 3, 1832 from a portion of Jonesborough (Jonesboro). On April 7, 1925 it set off land to form the town of Beals.
The main village is located on Moosabec Reach and the Indian River.
A bridge across the Reach leads to the island community of Beals.  Route 187 loops from U.S. Route 1 to West Jonesport, then to Jonesport and back to Route 1 just west of Jonesboro.
Local residents work in blueberry, fishing and boat building industries, and in tourist services during the summer.
These photos of the Jonesport waterfront with a truck on commercial pier delivering bait or loading fish (right); and fuel on distant float and lobster traps on float in foreground are both typical of the support system for the local fishing industry.
Green crabs, an invasive species first observed in Casco Bay in 1900, reached Jonesport in 1951, threatening the soft shell clam industry.
Moose Peak Light on Mistake Island has the distinction of  serving the foggiest area on the east coast of the United States.  It averages 1580 hours of heavy fog each year. Eastport has 65 days and Portland,  55 days. The lighthouse is at the eastern point of Mistake Island, east of Great Wass Island in Eastern Bay. It is also known as Mistake Island Light; Head Harbor Light; Moose-a-bec Light.
The site includes a 57 foot  brick and masonry tower (1827), 18 feet in diameter, on four acres of ledge.  The remainder of the island is occupied by the Nature  Conservancy. The public may visit if they walk only on the boarded walkways. More photos here.
Western Brothers Island, managed jointly by The Nature Conservancy and the State Department of Inland Fisheries and Wildlife, is home to seabirds and rare plants.
Jonesport shares the Great Wass Archipelago nature preserve with the adjoining town of Beals.
A 1991 monument to the vessel Nellie Chapin Day stands at the town's entrance to the bridge. The ship, according to the inscription, left with 157 New Englanders sailing to Jaffa, Palestine in 1866, arriving "to help restore the land of Israel."
The view from Beals Island provides a spectacular picture of Jonesport's waterftont.
---
The town hosts a U.S. Coast Guard station, headquartered at the entrance to the Jonesport-Beals Bridge.  The station  was established in 1967. Facilities include a two-story brick building equipped with a third story observation tower, a two-slip boathouse, and a 120-ft pier. Tenant units include the Coast Guard Cutter Moray and Maine Marine Patrol. Coast Guard Station Jonesport's area of responsibility runs from Long Point (20 miles east of Jonesport) east to Petit Manan Island. It encompasses all navigable waters and offshore islands.
Form of Government: Town Meeting-Select Board.
Additional resources
American History Department of Jonesport-Beals High School. A Pictorial History of the Town of Jonesport, Maine. Calais, Me. Advertiser Publishing Company. 1970.
Chamberlain, George Walter. "A New England Crusade." The New England Magazine, Volume 36. March 1907–August 1907. pp. 201-201. http://books.google.com/books?id=YbEVAAAAYAAJ&pg=PA200&lpg=PA202&ots=KfuwfP8dK1&dq=%22nellie+chapin+day%22+ship#v=onepage&q=%22nellie%20chapin%20day%22%20ship&f=false (accessed November 26, 2012)
Jonesport: A Group of Historical Sketches Written in Honor of the Centennial. Machias, Me. Teague Publishing Co. 1932?
Limeburner, Grace M. Grindle. The Folks of Stuben [sic] Johnsboro [sic] Jonesport and Nearby Towns. North Brooksville, Me. G. Limeburner. 1951-1953?
---
Monks, John Peabody. Roque Island. 1955.
National Park Service. NATIONAL HISTORIC LIGHTHOUSE PRESERVATION ACT OF 2000
NOTICE OF AVAILABILITY JULY 9, 2010. https://www.nps.gov/maritime/nhlpa/noa/2010/MoosePeakNOAFactSheet.pdf (accessed January 28, 2017)
Tibbetts, Leonard F. Early Families of Jonesport, Maine. Brewer, Me. Cay-Bel Pub. 1985.
Station Jonesport Internet site at http://www.uscg.mil/d1/units/gruswh/grpunits/stajonesport.htm