His publications . . .
Addresses about South China,

1955

The American Friends in France, 1917-1919, 1943
The Boy Jesus and His Companions, 1922
A Boy's Religion from Memory, 1904
A Call to What is Vital, 1948
The Church's Debt to Heretics, 1925
The Double Search : God's Search For Man And Man's Search For God : Studies In Atonement And Prayer, 1937
A Dynamic Faith, 1906
Eli And Sybil Jones: Their Life And Work, 1889
The Eternal Gospel, 1938
The Evolution Of The Soul, 1943
The Faith And Practice Of The Quakers, 1927, 1938
Finding The Trail Of Life, 1926
The Flowering Of Mysticism : The Friends Of God In The Fourteenth Century , 1939
Fundamental Ends Of Life, 1924
George Fox : Seeker And Friend, 1930
A Great Experiment, 1942
Haverford College : A History And An Interpretation, 1933
The Inner Life, 1916
Jewish Mysticism, 1943
The Later Periods Of Quakerism, 1921
The Life Of Christ, 1926
Little Book Of Selections From The Children Of The Light, 1909
The Luminous Trail, 1947
Mysticism and Democracy in the English Commonwealth, 1932
New Eyes For Invisibles, 1943
The New Quest, 1928
New Studies in Mystical Religion , 1928
Pathways To The Reality Of God, 1931
Practical Christianity : Essays On The Practice Of Religion, 1905
A Preface To Christian Faith In A New Age, 1932
The Quaker Conception Of The Church, 1918
The Quakers In The American Colonies, 1923
The Radiant Life,1944
Re-Thinking Religious Liberalism, 1935
The Remnant, 1920
Rethinking Quaker Principles, 1940
Selections From The Writings Of Clement Of Alexandria, 1914
A Service Of Love In War Time : American Friends Relief Work In Europe, 1917-1919 , 1920
The Shepherd Who Missed The Manger, 1941
A Small-Town Boy, 1941
Social Law In The Spiritual World : Studies In Human And Divine Inter-Relationship , 1923
The Society Of Friends In Kennebec County, Maine, 1892
Some Exponents Of Mystical Religion, 1930
Some Problems Of Life, 1937
Spirit In Man, 1941
Spiritual Energies In Daily Life, 1936
Spiritual Reformers In The 16th & 17th Centuries, 1914
St. Paul, The Hero, 1917
Stories Of Hebrew Heroes, 1928
The Story Of George Fox, 1919
Studies In Mystical Religion, 1909
Studies In Mystical Religion, 1936
The Trail Of Life In College, 1929
The Trail Of Life In The Middle Years, 1934
The World Within, 1918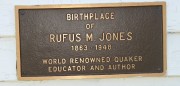 Rufus Matthew Jones (1863-1948) was born in South China on January 25, 1863 into a Quaker family that lived on a small farm worked by his parents with help from the children. The hard working family was also deeply religious, attending "Meeting" twice a week, giving thanks at every meal, and receiving visits from other Quakers on a regular basis.
Jones' formal education began at four and a half in the one-room village school. At thirteen he moved on to other schools in the area, including the Weeks Mill School, which involved a three-mile walk each way. At fifteen he attended Oak Grove Seminary in Vassalboro. In the latter two schools he was exposed to science, mathematics, and Latin, all of which prepared him well.
In 1879 Rufus Jones, with a scholarship from the Providence Friends School, traveled to the city to begin a radically different life in a co-educational boarding school. He entered Haverford College as a sophomore in 1882, one of seventy-one students at that small institution, most of them Quakers.
His first paying job, in 1885, was teaching at Oakwood Seminary in Duchess County, New York. By 1893 be began his long tenure at Haverford College, teaching philosophy and psychology until 1934. Jones edited Quaker publications and traveled widely in the United States and abroad, lecturing at many colleges and universities.
His biographer Hinshaw observed,
Quaker though he was to the core, his teachings and his life's work extended far beyond Quakerism and he became a zealous advocate of a way of life that replaces hate with kindness, suspicion with trust and fairness. He measured his service to his Creator with the yardstick of his service to his fellow man.
Additional Resources
Brinton, Howard H. Children of Light, in Honor of Rufus M. Jones. New York. The Macmillan Company. 1938.
Hinshaw, David. Rufus Jones: Master Quaker. New York. G. P. Putnam's Sons. 1951.
Moore, J. Floyd. Rufus Jones: Luminous Friend. Greensboro, N.C. Guilford College. 1958. [University of Maine, Raymond H. Fogler Library, Special Collections]
Vining, Elizabeth Gray. Friend Of Life: The Biography of Rufus M. Jones. Philadelphia: J.B. Lippincott Company. 1958.
Whitten, James M. The Political and Social Views of Rufus M. Jones. 1955. (Thesis (M.A.) in History–University of Maine, 1955.) [University of Maine, Raymond H. Fogler Library, Special Collections]