| Year | Population |
| --- | --- |
| 1970 | 347 |
| 1980 | 563 |
| 1990 | 685 |
| 2000 | 790 |
| 2010 | 929 |
Geographic Data
N. Latitude
44:45:40
W. Latitude
70:03:21
Maine House
District 114
Maine Senate
District 17
Congress
District 2
Area sq. mi.
(total) 31.2
Area sq. mi.
(land) 30.0
Population/sq.mi.
(land) 31.0
County: Franklin

Total=land+water; Land=land only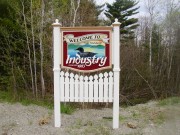 [IN-dus-tree] is a town in Franklin County, incorporated on June 20, 1803 from Industry Plantation.
From 1813 to 1844 it annexed land from New Sharon, New Vineyard, Starks and Anson.
In 1850 and 1852 it ceded land to Farmington and New Sharon respectively.
Settled in 1783, Industry's main villages are Allens Mills, at the southern end of Clearwater Pond, and West Mills.
So what were the "industries" at these "mills" villages?  According to the Gazetteer of Maine in 1886,
There are good water-powers at the outlet of Clear Water Pond, which are improved [that is, they have dams]. This point is known as Allen's Mills . . . . The manufactures at Allen's Mills, are lumber, chairs, salt-boxes, wheel-hubs and shovel handles. At West's Mills are rakes, wheels, spade-handles, lumber, harnesses, boots and shoes, meal and flour. At the center is located the Enterprise Cheese Factory, and a boot and shoe-shop.
In 1880 the town's population of 609 supported ten schoolhouses.
Industry, a growing community, is served by Maine Routes 43 and 148 and lies just northeast of Farmington.  After reaching a historic low of 262 residents in 1960, the population has rebounded to almost rival its 19th century boom levels.
The barn and schoolhouse above reflect Industry's historic roots.
The  Goodridge Corner school, the "little red schoolhouse," is the home of the town's historical society.
Form of Government: Town Meeting-Select Board.
Additional resources
Allen, William. History of Industry, Maine: From the First Settlement in 1791. Skowhegan, Me. Smith & Emery, printers. 1869.
Hatch, William Collins. A History of Industry, Maine. Somersworth, N.H. New England History Press. 1984. [reprint of 1893 edition]
*United States. Department of the Interior.  National Park Service. "Thompson's Bridge." https://npgallery.nps.gov/pdfhost/docs/nrhp/text/91000321.PDF (accessed March 28,  2017)
Varney, George J. A Gazetteer of the State of Maine. 1886. pp. 286-287.
National Register of Historic Places – Listings
Thompson's Bridge
[over Thompson's Creek off the north side of Maine Route 43 at Franklin–Somerset County line, Allen's Mills]
Thompson's Bridge is a short, narrow dry laid masonry structure located on a long abandoned town road at the east edge of Industry. Possibly built as early as 1808, the bridge represents a method of traditional construction once common in Maine. It is one of less than a dozen relatively unaltered historic resources in the town.
Such structures, whether wood or stone have been called "pioneer bridges." These simple structures were built over small streams in a way that survived the stream's flood stage, the projected maximum loads, and the intended longevity. The resulting design used locally available materials and expertise. In 1924, there were hundreds of structures similar to this bridge in Maine. Since then an equally large number have been replaced with steel or concrete bridges. In some cases the original stone abutments of the early bridges have been retained or in places reinforced, but the decks have been completely rebuilt using steel or concrete. One notable exception to this process is the Grist Mill Bridge in Lebanon in which a wooden deck is still in use over the two span dry laid stone masonry structure. [Compare the similar bridge over Grant Brook in Brighton.
Town records indicate that the related road was laid out in 1808. This road passed the residence of Captain John Thompson, who apparently had a saw and grist mill in 1805.* [Kirk F. Mohney photo]