| Year | Population |
| --- | --- |
| 1970 | 293 |
| 1980 | 423 |
| 1990 | 617 |
| 2000 | 676 |
| 2010 | 718 |
Geographic Data
N. Latitude
45:15:32
W. Latitude
67:36:29
Maine House
District 140
Maine Senate
District 6
Congress
District 2
Area sq. mi.
(total) 43.4
Area sq. mi.
(land) 37.5
Population/sq.mi.
(land) 19.2
County: Washington

Total=land+water; Land=land only
Indian Township Reservation (also known as Motahkomikuk) in Washington County, is one of two homes of the Passamaquoddy tribe, the other being Pleasant Point.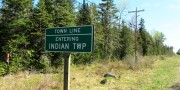 The Office of Land Agent, created in 1824, was to manage the sale and settlement of the public land, including Indian lands.
A 1929 law gave administration of the Indian tribes to the Department of Forestry. Forestry records at the Maine State Archives include information about lumbering in Indian Township and sale of lots in Indian Township (1890-1918). Lands have been returned to the tribe as a result of the Maine Indian Lands Claims Settlement of 1980.
Peter Dana Point, in the southwest corner, is the village center for the Passamaquoddy people in the township. U.S. Route 1 hosts another cluster of facilities and population.
Separate from the U.S. Census count for each reservation, there are "tribal members" regardless of residence.  1,369 people are tribal members on the township's census.
The tribe's governing body is the policy maker for the Passamaquoddy People of Indian Township with each member elected for a four year term.
The Governor is the administrator for all financial determinations, and the Lieutenant Governor is the assistant to the Governor. A six member Council makes policy for the tribe.
A Tribal Representative to the Maine House of Representatives is elected every four years, candidates alternating between Indian Township and Pleasant Point Reservations, though both reservations vote in the election. Tribal Representatives may introduce legislation and speak in debates in the House, but may not participate in the voting on legislation.
U.S. Route 1 runs northwest-southeast through the township. The municipal offices, public safety building, housing authority and Boys & Girls Club Fitness Center are located in the southeast corner near the town line with Princeton and near the shore of Lewy Lake.
Additional resources
Maine. Forestry Department. Forestry Department Indian records, 1929-1933. [Maine State Archives]
Maine. Department of Indian Affairs. Passamaquoddy Tribal Census: Pleasant Point, Perry: 1970-72, 1976-1979; Peter Dana Point, Princeton: 1970; Indian Township: 1975. Augusta, Me. Maine Department of Indian Affairs. 1970-1979. [University of Maine, Raymond H. Fogler Library, Special Collections]
Passamaquoddy Tribe. Peskotomuhkati Motahkomikuk. Indian Township, Maine. http://www.passamaquoddy.com/ (accessed December 28, 2011)
Pleasant Point – Sipayik. http://www.wabanaki.com/ (accessed December 28, 2011)