| Year | Population |
| --- | --- |
| 1970 | 482 |
| 1980 | 797 |
| 1990 | 1,048 |
| 2000 | 1,393 |
| 2010 | 1,536 |
Geographic Data
N. Latitude
44:59:58
W. Latitude
68:53:05
Maine House
District 121
Maine Senate
District 10
Congress
District 2
Area sq. mi.
(total) 40.2
Area sq. mi.
(land) 37.8
Population/sq.mi.
(land) 40.6
County: Penobscot

Total=land+water; Land=land only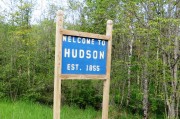 [HUD-sn] is a town in Penobscot County, incorporated under the name of Kirkland on February 25, 1825 from the township T1 R4 NWP. In honor of a Massachusetts town, its name was changed to Hudson on March 17, 1855.
Settled in 1800, it was first organized as Jackson Plantation in 1824, then incorporated as Kirkland the next year. During the 1880's Hudson supported seven public schoolhouses with a population of 659 in 1880.
Little Pushaw Pond is located in the northwest portion of the town.  Pushaw Stream flow from it to Pushaw Lake in the southeast.  Hudson has frontage on the north portion of the lake, which is shared by Glenburn and Old Town to the south.
The principal road is the old stage line, now Maine Route 221, from Bangor through Glenburn and Hudson to Bradford otherwise known as the Hudson Road. Rogers Market is at the intersection of Routes 43 and 221.
Hudson is a growing community in a rural setting with easy access to Bangor and to the University of Maine in Orono.
Form of Government: Town Meeting-Select Board-Administrative Assistant.

Additional resources
Chadbourne, Ava Harriet. Maine Place Names and The Peopling of its Towns.
History Committee of Hudson. The History of Hudson, Maine, 1825-1976. Hudson, Me. The Committee. 1976.
Varney, George J. A Gazetteer of the State of Maine. 1881. p. 285-286.
National Register of Historic Places – Listings
Young Site, Hudson