| Year | Population |
| --- | --- |
| 1970 | 1,468 |
| 1980 | 1,602 |
| 1990 | 1,435 |
| 2000 | 1,362 |
| 2010 | 1,241 |
Geographic Data
N. Latitude
45:15:42
W. Latitude
68:42:17
Maine House
District 142
Maine Senate
District 5
Congress
District 2
Area sq. mi.
(total) 35.3
Area sq. mi.
(land) 34.7
Population/sq.mi.
(land) 35.8
County: Penobscot

Total=land+water; Land=land only
From 1980 through 2010 Howland has seen a decline in population as employment options dwindled.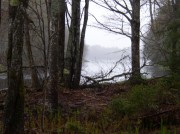 [HOW-lnd] is a town in Penobscot County, incorporated on February 10, 1826 from township T1 R7 NWP. It later set off land to form the town (now township) of Mattamiscontis in 1839. Alewives, once a plentiful fish in the area, no longer available after a dam at Eddington Bend barred their migratory progress upstream after 1834.
The name is taken from John Howland (1592-1673) one of the signers of the Mayflower Compact and the first land agent at Cushnoc (Augusta). Early white settlers move in about 1818 with more arriving after statehood in 1820.
In 1886, an observer noted that Little Seboeis Lake was located in the northern portion of the town. A review of a current map shows no lake but a few very small ponds within a marsh. Such changes in the landscape are not unusual. The area is now managed by the Maine Department of Inland Fisheries and Wildlife as the "Old Pond Farm Wildlife Management Area."  Eagles, osprey, deer, moose, and water birds may be seen there.
Situated at the Junction of the Piscataquis River with the Penobscot, and Seboeis Stream with the Piscataquis, the town once had a thriving paper mill, The Advance Bag and Paper Company (see Carl E. Ring reference below.) The old mill remains empty.
Today, the major thoroughfares are Interstate 95 and Maine Routes 6, 155, and 116 which hugs the west side of the Penobscot River.
Form of Government: Town Meeting-Select Board-Manager.
Additional sources
Chadbourne, Ava Harriet. Maine Place Names and The Peopling of its Towns.
"Pond Farm WMA." Department of Inland Fisheries and Wildlife. State of Maine. http://www.maine.gov/ifw/wildlife/management/wma/region_f/pondfarm.htm
Ring, Carl Edwin. A Study of Steam, its Generation, Distribution, and Use in a Pulp and Paper Mill. (Thesis (B.S.) in Mechanical Engineering–University of Maine, 1925) [University of Maine, Raymond H. Fogler Library, Special Collections]