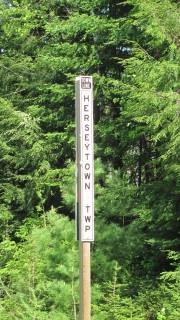 Herseytown Township should not be confused with the town of Hersey about 25 miles north on Route 11.
Davidson, the only village in the township, was in the north at Davidson Pond on the Davidson Road off Route 11. A 1942 USGS Topographic map shows Davidson with several buildings (small squares).
Other than Route 11 and I-95, there are no improved roads, with the exception of about one-half mile of the Casey Road near Rush Pond.
South of the township on I-95 in T1 R6 WELS is a scenic turnout on the northbound side with spectacular views of Mount Katahdin and Salmon Stream Lake.
As one might expect, the township is sparsely populated, rural, and dependent on agriculture and forest products for employment.
A short canoe trip from Herseytown Township to adjoining Soldiertown Township on Mud Brook is an easy paddle to its confluence with the Penobscot River East Branch. The launch site pictured below on Route 11 is completely unofficial, but accessible during the high water of April 2014. Note the disappearance of the "launch site" in the dry period of August the same year.
Additional Resources
UNH Library Digital Collections. "Historic USGS Maps of New England & NY." "Sherman ME, Quadrangle." "Southwest Corner." Surveyed 1940. Docs.unh.edu/nhtopos/Sherman.htm (accessed November 24, 2017)
The following have not been authenticated, but may be of interest:
Vicki. "Davidson – A Ghost Town in Maine."  www.Victrocious.com/davidson-a-ghost-town-in-maine/ (accessed November 24, 2017)
Hendrickson, Eric and Elaine. "Ghost Town of Davidson, Maine." https://www.facebook.com/CrownOfMaine (accessed November 24, 2017)