| Year | Population |
| --- | --- |
| 1970 | 81 |
| 1980 | 67 |
| 1990 | 69 |
| 2000 | 63 |
| 2010 | 83 |
Geographic Data
N. Latitude
46:05:00
W. Latitude
68:24:00
Maine House
District 145
Maine Senate
District 2
Congress
District 2
Area sq. mi.
(total) 40.0
Area sq. mi.
(land) 39.8
Population/sq.mi.
(land) 2.1
County: Aroostook

Total=land+water; Land=land only
[HER-see] is a town in Aroostook County, first settled in 1839 and incorporated on January 25, 1873 from Dayton Plantation, once the township of T5 R5 WELS.
Hersey Village is in the extreme west of the township on Route 11.  Townline Road is its northern boundary, separating it from Moro Plantation, eastward from Halls Corner on Route 11. Few houses appeared to be on the road in 2014.
The interior of the township is accessible on the Retreat Road, which extends from Route 159 in Crystal in the south to Route 11 in Hersey's northwest corner.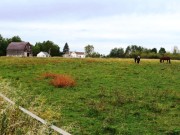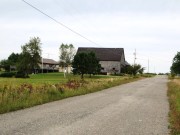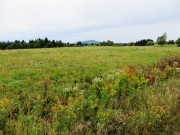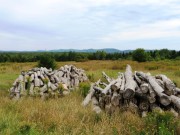 The road is improved for a short distance in Crystal with several farms and open views, such as those above.  After the second farm (N46° 2′ 40.38″ W68° 21′ 17.71″), the road turns to gravel and the surrounding landscape closes in with woods and abandoned farms.
All terrain vehicles and snowmobiles use the road and carefully share with logging trucks.  The culvert at Seams Brook (N46° 4′ 52.19″ W68° 23′ 6.40″) is placed high enough not to drain the wetland while protecting the traveled way from exceptionally high water levels.
The 137-acre Crystal Lake is the only one in the town. Crystal Brook enters and exits the lake. A sawmill operated on the outlet brook in the nineteenth century. Fishing is primarily for pickerel and the occasional brook trout accessed over a one mile "jeep trail."
General Samuel Hersey was a proprietor of the township in 1873 and later ran unsuccessfully for governor on the Prohibition ticket in 1894.
Maine Route 11, once known as the Aroostook Road now the Aroostook Scenic Highway, cuts through the northwest corner of the town about 5 miles north of Patten village.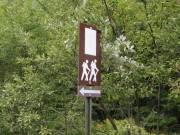 The International Appalachian Trail follows the Townline Road. This sign is on the road approaching Route 11, which requires a left turn to hike through Hersey before moving on to Mount Chase.
Form of Government: Town Meeting-Select Board.
Additional resources
Chadbourne, Ava Harriet. Maine Place Names and The Peopling of its Towns.
Maine. Department of Inland Fisheries and Wildlife. "Crystal Lake." http://www.maine.gov/ifw/fishing/lakesurvey_maps/aroostook/crystal_lake.pdf (accessed March 15, 2014)