| Year | Population |
| --- | --- |
| 1970 | 2,376 |
| 1980 | 3,170 |
| 1990 | 3,755 |
| 2000 | 4,437 |
| 2010 | 5,416 |
Geographic Data
N. Latitude
44:49:09
W. Latitude
68:54:57
Maine House
District 103
Maine Senate
District 9
Congress
District 2
Area sq. mi.
(total) 36.8
Area sq. mi.
(land) 35.9
Population/sqmi
(land) 150.9
County: Penobscot

Total=land+water; Land=land only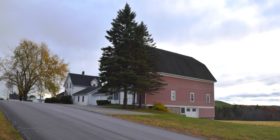 [HER-mun] is a town in Penobscot County, incorporated on June 13, 1814 from township T2 R2 NWP. Named for the biblical Mount Hermon, it was first settled in 1784.
Here, from the Gazeteer of Maine,  is a profile of the town's economy and social conditions in 1886:
The manufactories are a barrel-factory, producing 4,000 barrels a year, a paper-box factory, and a cheese-factory producing three tons of cheese daily.  The principal centre of business is Hermon Village, in the centre of the town. The Maine Central Railroad passes through the southern part, east and west, having a station at Hermon Pond, in the western part, and another on Wheeler Stream, toward the eastern side. . . . The town is notable for good roads, and the good condition of public and private buildings.
. . .  There is a public library of one hundred volumes. The public entertainments are mostly of home production, consisting of sociables, sewing circles and dramatic entertainments.
At the time, Hermon supported thirteen public schoolhouses with an 1880 population of 1,394.
The town's 2010 Comprehensive Plan offers this overview:
Historically, Hermon's commercial/industrial base has been diverse. As mentioned above, a great deal of commerce up to the 1960's was agrarian and revolved around the traditional family farm. Land claimed from forests of pine and spruce was put into cultivation.
Not only did families raise enough vegetables and livestock to subsist on, but also to supply the lumber camps and Bangor's growing population. With the coming of the railroad and steamship, agricultural products were easily and inexpensively exported.
Since lumbering was a significant economic activity, with huge quantities of pine and spruce being shipped annually, it led to related endeavors such as sawmills blacksmiths, harness makers, carriage shops, general stores, traders, inns, and taverns.
Railroads began operating in the area in the mid 1800's, with the Bangor and Aroostook coming to Hermon with its main operation in 1905. While the railroad has employed many residents of Hermon directly, it has also indirectly benefited the economy in general by facilitating an ease and economy in shipping. So too did it stimulate the ice businesses in town, which were thriving enterprises before electricity.
Hermon hosts the Northern Maine Junction rail yard in its southeast corner along U.S. Route 2. The property "has been used for maintenance of locomotives and railcars, refueling of locomotives, and railcar classification since 1905. The property consists of four classification yards, a locomotive maintenance building, a railcar maintenance building, and a locomotive refueling platform. . . . Processes involved in locomotive and railcar maintenance include steam cleaning, lubricating, and assembly/disassembly of mechanical parts."1
Now a growing suburb of Bangor, it lies just west of the city on combined U.S. Route 2 and Maine Route 100. A major truck stop and restaurant facility is on the combined routes near I-95.
Bangor provides the primary employment base as well as a retail sales base.  However, many retail and service businesses are now located in Hermon and provide residents with convenient local choices for groceries, hardware, equipment and services.
Form of Government: Town Meeting-Council-Manager.
Additional resources
1"Waste Site Cleanup & Reuse in New England." BANGOR-AROOSTOCK RAILROAD COMPANY, HERMON, Maine. http://yosemite.epa.gov/r1/npl_pad.nsf/701b6886f189ceae85256bd20014e93d/3754efca1ab4674d85256b4200604805!OpenDocument [internet site last updated February 3, 2003] (accessed December 17, 2011)
Bicentennial U.S.A. 1776-1976: History of Hermon, Maine. (History chairman, Irma A. Patten) 1976.
Chadbourne, Ava Harriet. Maine Place Names and The Peopling of its Towns.
Gaudreau, Mary Ann E. Hermon, Maine, Then and Now. Hermon, Me. Snowman Printing. c2005.
Hermon, Town of. Town of Hermon, Maine Comprehensive Plan. June 2010. http://digitalcommons.library.umaine.edu/cgi/viewcontent.cgi?article=1618&context=towndocs (accessed March 15, 2014)
Homsted, Abe (George Abe). As I Remember — : Recollections of Hermon, Maine. Abe Homsted as told to Rosanne Gray. Bangor, Me. Northeast Reprographics. 1994.
*Maine. Historic Preservation Commission. Augusta, Me.   Text and photos from National Register of Historic Places: http://pdfhost.focus.nps.gov/docs/nrhp/text/97001131.PDF and http://pdfhost.focus.nps.gov/docs/nrhp/photos/97001131.PDF
Mitchell, H. E. The Carmel and Hermon Town Register. Kent's Hill, Me. H.E. Mitchell Publishing Company. 1904.
Sesquicentennial Souvenir and History of Hermon Penobscot County, Maine 1814-1964. Maine. 1964?
Varney, George J. A Gazetteer of the State of Maine. 1886. p. 278-279.
National Register of Historic Places – Listings
District #5 School House
[Billings Road, 0.15 Northeast of junction of US Route 2 and Billings Road] As early as 1852, Hermon had divided the town into thirteen school districts. This school building served District #5, which included Hermon village. In 1851 Elihu Hewes sold the lot on which the existing building stands to the town for $25. The school was probably built in 1852. In any event, a school was standing at the site by 1875. The architectural characteristics, including the roof pitch and the decorative detailing over the doors and windows as well as the gable peak suggest that this is a replacement school that dates to the late 1870s or early 1880s.
The school house in District #5 was used until 1953. It remained vacant until the early 1980s when it was adapted for use as by the local rescue squad, resulting in the alteration of the front. However, in 1988 restoration of the school was begun by the Hermon Historical Society. The Society documented the original appearance with a 1914 photograph and the recollections of members of the community who had attended the school.* [Kirk F. Mohney photos]