| Year | Population |
| --- | --- |
| 1970 | 532 |
| 1980 | 665 |
| 1990 | 878 |
| 2000 | 1,053 |
| 2010 | 1,416 |
Geographic Data
N. Latitude
44:12:31
W. Latitude
70:23:14
Maine House
District 73
Maine Senate
District 18
Congress
District 2
Area sq. mi.
(total) 22.6
Area sq. mi.
(land) 22.4
Population/sq.mi.
(land) 63.2
County: Oxford

Total=land+water; Land=land only
[HEE-brun] is a town in Oxford County, incorporated on March 6, 1792 from Shepardsfield Plantation, also known locally as Bog Brook Plantation. It then adjusted its boundaries in 1804, 1818, and 1829.
The area was granted to Alexander Shephard, Jr. of Newton, Massachusetts in 1777.
Settled in 1774, its inhabitants suggested Columbia as a name for the town. Nevertheless, the Massachusetts General Court preferred Hebron, "City of Hope," instead.
Governor from 1822 to 1827, Albion K. Parris was born here in 1788.
The tallest American chestnut tree in the eastern United States was identified here in 2012.
Hebron Academy is a respected private school established in 1804 by Revolutionary War veteran William Barrows. Journalist John Brown Russwurm attended Hebron Academy in the early 1820's before entering Bowdoin College.  He was the second or third [sources vary] black man to graduate college in the United States. U.S. Representative Stanley Tupper graduated from the Academy.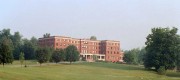 The growing community has more than doubled its population since 1980. It lies within easy commuting distance northwest of the Lewiston-Auburn area on Maine Route 119 and 124.
Form of Government: Town Meeting-Select Board.
Additional resources
Barrows Family. Papers, 1808-1940. (Cataloger Note: William Barrows, a Revolutionary War soldier from Carver, Mass., founded the Hebron Academy in Hebron, Maine in 1803. His son, John Stuart Barrows, a native of Hebron, came to Fryeburg, Maine in 1810 and established a law partnership there with Col. Samuel A. Bradley. His son, George Bradley Barrows, born in Fryeburg in 1822, graduated from Fryeburg Academy and Dartmouth College in the class of 1842. He was elected to the Maine House of Representatives in 1859 and 1862 and the Maine Senate in 1863-1864, serving as president in 1864.) [University of Maine, Raymond H. Fogler Library, Special Collections]
Dixon, Leslie H. "American Chestnut in Maine may be the tallest in the country." Sun Journal. November 22, 2012. Published by the Bangor Daily News at http://bangordailynews.com/2012/11/22/news/lewiston-auburn/american-chestnut-in-maine-may-be-the-tallest-in-the-country/  (accessed November 30, 2013)
King, Marquis Fayette, 1835-1904. Annals of Oxford, Maine. Somersworth, N.H. New England History Press in collaboration with the Oxford Historical Society. 1987.
*Maine. Historic Preservation Commission. Augusta, Me.   Text from National Register of Historic Places: http://pdfhost.focus.nps.gov/docs/nrhp/text/77000079.PDF
Profiles of Hebron's History: From the Files of the Hebron Historical Society, 1970-2000. Book 5, Appendix/index. Monmouth, Me. The Monmouth Press. c2003.
Varney, George J. A Gazetteer of the State of Maine. 1886. p. 277-278.
National Register of Historic Places – Listings
Sturtevant Hall
[Maine Route 119]
1891 Sturtevant Hall, named for the major contributor, was designed by Maine's most distinguished architect, John Calvin Stevens. The creative imagination displayed in the design and the impressive site were both typical of his work.
The Stevens design included an assembly room, a library and reading room, a science laboratory, seven large classrooms, and studios for music and art. For its time, Sturtevant Hall was a model of its kind. Preeminent among Maine preparatory schools, Hebron Academy was incorporated in 1804 by an act of the General Court of Massachusetts. As a small,local coeducational, academy the,school struggled to keep alive for its first sixty years. Beginning in 1871, the school was reorganized along traditional lines, with established classes. The first commencement was celebrated in 1878.
Dr. William E. Sargent became principal as a young man in 1885 and remained at the Academy until his death in 1922. During his tenure the physical plant was greatly expanded, the curriculum strengthened and a regular athletic program introduced. In the early 1920's, Hebron became a boys preparatory school with an established reputation which drew students from many parts of the United States and several foreign countries. Hebron has returned to its coeducational status.
The old 1846 Academy building was seen to inadequate in the 1880s. Eventually, under the leadership of Rev. Charles M. Berry, over $50,000 was raised by 1889.
In addition to Sturtevant Hall, Stevens also designed the Principal's House (1889), Sturtevant Home (1900), and Atwood Hall (1910). He also assisted in planning the enlargement of the Hebron Baptist Church and its west wing in 1892.*