| Year | Population |
| --- | --- |
| 1970 | 1,414 |
| 1980 | 1,669 |
| 1990 | 1,806 |
| 2000 | 1,816 |
| 2010 | 1,782 |
Geographic Data
N. Latitude
44:54:00
W. Latitude
69:33:45
Maine House
District 105
Maine Senate
District 4
Congress
District 2
Area sq. mi.
(total) 42.9
Area sq. mi.
(land) 37.1
Population/sq.mi.
(land) 48.0
County: Somerset

Total=land+water; Land=land only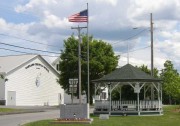 [HART-lnd] is a town in Somerset County, called Warren Town after John Warren of Boston the original landowner in the area, was incorporated on February 17, 1820.
Two explanations of the town's name have been advanced. One argues that the old English word for deer "hart" means that Hartland, in the Maine woods, signifies "land of the deer." Another is that the community is located in "the Heart of the Hills."
First settled about 1800 by James Fuller, the community had a tavern by 1811, later known as the Hartland House.
Churches were organized in 1825 and 1829; the Baptist Church was erected in 1842.
Its once substantial territory was set off to Athens and St. Albans in 1821, to Canaan in 1849, and to Pittsfield in 1852.
It annexed some land from St. Albans in 1846.
Built before the Civil War, the Academy Building ceased its educational function in 2001 when a new school was built and the school district turned it over to the town.
With its town meeting style of local government, the Town Hall still serves as a meeting place.
Located about 19 miles northeast of Skowhegan, Hartland village lies on the Sebasticook River at the junction of Maine Routes 23, 43, 151, and 152.
Woolen mills began operating in 1862 as Archibald Linn made blue material for soldiers' uniforms.
The tannery, owned by Irving Tanning Company, has been a source of employment in the community for many years.
As did many Maine towns, Hartland had its Opera House hosting local and visiting performances.
U.S. Representative Clyde H. Smith (husband of Margaret Chase Smith) lived here and attended Hartland Academy.
Great Moose Lake, through which the Sebasticook River flows, occupies its northern boundary. Morrill Pond, on the Morrill Pond Road, offers a boat launch site and hosts cottages along it shore.
Form of Government: Town Meeting-Select Board-Manager.
Additional resources
Image of Hartland Opera House, courtesy of Northeast Historic Film, Q. David Bowers Postcard Collection.

Austin, Isaac. Account Book, 1826-1878. (Cataloger Note: A volume used by Isaac Austin to record information about his work, mostly as a farm laborer, and the use of his horses and oxen. Entries in the volume are headed Windsor, Hartland, Bridgewater, and Lowell, Maine. The book was also used from 1874 to 1878 by N. I. Austin to record his time working on roads, shoveling, hauling shingles, threshing, etc.) [University of Maine, Fogler Library, Special Collections.]
Chadbourne, Ava Harriet. Maine Place Names and The Peopling of its Towns.
Hartland, Maine, 1820-1970. Prepared by Sesquicentennial Committee. Hartland, Me.? The Committee. 1970?
Knowles, Ruth M. Warren's Four Towns: St. Albans, Hartland, Palmyra, Corinna. St. Albans, Me. R.M. Knowles. c1988.