| Year | Population |
| --- | --- |
| 1970 | 553 |
| 1980 | 859 |
| 1990 | 893 |
| 2000 | 882 |
| 2010 | 1,004 |
Geographic Data
N. Latitude
44:31:16
W. Latitude
67:47:45
Maine House
District 138
Maine Senate
District 6
Congress
District 2
Area sq. mi.
(total) 52.9
Area sq. mi.
(land) 21.2
Population/sq.mi.
(land) 47.4
County: Washington

Total=land+water; Land=land only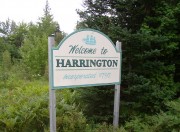 [HAR-ing-tun] is a town in Washington County, settled in about 1765 and incorporated as a town June 17, 1797 from Plantation Number 5 EUR, LS. It later annexed land from Columbia (1818, 1823) and set of land to Steuben in 1823. In 1848 it ceded land to form the town of Milbridge.
The town has sustained its population base when others in Washington County have declined. From 2000 to 2010 the number of residents expanded by nearly 14%.
In 1858 the Jefferson Davis trail was cut to haul supplies and instruments to the top of Humpback Mountain for the U.S. Coast Survey. Davis, then a Senator from Mississippi, visited the mountain camp before resigning to become President of the Confederate States of America during the Civil War.
An elegant old church, adjoins the Gallison Memorial Library on U.S. Route 1. The World War I veterans memorial is also nearby, as is the antique shop.
Harrington is a town of many inlets. Its three major extensions into coastal waters (Oak Point, Pineo Point, and Ripley Neck) are surrounded by Flat Bay, the Harrington River, and the Pleasant River – the latter two are essentially bays.
Several of its larger islands (Foster, Dyer, Trafton and Flint) lie in Pleasant Bay. Flint Island, a nature preserve managed by The Nature Conservancy, has no trails running through its Spruce-fir forest, but the shores are navigable, and there is a beach landing. The island features lavender-gray, fossil-bearing cliffs and seals haul-out on nearby ledges.
Harrington lies at the junction of U.S. Routes 1 and 1A between Cherryfield and Columbia Falls.
Form of Government: Town Meeting-Select Board-Administrative Assistant.
Additional resources
Early Town Records of the Town of Harrington 1790-1837. Photocopy. Orono, ME. Special Collections Department, Raymond H. Fogler Library, University of Maine. 1993.
*Maine. Historic Preservation Commission. Augusta, Me.   Text from National Register of Historic Places: http://pdfhost.focus.nps.gov/docs/nrhp/text/00001632.PDF.
Milliken, James A. The Narraguagus Valley: Some Account of its Early Settlement and Settlers. Machias, Me. A. J. Huston. 1886.
Mitchell, H. E. (Harry Edward). The Addison and Harrington Register, 1905. Brunswick, Me. H. E. Mitchell Co. 1905.
**Varney, George J. A Gazetteer of the State of Maine. 1881.
Willey, A. S. Historical Sketch of Cherryfield and Harrington as Taken from the Records Together with the Intentions of Marriage from 1814-1842. Machias, Me. C. O. Furbush. 1893.
National Register of Historic Places – Listings
Gallison Memorial Library
[US Route 1, 0.5 miles west of junction with US Route 1A] Erected in 1922-23 from plans drawn by the Bangor architectural firm of Crowell & Lancaster, the Gallison Memorial Library is a modest Colonial Revival style brick building. It was a gift to the Town of Harrington by Alice (Strout) Gallison in memory of her husband Forrest Gallison.
In the 1881 Gazetteer**, reference is made to a library in the village of Harrington comprised of 300 volumes, and confirmed in the 1883 edition of the Maine Register, at which time it is listed as the Village Library Association with a collection of about 2,000 volumes. That library was apparently the outgrowth of the Martha Washington Society. The Society's book collection was subsequently donated to the Harrington Village Library Association when the latter was organized in 1896. By 1910-11 its collection had reached 2,800 volumes. The following year, the Association purchased a small building of undetermined age and prior use on Main Street adjacent to the Methodist Church and moved the library into it.
According to local tradition, in 1921 Mrs. Gallison approached the Library Association with the offer of donating a new library building to the community if the existing building were removed. Mrs. Gallison was a descendent of one of the earliest settlers of Harrington. She and her husband had moved to Oak Point in Harrington upon his retirement After his death, she conceived the idea to build a library in his memory.*