| Year | Population |
| --- | --- |
| 1970 | 2,552 |
| 1980 | 3,796 |
| 1990 | 5,012 |
| 2000 | 5,239 |
| 2010 | 4,740 |
Geographic Data
N. Latitude
43:46:24
W. Latitude
69:586:18
Maine House
District 51
Maine Senate
District 24
Congress
District 1
Area sq. mi.
(total) 83.9
Area sq. mi.
(land) 24.2
Population/sq.mi.
(land) 196
County: Cumberland

Total=land+water; Land=land only
[HARPS-well] is a town in Cumberland County. Settled in 1689, incorporated as a district in 1758 and as a town in 1775, it has the longest coastline of any town in Maine. It includes Bailey Island, Eagle Island, Haskell Island, Orrs Island, Harpswell Center, West and South Harpswell, North Harpswell and the village Cundys Harbor on Great or Sebascodegan Island.
The town is named for Harpswell in Gainsborough, West Lindsey District, Lincolnshire, England. The 1086 Domesday Book refers to "Herpeswella."  In the 1300s to town was referred to as "Harpswelle." Early settlers and Massachusetts governor Thomas Pownal were from Lincolnshire.  Either could have influenced the name.
Harpswell played a role in the Revolutionary War as reported in Wheeler's history of the area:
In the latter part of April, 1775, Captain Nathaniel Larrabee and Lieutenant Isaac Snow went to Condy's [Cundy's] Harbor, at Harpswell, with a company of men from Brunswick and Harpswell. They were employed in erecting a fort there and in building barracks. They had two "wall-pieces," that were brought from Fort Halifax, and two swivels. A wall-piece was stocked, like a gun, with a lock. It was ten or twelve feet long, with a bore of two and one half inches. It would send twenty musket-balls across to Bear Island, over a mile distant. This company remained here until Christmas, and during their stay the British appeared off the harbor several times and fired at them. The fire was returned with these wall-pieces. Three days after the burning of Portland, which occurred October 18, this company was ordered to Portland, and were employed for two weeks, under Colonel Finney, in building a fort on Munjoy's Neck. They then returned to Sebascodigan Island. These men were not regular troops, but were "minute-men." [p. 678]
Though many Maine towns are 6-mile by 6-mile squares, thus 36 square miles, Harpswell's irregular shape yields 24.2 square miles. That same irregular shape accounts for its over 200 miles of coastline, with 3,000 acres in its Shoreland Zoning District – almost 20 percent of the total acreage of the town.
The "mainland," or Harpswell Neck, portion of the town was once known as Merriconeag (and Merruconeag and Merrucoonegan) meaning "lazy carry" or "place for quick portage." A lazy carry was one in which the canoes could be dragged across a short neck of land. Such a location is at the Harpswell-Brunswick town line on Maine Route 123 near the site of the Merrucoonegan Farm historic site.
In 1974, after over 200 years of separation, the Ewing Narrows Bridge joined Harpswell Neck (the mainland) from North Harpswell to the rest of Harpswell (the islands). No longer did people on the Neck have to travel to Brunswick to get to the other side of town.
Historically a collection of small villages, the closest to a town center is the town office and the recycling center on the Mountain Road between Maine Routes 24 and 123. The new Catholic church nearby may signal the growth of more community centered development in this area, which includes a hiking trail to a nearby cliff overlooking the water.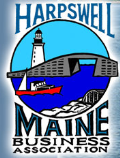 Harpswell, with its strong and continuing fishing heritage and its attraction for artists and crafts people, is struggling to keep its community identity as an influx of commuters and retired people slowly introduce new values and concerns.
It was the longtime home to Bowdoin graduate, author and minister Elijah Kellogg. Poet Edna St. Vincent Millay lived with her husband on Ragged Island in Harpswell during the 1930's. Arctic explorer Robert E. Peary maintained a summer home on Eagle Island in Harpswell. Elizabeth Strout grew up in Harpswell, once working at Bailey's store in Harpswell Center.
Bowdoin College's Coastal Studies Center is located on Orrs Island, hosting a research facility and nature trails open to the public.
The Cribstone Bridge linking Orrs and Bailey islands is reputed to be unique in its construction of granite "cribs" in 1928. It was refurbished and reopened on November 20, 2010.
The town of Harpswell provides The Harpswell Guide to town-owned and Harpswell Heritage Land Trust areas at http://www.harpswell.maine.gov/. They include miles of short, accessible hiking/walking trails, preserved open spaces, and nine nature preserves managed by the Land Trust.  All are detailed in the Guide; those below offer a sample.
Doughty Nature Preserve, across Gurnett Narrows from Prince's Point, is 42 acre area is a peninsula with a mature mixed forest and two-acre Doughty Island where Ospreys nest. There are no trails; access is by water only.
Upper Goose Island, the state's largest great blue heron rookery, is also home to osprey and a mature hardwood forest. Seals often bask on the ledges. Closed during campsites and nesting season, there are no trails, though one may explore along the beach. Both this and the Doughty Preserve are managed by The Nature Conservancy.
The Goslings, near Lower Goose Island, offer campsites and small beaches. They are owned and managed by Maine Coast Heritage Trust.
Long Reach Preserve is located on Route 24 adjacent to the Trufant-Summerton Ball Field. The 93 acre site includes upland forest, freshwater and coastal wetlands, and extensive tidal frontage on Long Reach. Managed by the Harpswell Heritage Land Trust, it abuts 213 acres of land protected by a HHLT permanent conservation easement, which abuts 220 acres owned and managed by the Baxter State Park Authority.
Form of Government: Town Meeting-Select Board-Administrator.
Additional resources
Alexander, William T. Harpswell on Casco Bay: Its Early History and Shipbuilding. Portland, Me. The Print Shop, Inc. 1973.
Carr, F. Benjamin. A Maine Summer Island: the Story of Bustins. Yarmouth, Me. Islandport Press. c2008
Harpswell Comprehensive Plan. 1993, 2005.
"How did Harpswell Get Its Name?" Harpswell Historical Society Newsletter. Summer 2014. p. 6.
*Maine. Historic Preservation Commission. Augusta, Me.   Text and photos from National Register of Historic Places: http://pdfhost.focus.nps.gov/docs/nrhp/text/xxxxxxxx.PDF and http://pdfhost.focus.nps.gov/docs/nrhp/photos/xxxxxxxx.PDF
Auburn Colony: 85000615.PDF
Bailey Island Library Hall: 8001253.PDF
Cobwork (Cribstone) Bridge: 75000093.PDF
Dunning, Deacon Andrew, House: 99001188.PDF
Eagle Island: 71000069.PDF
East Harpswell Free Will Baptist Church: 88000888.PDF
Halfway Rock Light Station: 88000150.PDF
Harpswell Meetinghouse: 68000014.PDF
Kellogg, Elijah, Church: 79000140.PDF
Kellogg, Elijah, House: 75000096.PDF
Merriconegan Farm: 79000269.PDF
Tarr–Eaton House: 1001416.PDF
Union Church:  88000889.PDF
Union Hotel: 85002179.PDF
Our Fishing Heritage [moving image recording]. Produced for Harpswell Community Television by Minotaur Productions. Brunswick, Me. Minotaur Productions. 1996. [Northeast Historic Film]
Todd, Margaret. Beautiful Harpswell: The Neck and its 45 Island Jewels. Orr's Island? Me. 1967.
Wescott, Richard R. A History of Harpswell, Maine. Harpswell, Me. Harpswell Historical Society; Brunswick, Me. Curtis Memorial Library; Nobleboro, Me. Blackberry Books. c2010
Wheeler, George Augustus. History of Brunswick, Topsham, and Harpswell, Maine: Including the Ancient Territory Known as Pejepscot. Bowie, Md. Heritage Books, Inc. 1989. [original 1878], on-line in 2006 at http://www2.curtislibrary.com/history/wheeler/ww_toc.html.
National Register of Historic Places – Listings
Auburn-Harpswell Association Historic District
[Maine Route 123 South Harpswell (Known locally as the "Auburn Colony")]
Bailey Island Library Hall
[2167 Harpswell Island Road [See Bailey ]Island]
Cobwork Bridge
[On Maine Route 24 connecting Bailey and ]Orrs Islands, locally known as the "Cribstone Bridge." [See photo above and Bailey Island]
Dunning, Deacon Andrew, House
[North Harpswell off the Mountain Road, 0.6 miles Southeast of junction with Maine Route 123 (on the Dunning Road)]
Eagle Island

, National Historic Landmark
[South of Harpswell on Eagle Island]
This island was known by coastal Maine Indians as Sawungun. It gains its historic standing because it became the summer home of Admiral Robert E. Peary. Peary bought Sawungun in 1880 with his first earnings after leaving Bowdoin College.In 1904 that he started to build on it, renaming Sawungun to Eagle Island in honor of the whaling ship "Eagle" which first took him to the Arctic.
In his island home Peary made plans for the historic 1909 expedition that gained the Pole. Later, on the island, he devoted his energies to writing, research, nature and coastal defense. It was here, that he was able to share brief periods with his wife and children.
East Harpswell Free Will Baptist Church
[Cundys Harbor Road East Harpswell]
Halfway Rock Light Station
[Casco Bay off Bailey Island South Harpswell]
Harpswell Meetinghouse

National Historic Landmark
[Maine Route 123 in Harpswell Center]
Kellogg, Elijah, Church
[Maine Route 123 in Harpswell Center]
Kellogg, Elijah, House
[north of North Harpswell off Maine Route 123 on Barton Lane]
Merriconegan Farm
[Maine Route 123, in North Harpswell (see photo above)]
Tarr–Eaton House
[906 Harpswell Neck Road in Harpswell Center]
Union Church
[Maine Route 123 in North Harpswell]
Union Hotel
[Cundys Harbor Road Cundys Harbor]