Among Harpswell's villages at the southern portion of Harpswell Neck is West Harpswell, about two miles south of Harpswell Center. South Harpswell begins about a mile farther, where Route 123 branches to Ash Point Road, Basin Point Road, as well as continuing to Potts Point.
West Harpswell is home to Mitchell Field,  a 119-acre Town-owned property.  It has 2,630 feet of shoreline  and 350' of road frontage along Rt. 123. The Town acquired the property in 2001 from the Federal Government after the Brunswick Naval Air Station Fuel Depot closed in 1992 and the property was remediated of toxic remains from fuel activity. A small additional area was transferred to the town in 2004.
A large portion of Mitchell Field, near the Community Garden, is left undisturbed to allow the nesting of birds such as the Bobolink. A substantial pier, in need of repair, remains from use by U.S. Navy fuel tankers.
South Harpswell is at the tip of Harpswell Neck on the shore of Casco Bay.  Potts Point juts into Casco Bay with its small nature preserve at the tip. Potts Harbor has a wharf for lobster landings.  A tidal mill once operated nearby.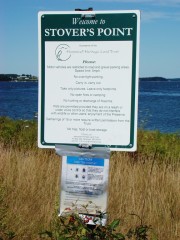 Stover's Cove and Stover's Point are nearby, bearing the family name of early settlers. Stover's Point hosts a nature preserve and small beach.
In the 1920s, Harpswell's 1796 "Stover House" was moved by barge, along with the Spite House in Phippsburg, to Rockport. The two were joined to produce a grand house overlooking West Penobscot Bay.
National Register of Historic Places – Listings
Auburn-Harpswell Association Historic District
[Maine Route 123 South Harpswell, known locally as the "Auburn Colony". (additional photos at Harpswell)]
In a sweeping S formation reaching toward the tidal cove stand ten of the original fourteen cottages of the Auburn-Harpswell Association at South Harpswell. Built between 1901 and 1902, all are in the then popular Shingle Style. Behind the cottages are two large structures: a community dining hall in the Colonial Revival style and an assembly hall in the Greek Revival style. This is the second series of cottages, the first having burned in 1899.
The Colony is one of the best examples on the coast of a planned community, created for the families and friends of the founding Auburn businessmen as a resort for relaxed summer vacationing by the sea. For over a century the Colony has provided all the amenities of relaxed and comfortable vacationing. Residents have meals in the community Dining Hall, bathing in the saltwater pool, and use of the clay tennis court.*
* See Additional resources in Harpswell.