| Year | Population |
| --- | --- |
| 1970 | 650 |
| 1980 | 755 |
| 1990 | 838 |
| 2000 | 954 |
| 2010 | 939 |
Geographic Data
N. Latitude
44:50:00
W. Latitude
69:33:45
Maine House
District 118
Maine Senate
District 4
Congress
District 2
Area sq. mi.
(total) 40.5
Area sq. mi.
(land) 38.8
Population/sq.mi.
(land) 24.2
County: Somerset

Total=land+water; Land=land only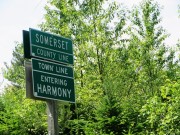 [HAHR-mun-ee] in Somerset County was incorporated on June 15, 1803 from what was then known as Vaughnstown Plantation, having been purchased by Charles Vaughn from Hallowell Academy.
Settled in 1796, population expanded rapidly after 1800.
The population in 1880 was 881 (about the same as in recent times) supporting eleven public schoolhouses.
A Methodist Society was organized in 1826 and the first church was built in 1842. A Baptist church also serves the community.
A variety of mills (grist, saw, carding, woolen, etc.) emerged as did a tannery, a hatters, and a shoemaker shop.
Harmony Village hosted a machine shop and a sawmill with a capacity to produce 500,000 boards and 150,000 shingles a year. At Mainstream Village , at the south end of Mainstream Pond, a similar mill could produce as many boards and 1,000,000 shingles per year.
In the 19th century, a granite quarry operated in the town. Quarry Road leads to Mainstream Mountain and Devils Head, the site of the quarry.
U.S. Representative Clyde H. Smith (husband of Margaret Chase Smith) was born here in 1876.
Located at the junction of Maine Routes 150 and 154, Harmony has substantial frontage on Great Moose Lake and the Sebasticook River which flows into it from Mainstream Pond and Lake Como. Boat launch facilities are available at the Lake and the Pond.
Harmony village in the early 21st century harbors many of the memories created 200 years earlier.  A dam on Higgins Stream gives evidence an early mill on the site, with holes for long departed posts that supported a building.
In 1821 Ozias Bartlett built a woolen yarn mill further downstream. It burned in the early 20th century, was soon rebuilt, and now continues in operation. The tower held a water tank for a sprinkler system.
The 1923 Bailey's General Store still stands, though vacant.  A large commercial building on the banks of the stream no longer is a hub of activity. However,  Harmony Country Store provides groceries and to-go sandwiches and pizza for villagers and travelers.
In 1886, Harmony had eleven public schools. By 1941 the last of a handful of "outlying" schools were closed and consolidated in the Village School. A new school was built on the site of the Village School, and was opened in the fall of 1974. "It was thrilling to be in this modern facility, especially after the year plus spent in the cramped quarters at Athens. It was a typical building of the time, designed for the open classroom concept. The decor was also typical of the time: lime green carpet and doors painted bright yellow, orange and lime."
The Sebasticook and Moosehead Railroad arrived in 1901, an extension from Hartland. In 1912 the Maine Central Railroad began passenger service to Pittsfield.
The Harmony branch was discontinued in 1966. During its operation, the train provided convenient shipping for lumber, livestock, Christmas trees, potatoes, milk and of course, the mail.
The old railroad ticket office stands behind the Harmony Historical Society building, near the Higgins Stream dam.
Harmony's free agricultural fair has been a community event every Labor Day weekend since 1947.
Form of Government: Town Meeting-Select Board.
Additional resources
Butler, Ben and Natalie Butler. The Bartlett mills, Harmony, Maine: 150 years in Production. Harmony, Me. Bartlettyarns, 197-?. Reprinted from Pioneer America, vol. 5, no. 2 (July 1973). Fogler Library, University of Maine. Special Collections.
Harmony, Maine Celebrating 200 years: 1803-2003. Harmony, Me. Harmony Historical Society. 2003. edited by Paul Herrick.
McLaughlin, Charles C. "Harmony's History, Happenings, Habits and Humor": for the past three-quarters of a century, to 1962 / as remembered by Charles C. McLaughlin. Skowhegan, Me. Skowhegan Press, 1962?
Spizuoco, Frank E. Around Ripley. Charleston, SC : Arcadia, c2003.
Varney, George J. A Gazetteer of the State of Maine. 1886. p. 272.