| Year | Population |
| --- | --- |
| 1970 | 275 |
| 1980 | 256 |
| 1990 | 272 |
| 2000 | 251 |
| 2010 | 238 |
Geographic Data
N. Latitude
44:29:34
W. Latitude
70:44:10
Maine House
District 117
Maine Senate
District 18
Congress
District 2
Area sq. mi.
(total) 7.5
Area sq. mi.
(land) 7.0
Population/sq.mi.
(land) 34.0
County: Oxford

Total=land+water; Land=land only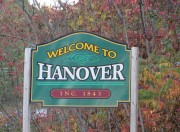 [HAN-oh-ver] a town in Oxford County, incorporated on February 14, 1843 from Howard's Gore, an early plantation, named for Phineas Howard who purchased land in the township in 1792.  Howard's Pond also bears his name.
Settled in 1774 by Nathaniel Segar, it was later named by its German settlers for the House of Hanover, of which King George III was a member. Mr. Segar was captured by Indians in 1781 and was held prisoner for sixteen months in Canada until finally released.
In 1886, the Gazetteer of Maine assessed Hanover's economy:
The water-power is on the outlet of Howard's Pond. There is a dam near the pond. At Hanover Village, a canal on each side of the stream conducts water to the mills, of which there are seven. There is also a steam mill for for the manufacture of dowels. The other manufactures are woolens, leathers, boots and shoes, furniture, flour, meal, long and short lumber, sash, blinds and doors, rakes, etc.
According to the Hanover Historical society:
By the mid 1950's the economy of the area had again shifted with jobs located in more central locations. The last Hanover mill closed in the early 1950's. With roads improving more people found work in the larger surrounding communities. Shopping trends were toward larger communities. Many of the fields and farmlands became overgrown with brush and trees. That era was generally a non-growth period in Hanover. Few new homes were built and the population remained about the same.
More recently, Hanover is experiencing home and vacation property development at a more rapid pace. The small town is receiving more interest within the greater area as development in our neighboring larger towns is spreading into this community.
As with many Maine communities, the number of full-time residents is declining at the same time more dwellings are being built to serve non-residents with vacation homes. Main Street is the prime artery, with a scattering of buildings and access to the Androscoggin River.
This physically small town lies just southwest of Rumford on U.S. Route 2 and Maine Route 5 (Main Street, a combined route) and is bounded by the Androscoggin River on the south.
Form of Government: Town Meeting-Select Board.
Additional resources
"Hanover History." http://www.hanoverme.org/history.htm (accessed December 14, 2011)
Howard, Alfred F. A History of Hanover, Maine 1774-1980: with associated historical events. Manchester, Me.? A.F. Howard. 1983.
Lapham, William Berry. History of Rumford, Oxford County, Maine, from its first settlement in 1779, to the present time. Augusta, Press of the Maine Farmer. 1890.
Lapham, William Berry. History of the Town of Bethel, Maine. Somersworth. N.H. New England History Press in collaboration with the Bethel Historical Society. 1981.
Raymong, Yvette. "Hanover observing 150th anniversary." Sun-Journal. Lewiston, Me. July 14, 1993, pp. 7-8.
Varney, George J. A Gazetteer of the State of Maine. 1886. p. 271-272.