| Year | Population |
| --- | --- |
| 1970 | 357 |
| 1980 | 340 |
| 1990 | 204 |
| 2000 | 257 |
| 2010 | |
Geographic Data
N. Latitude
47:05:28
W. Latitude
67:52:41
Maine House
District 148
Maine Senate
District 1
Congress
District 2
Area sq. mi.
(total) 24.1
Area sq. mi.
(land) 23.3
Population/sq.mi.
(land) 11.0
County: Aroostook

Total=land+water; Land=land only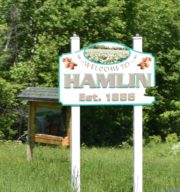 [HAM-lin] is a plantation in Aroostook County, organized on July 11, 1859 for election purposes and formally organized for general purposes on March 5, 1895. Originally, the township was known as Letter G R1, WELS.
According to George A. Varney in his Gazetteer, Hamlin's population was 568 in 1870 and 612 in 1880, not much different from the current level.  He describes the community on page 265 as follows:
The principal stream is Hammond Brook, in the north part of the town. The surface is generally elevated, without high hills, the highest being Cyr Hill, an elevation of about 200 feet above the plain. The soil is clay loam, and yields well in most crops of the region; but buckwheat is principally cultivated.  The occupation is almost wholly agricultural.
Named for Hannibal Hamlin, President Lincoln's first Vice President. The St. John River, dividing Maine from New Brunswick, runs nine miles along Hamlin's northern border.
Just south of Van Buren, this triangular plantation on Maine's northeast corner is served by U.S. Route 1A.
Hamlin Plantation is subject to the Maine Land Use Regulation Commission, which has identified critical areas as noted on the map below.
Click to enlarge the map. See disclaimers.
Form of Government: Town Meeting-Select Board.
Additional resources
*Maine. Historic Preservation Commission. Augusta, Me.   Text and photos from National Register of Historic Places: http://pdfhost.focus.nps.gov/docs/nrhp/text/7000598.PDF and http://pdfhost.focus.nps.gov/docs/nrhp/photos/7000598.PDF
Maine. Land Use Regulation Commission. Land Use Guidance Map: Hamlin. http://www.maine.gov/tools/whatsnew/attach.php?id=9917&an=1 (accessed March 14, 2014)
Pelletier, Martine A, and Ferretti, Monica Dionne. Van Buren History. Madawaska, ME: St. JohnValley Publishing Co., Inc., 1979.
Varney, George J. A Gazetteer of the State of Maine with Numerous Illustrations. Boston. B. B. Russell. 1881.
National Register of Historic Places – Listings
Roosevelt School

[U.S.Route 1A; N47° 7′ 6.16″ W67° 53′ 39.17″] According to the Van Buren History (1979), before Hamlin's school system was absorbed into MSAD 24 in 1951, there were six school districts in the plantation. The Roosevelt School served as the District No. 2 school building from 1933 to 1951, replacing a former schoolhouse. In 1979, it was only one of two school buildings that remained intact and on their original sites in Hamlin.
---
Although no specific plan has been identified for schools of this type, similar buildings were built in both the unorganized territories and in plantations and towns throughout the state in the 1920s and 1930s. One such example is the Governor Brann School in neighboring Cyr Plantation.*