| Year | Population |
| --- | --- |
| 1970 | 1,894 |
| 1980 | 1,839 |
| 1990 | 1,884 |
| 2000 | 1,623 |
| 2010 | 1,646 |
Geographic Data
N. Latitude
45:27:49
W. Latitude
69:33:14
Maine House
District 119
Maine Senate
District 4
Congress
District 2
Area sq. mi.
(total) 46.4
Area sq. mi.
(land) 42.5
Population/sq.mi.
(land) 38.7
County: Piscataquis

Total=land+water; Land=land only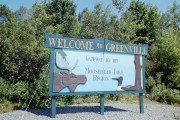 [GREEN-vil] is a town in Piscataquis County, incorporated on February 6, 1836 from Haskell Plantation. It annexed land on August 10, 1848 from Wilson, whose remains were distributed to Shirley and Elliotsville.
Nathaniel Haskell of Westbrook bought the Thornton Academy Grant, the southern part of the township, began clearing trees in 1824, and moved his family there in 1827.

In 1836, Henry Gower built the first store in Greenville village, located at the southern end of Moosehead Lake (see details), the largest in New England. See more photos of the lake at Lily Bay State Park and Beaver Cove.
After a small steamboat was launched in 1836 to tow logs, the first large lake steamer went into operation in 1838. Several steamers by the name of Katahdin plied the waters in later years.
In 1853 Henry David Thoreau met his guide, Joseph Atteon, in Greenville before boarding a steamboat passing Mount Kineo, to Northeast Carry for the portage to the West Branch of the Penobscot River.
In recent years, an emphasis on renewable sources of energy has led to the development of biomass generators.  The Greenville Steam Company is one that uses wood chips from the nearby forests.
Greenville Junction, west of the main village, was once a hub of railroad activity in the north woods.  The old station remains.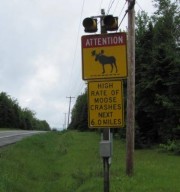 Beginning in 2003 a development company, Plum Creek, proposed rezoning much of the land near Greenville and surrounding Moosehead Lake for residential and resort purposes.  On September 23, 2009 the Land Use Regulation Commission, which has jurisdiction over the affected area, approved a Concept Plan for development and conservation in the nearly 400,000 acres involved.  This came after years of opposition to certain aspects of the original Plum Creek proposal and concern about its environmental impact.
The town serves as the gateway to Lily Bay State Park and to the upper reaches of the lake via combined Maine Routes 6 and 15. It is also an access point for Elephant Mountain and the preserved site of a B-52 bomber crash in 1963.
Additional resources
Chadbourne, Ava Harriet. Maine Place Names and The Peopling of its Towns.
CONCEPT PLAN FOR THE MOOSEHEAD LAKE REGION. Zoning Petition ZP 707. http://www.maine.gov/doc/lurc/reference/resourceplans/moosehead.html (last updated February 11, 2011; accessed December 12, 2011)
Harrington, Stanley, 1893-1980. Diaries, 1941-1963. (Cataloger Note: Stanley Harrington was born in 1893 in Greenville, Maine and died there in 1980. He was a farmer and veteran of World War I. Diaries of a farmer in Greenville, Maine. Entries focus on farm work, the weather, and fishing, as well as occasional entries on the progress of World War II, including an underlined entry on August 17, 1945: "War is over yesterday. Rations off!" What appears to be a 1954 datebook is in fact a 1961-1963 diary, with occasional entries as early as 1956.)
*Maine. Historic Preservation Commission. Augusta, Me.   Text and photos from National Register of Historic Places: http://pdfhost.focus.nps.gov/docs/nrhp/text/xxxxxxxx.PDF and http://pdfhost.focus.nps.gov/docs/nrhp/photos/xxxxxxxx.PDF
Katahdin: 78003435.PDF
Tramway Historic District: 79000164.PDF
Moosehead Souvenir Booklet, 1776 1876: a collection of articles edited by Chris Maines. 1976.
Sawtell, William R. Glimpses of Greenville. Brownville, Me. W.R. Sawtell. c1995. (Dover-Foxcroft, Me. D & B Printing Services)
Sawtell, William R. A History of the Charles A. Dean Memorial Hospital, Greenville, Maine 1911-1991. Greenville, Me. Moosehead Graphics. 1992.
True, Emma J. History of Greenville, Eighteen Hundred Thirty-Six–Nineteen Hundred Thirty-Six. E. J. True. 1936. (Augusta, Me. Augusta Press.
National Register of Historic Places – Listings
Katahdin

(Lake Boat)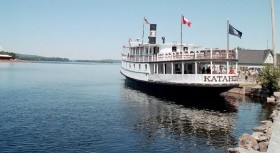 [Moosehead Lake] One of the few remaining lake boats once so common on Maine inland waters, the Katahdin was the last, biggest steam vessel operated by the Coburn Steamboat Company on Moosehead Lake, where service began in 1836. Built at Bath Iron Works in 1914, she was delivered in sections at Greenville where she was assembled the following year. The vessel, affectionately called the "Kate," operated between various points on the lake carrying passengers and freight. She was especially popular among summer visitors at such famous hotels as the Mount Kineo House. They were in the habit of using her for excursions around the lake. Her reputation for comfort and service was widespread.
Changing modes of transportation, particularly the increased use of automobiles, led to the Katahdin gradually ceasing to be economically feasible. On September 11, 1938, she made her last run for several decades as a passenger boat, carrying 300 people on a special farewell excursion to Seboomook and back to Greenville.
The Katahdin was purchased in 1940 by the Hollingsworth and Whitney Paper Company (H&W) and was converted into a towboat for hauling pulpwood booms on the lake. Scott Paper Company bought H&W and continued its use until 1976 when she was decommissioned. The "Kate" was acquired by the Moosehead Marine Museum in 1977, has been reconditioned, and now runs cruises on Moosehead Lake.*
Tramway Historic District
[northeast of Greenville] The Tramway Historic District consists of a strip of land, 3,000 feet long and 1,000 feet wide, running between the western shore of Eagle Lake and the northeastern shore of Chamberlain Lake. Within the district are the remains of a unique log conveying tramway built in 1902, and the eastern terminus of the Eagle Lake and West Branch Railroad completed in 1927. The remains of the Tramway consist of 6,000 feet of continuous 1 1/3 inch diameter wire cable running doubled from shore to shore attached to which at ten foot intervals are steel "trucks" with two eleven inch wheels.
Under typical operating procedure, logs boomed in by the tow boat from Eagle Lake would be loaded on the trucks, pulled on the top level of the conveyor system across the neck of land between Eagle Lake and Chamberlain Lake and dumped by gravity into Chamberlain Lake as they passed over the top of the sprocket wheel.
All of these elements now rest on the ground and in places have become partially buried by rotting wood or by gradual sinking as a result of the rotting away of the supporting wooden ties. At the Chamberlain Lake end of the Tramway, the remains of the operating machinery is largely intact. These consist of two large steam boilers, a two cylinder reciprocating steam engine, a belt wheel and reduction gear system attached to a nine foot sprocket wheel. The immediate area through which the track runs, is densely overgrown
From 1927 to 1933, summers only, the so-called "Pulpwood Express" ran several trips a day over this isolated, 18-mile railway in the Maine wilderness. Each train consisted of 10 to 12 cars hauled by two locomotives.
The Tramway ceased operation with the invention of the Lombard steam log hauler in 1907 by Alvin 0. Lombard of Springfield and later Waterville. This huge machine with caterpillar drive in the rear and runners in front could haul eight sleds at a time averaging 40,000 board feet per load. Later models were gasoline powered.
When the line ceased operation, the engines were stored in a shed at the Eagle Lake terminal never to run again. The shed was later burned leaving these monuments to the logging industry surrounded by the wilderness in which they had run. Fifty feet east of the Eagle Lake end of the Tramway in a small clearing are two railroad locomotives resting parallel on tracks whose ties have long since largely rotted out. Thus ended a century of logging history during which the Tramway district had been at the center of activity. The Tramway is now part of the Allagash Wilderness Waterway, a state park.* [Frank A. Beard photos]