| Year | Population |
| --- | --- |
| 1970 | 186 |
| 1980 | 198 |
| 1990 | 174 |
| 2000 | 150 |
| 2010 | 109 |
Geographic Data
N. Latitude
45:13:46
W. Latitude
67:43:42
Maine House
District 141
Maine Senate
District 6
Congress
District 2
Area sq. mi.
(total) 48.7
Area sq. mi.
(land) 44.2
Population/sq.mi.
(land) 2.5
County: Washington

Total=land+water; Land=land only
[grand lake Stream] is a plantation in Washington County, organized for the assessment of taxes on January 25, 1897.
In the summer of 1870, the three Shaw brothers started their tannery operations after a trip to Hinckleytown or, as it came to be known, Grand Lake Stream Plantation. Bark was needed for the tanning process, and the brothers often set up extract operations in the woods.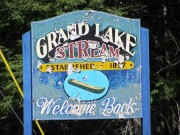 Eventually the investment in the immense  operations was too much and the firm failed in 1883. Trustees ran the tanneries until the nineties, selling off land to pay off part of the debts.
In the late nineties the remaining property was sold to the International Leather Company, which dismantled the mills and shipped the usable machinery to Boston.
The sparsely populated area has its main village, Grand Lake Stream, on the stream of the same name that connects West Grand Lake with Big Lake to the south.
Milford Road crosses the southern portion of the township, providing several points of access to Big Lake, and continuing to the village center.
The surrounding lakes offer a fishing and wilderness experience prized by those who visit them.
In May, 1973 the U.S. EPA took this photo of a fly fisherman casting for salmon in Grand Lake Stream, part of the East Branch of the St. Croix River. Grand Lake Stream is about ten miles above the paper mill at Woodland.
The area Chamber of Commerce touts "sporting camps and lodges," "most concentrated population of experienced guides," Eco-Tourism," family vacations, etc.  Beyond the Village lies a network of dirt roads leading to the many lakes of northeastern Washington County, including those in  the unorganized townships of T6 ND BPP and Sakom.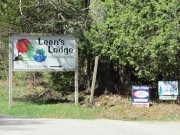 Form of Government: Assessors-Annual Meeting.
Additional resources
Photo ID: National Archives # NWDNS-412-DA-7828. Search on ID# at http://www.archives.gov/research/search/ (accessed December 8, 2011)
Atkinson, Minnie. Hinckley Township; or, Grand Lake Stream Plantation, a Sketch. Newburyport, Mass. Printed by the Newburyport Herald Press. 1920.
Chucking a Bug for the Leaping Salmon at Grand Lake Stream: Maine is the Real Thing in Fishing. Maine. ca. 1900? [University of Maine, Raymond H. Fogler Library, Special Collections]
Shaw Brothers Tannery (Grand Lake Stream, Me.) Records, 1880-1897. (Cataloger Note: F. Shaw and Brothers was a Boston firm which dominated the Maine tannery business in the late 1800's. They had large tanneries at Kingman, Jackson Brook (now Brookton), Vanceboro, Forest City, and Grand Lake Stream. The three brothers in the firm, William, Fayette, and Thackster Shaw, had learned the business from their father who had a small tannery in Cummington, Mass. [University of Maine, Raymond H. Fogler Library, Special Collections. The Cataloger Note is also the source for the tannery text in this article.]
National Register of Historic Places – Listings
Governors Point, Address restricted
Grand Lake Stream Site, Address restricted Grand Lake Stream, Native American Petroglyphs and Pictographs of Maine