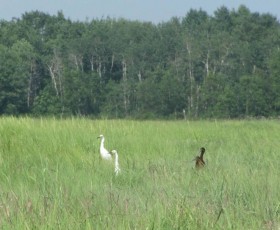 This bird's year round home is along the southeast coast of the United States and islands in the Caribbean.  But the Glossy Ibis is an occasional visitor during the summer mating season.
These two, on the right, were observed at the Scarborough Marsh in 2010, along with apparent summer vacation friends in the feather of two snowy egrets.
Identification is based on the "decurved" bill, the breeding range, and the general description offered by expert sites and publications. (See resources in Birds.
According to Audubon,
Glossy Ibis weigh about 1.2 pounds and measure 23 inches, with a 36-inch wingspan. Once called the "Black Curlew," the Glossy Ibis is a medium-sized, dark wading bird with a long, decurved bill. During breeding, this ibis is chestnut to maroon in color, with dark green, glossy wings, back, and tail. The bill is dull brown, while the legs and feet are dark red. Two fine, pale gray lines connect the face to the bill.
"Glossy Ibis." http://birds.audubon.org/species/gloibi (accessed April 27, 2013)