| Year | Population |
| --- | --- |
| 1970 | 464 |
| 1980 | 735 |
| 1990 | 914 |
| 2000 | 1,020 |
| 2010 | 1,042 |
Geographic Data
N. Latitude
43:48:47
W. Latitude
69:44:48
Maine House
District 53
Maine Senate
District 23
Congress
District 1
Area sq. mi.
(total) 31.9
Area sq. mi.
(land) 18.7
Population/sq.mi.
(land) 55.7
County: Sagadahoc

Total=land+water; Land=land only
[JORJ-town] is a town in Sagadahoc County, incorporated on June 13, 1716 from a portion of Arrowsic Island. In 1738 Georgetown annexed Parker's Island, and followed with Small Point in 1741. Later it set off land to form three area towns: Bath (1781), Phippsburg (1814), and Arrowsic (1841).
Settled in the early 1600's, it shares its early history with nearby Phippsburg and Arrowsic. Once known as Parker's Island after an early settler, Georgetown was renamed in 1741 in honor of English King George I.
The Stone Schoolhouse on Bay Point Road, small and primitive, was built by Irish stonemasons in 1820 under the direction of General Joseph Berry, a local shipowner and builder. Robinhood is a village that includes an old meetinghouse and a modern marina.
In 1836, Georgetown's Joseph Berry built a new lighthouse tower and station for the U.S. government at Fort Point in Stockton Springs.
Georgetown is home to Reid State Park and to the former summer residence of sculptor William and artist Marguerite Zorach. Their daughter Dahlov Ipcar made it her home as well.
Josephine Newman Sanctuary, managed by the Maine Audubon Society, has two miles of trails through salt marsh and stands of red oak, white pine, spruce, and hemlock beside rocky shore of Robinhood Cove.  The Weber Kelly Preserve, managed by the Kennebec Estuary Land Trust, offers several trails through mixed woods and a salt marsh off Bay Point Road.
Ledgewood is a nature preserve, managed by the Nature Conservancy, of over a mile of spruce-fir forest, granite shore and moss-lichen understory. Located on Georgetown Island, its southern tip is bounded by Sheepscot Bay to the East and the Kennebec River to the west.
Several community building are near Route 127 on the Bay Point Road.  They include the historical society, school, town office, among others. The town office shares a space in the same building with the Georgetown Central School.
At the intersection with West Georgetown Road stand an old church almost identical to the community church in Sherman, over 200 miles to the north in Aroostook County.
Near the end of Bay Point Road are views of Heal's Bay, including a small island with a large house perched above its shore. Fort Popham in Phippsburg is clearly visible across the Kennebec River at the end of the road.
Maine Route 127 south from Woolwich, ends at Five Islands with its beach and harbor on Sheepscot Bay, near the south end of the Little Sheepscot River, which is not so much a river as a waterway from the Sasanoa River to Five Islands.
The historic Seguin Island Light lies 2.5 miles off-shore.
---
Form of Government: Town Meeting-Select Board-Administrative Assistant.
Additional resources
A History of Indian Point, Georgetown, Maine. complied by Sereno Sewall Webster, Jr. Georgetown, Me.  Anne W. Webster. c2007.
A Nice Life Back Then: Georgetown Island – 1900-1920. Mates, Margaret M., ed.  2nd edition. Georgetown Historical Society.  2011.
Beard, Frank A. and Bette A. Smith. Maine's Historic Places: Properties on the National Register of Historic Places. Camden, Me. Down East Books. 1982, p. 214.
Booth, Anthony M. Life on Marr's: Historical Archaeology on Marr's Island, Georgetown, Maine. Thesis (M.A.) in History–University of Maine, 2006.  [University of Maine, Raymond H. Fogler Library, Special Collections]
Gilman, Stanwood C. and Margaret C. Gilman. Georgetown on Arrowsic: The Ancient Dominions of Maine on the Kennebec 1716-1966: 250 Anniversary Celebration. Georgetown, Me. 1966?
Lemont, Levi P. 1400 Historical Dates of the Town and City of Bath, and Town of Georgetown, from 1604 to 1874. Bath, Published by the author [Printed by E. Upton & son] 1874.
Lyons, Joyce Sprague. Marrtown: Deserted Village to Revival: Georgetown Island, Maine. Georgetown, Me. Georgetown Historical Society. 2000.
*Maine. Historic Preservation Commission. Augusta, Me.   Text and photos from National Register of Historic Places: http://pdfhost.focus.nps.gov/docs/nrhp/text/xxxxxxxx.PDF and http://pdfhost.focus.nps.gov/docs/nrhp/photos/xxxxxxxx.PDF
Grey Havens Inn: 85000614.PDF  (1985)
Heal Family House: 94001243.PDF (1994)
Perkins Island Light Station: 87002282.PDF (1987)
Riggs, Benjamin, House: 88003008.PDF (1988)
Riggs-Zorach House: 88003007.PDF (1988)
Seguin Island Light Station: 77000084.PDF (1977)
Stone Schoolhouse: 77000085.PDF (1977)
Potter, Harriet B. Childhood Memories of Robin Hood's Cove. 1934. Winter Park, Fla. Rollins Press.
National Register of Historic Places – Listings
Grey Havens Inn
[96 Seguinland Road, N43° 48′ 43.24″ W69° 43′ 17.81″] Situated prominently on rocky terrain overlooking the Atlantic Ocean and Harmon Harbor, Grey Havens Inn dominates its isolated location. The three-story wood frame structure has a gambrel roof and gable roof dormers. A simple porch extends the entire length of the east (ocean) side. The walls are clapboard. The interior, like the exterior, with original woodwork is relatively unaltered.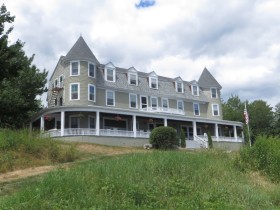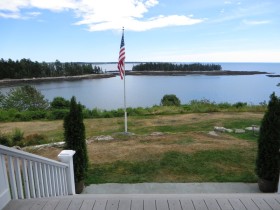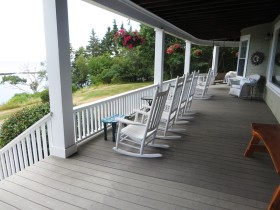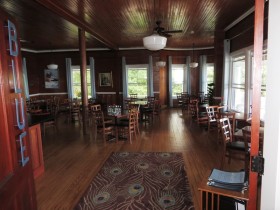 The Grey Havens Inn is a remarkable survival of a Shingle Style summer hotel, a structure once common on the Maine coast between 1890 and 1930. Opened as "Seguinland" in June, 1904, the inn was built by Walter Reid, who later gave another parcel of his estate to become Reid State Park.*
Heal Family House
[Maine Route 127, W side, 1.2 miles South of junction with Robinhood Road]
Built about 1798, the Heal Family House is a well preserved early Federal period farmhouse in a rural context. It occupies a 159-acre parcel, the vast majority of which is reforested and separated from the house lot by Route 127. The Heal Family cemetery is located at one corner of this larger parcel.
The house was built for William Heal (1765-1849) and his wife Abigail (1767-1859). Prior to William Heal's death the farm had been transferred to his two sons Washington and Thomas with clauses pertaining to the children's responsibility for caring for their parents and providing life tenancy. Washington and Thomas Heal are thought to have farmed the property for several years, with Thomas later moving to another farm in Arrowsic. Washington Heal raised stock and made cheese and butter. A portion of this property along Robinhood Cove contains the sites of several buildings and structures including what is believed to have been a tidal mill.
The Heal house has many characteristics of the more substantial Maine farmhouses of the period: the two-story gable roofed shape of its main block, the central chimney, and the symmetrical pattern of the facade. Noteworthy interior detailing is especially evident in the first floor parlor and the second floor bedroom above it.
Perkins Island Light Station, National Historic Landmark
[Perkins Island] On a bold ledge on the west side of Perkins Island in the Kennebec River, the Station is the southernmost of four erected in 1898. The Station, like its sister lights, was built to provide navigation aids along this important commercial waterway.
The system was automated in 1959; the buildings transferred to the State of Maine in the 1960s. It has the distinctive character of a turn-of-the-20th century light station.
Like the tower erected upriver at Squirrel Point Light Station, the Perkins Island Station is a short frame wood shingle structure. The 1898 keeper's house is nearby. The 1902 pyramidal frame bell tower was, in 1987, one of the few existing examples of the type in Maine. A small wood shingled barn and the 1906 oil house complete the station.* (See also Lighthouses.)
Riggs, Benjamin, House
[Robinhood Road] Built in the early 1790s, the House is a well preserved two-story Federal period dwelling known for its architectural prominence and that it is the only existing 18th century building in this small coastal community. It exhibits very late use of Georgian style interior details, underscoring the persistent use of outdated architectural fashions frequently found in rural Maine. Benjamin Riggs (1759-1846) was reportedly born in Gloucester, Massachusetts, coming to Robinhood at seventeen. He apparently prospered in the shipping business and by the early 1790s had enough money to erect the house as a replacement for his "log cabin," which stood on this property. Riggs served in the Massachusetts General Court prior to Maine statehood in 1820 and was elected to the State Legislature in 1822 and 1826 (his son James served in 1824. Benjamin Riggs occupied the house until his death.* [See photo above.]
Riggs–Zorach House
[off Robinhood Road] Built during the first quarter of the 19th century for James Riggs, a local merchant and one-term state legislator (1824-26), the Riggs-Zorach House is a two-story frame building with typical of the Federal period. Its early history is closely associated with the development of the small community of Robinhood by members of the Riggs family. Benjamin Riggs settled here on the eve of the Revolution and during the last decades of the century had prospered in business. By 1800 his son James Riggs had joined the family and built this house, occupying it until his death.
Its primary significance derives from the period 1923-1966 when it served as the summer residence and studio of nationally recognized sculptor and painter William Zorach (1887-1966).
Acquired by the Zorachs in 1923, the Riggs house became the summer studio of William Zorach, a Lithuanian-born immigrant whose sculptures are in the permanent collections of more than eighty museums including the Metropolitan Museum of Art, the Whitney Museum of American Arts and the Museum of Modern Art. Zorach's wife Marguerite (Thompson) Zorach gained individual distinction as a painter and examples of her work can also be found in the above named museums.* [Roger G. Reed photo]
Seguin Island Light Station
[south of Georgetown] This Light Station is the second oldest on the Maine Coast, construction having started in 1790,five years after completion of Portland Head Light. The original wooden tower was completed in 1797 and was replaced in 1820 by a stone tower. In 1857, the present granite structure was built.The Island has experienced as many as 2734 hours of fog in one year, the foggiest light station in the U.S. Only 53 feet high, the towers beam is 180 feet above the sea on a high headland. "Seguin", the oldest steam-powered tug in Maine, and possibly in the country, was named for Seguin Island. The tugboat is now located at the Bath Maritime Museum.*
Stone Schoolhouse
[south of Georgetown on Bay Point Road] The School was evidently in existence at least in 1821 when an article appeared in the Georgetown Town Meeting Warrant to tax residents of the "Lower School District on Barker's Island" for building a porch and purchasing a stove. The school was built by three Irish stone-masons living on Long Island, Bay Point. Construction was under the supervision of Gen. Joseph Berry, son of Lieutenant Thomas Berry, a Revolutionary soldier. The General was a relatively young man at the time the school was built. He later became a prominent ship owner and builder and between 1857 and 1860 was Collector for the Port of Bath. The nickname "General" was from a commission he held in the State Militia during the Aroostook War.
Local sources claim the appearance of the building is in the Irish cottage tradition. However, similar structures of later date in other parts of the state do not support that theory. The building is similar to other stone and brick schoolhouses of early 19th-century Maine. (See the Stone Schoolhouse in Fryeburg.)Whatever the reason, this small but rugged schoolhouse appears to announce the determination of its builders to establish a long lasting educational opportunity in the town.* [Earle G. Shettleworth, Jr. photo]