| Year | Population |
| --- | --- |
| 1970 | 596 |
| 1980 | 718 |
| 1990 | 1,064 |
| 2000 | 990 |
| 2010 | 1,105 |
Geographic Data
N. Latitude
45:02:55
W. Latitude
69:09:38
Maine House
District 104
Maine Senate
District 4
Congress
District 2
Area sq. mi.
(total) 38.0
Area sq. mi.
(land) 37.8
Population/sq.mi.
(land) 29.2
County: Penobscot

Total=land+water; Land=land only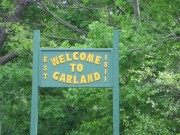 [GAR-lnd] is a town in Penobscot County. Its boundaries were surveyed by Ephraim Ballard in 1972. Garland was incorporated on February 16, 1811 from township T3 R5 NWP.
The township had been known as Lincolntown before incorporation and naming after Joseph Garland whose family was the first to arrive in 1802.
That same year a saw mill was built and a few years thereafter the twelve families in residence supported a small school. By 1818 a post office had been established.
The Preface to the town history cited below has this brief biography [condensed here] of an influential member of the community.
Lyndon Oak, teacher and merchant, born in New Hampshire in 1816, died in Garland in 1902. Educated in the common schools and at Gorham Seminary, he taught there for twelve years.
In 1848, he founded Garland High School, and personally guaranteed the salaries of the teachers for the next thirteen years. He served also as superintendent of schools in Garland.
 Oak was very prominent in the establishment and early management of the Maine State College, now the University of Maine at Orono, and served for twenty-two years on its board of trustees, six years as president of the board.
He was a member of the State Legislature at different times from 1843 until 1867, serving in both branches.
George Varney in his 1886 Gazetteer noted that the 1880 population was 1,211 and
The manufactures of this town consist of boots and shoes, long and short lumber (four mills), doors, sash, etc., meal and flour (two mills),wool rolls, carriages, furniture, egg-cases, etc. The stage-line from Exeter to Dexter passes through the town, connecting with the Maine Central Railroad at the latter place.
Garland Grange Hall, built  in 1891 has been described as one of the oldest surviving 19th century structures of its type. According to historians Beard and Smith, "The hall has both Greek Revival and Italianate elements, and in its forthrightness and simplicity, embodies the character of the people and the  region that created it."
A recreation field, veterans memorial, and church are located near the grange, all on the Oliver Hill Road.
The Kenduskeag Stream flows from Garland Pond beginning its journey to the Penobscot River at Bangor.  A boat launch and swimming area is at N45° 2′ 7.85″ W69° 9′ 31.82″ off Route 94. A plaque at  the site is in memory of Sue Baldwin "for her years of dedication to Garland Recreation."
The Pond was reclaimed in 1955 to remove smallmouth bass, suckers, and other species that limited the pond's ability to produce brook trout. Since then annual stockings of hatchery brook trout has been successful.
Maine Route 94, also known as the Garland Road or the Corinth Road, is the only major highway linking the town to Dexter in the east and Corinth in the southwest.
Form of Government: Town Meeting-Select Board-Administrative Assistant.
Additional resources
Chadbourne, Ava Harriet. Maine Place Names and The Peopling of its Towns.
Beard, Frank A. and Bette A. Smith. Maine's Historic Places: Properties on the National Register of Historic Places. Camden, Me. Down East Books. c1982. p. 101.
Oak, Lyndon. History of Garland, Maine. Dover, Me. The Observer Publishing Company. 1912. http://archive.org/stream/historyofgarland00oakl/historyofgarland00oakl_djvu.txt (accessed March 13, 2014)
Varney, George J. A Gazetteer of the State of Maine. 1886. p. 250.
National Register of Historic Places – Listings
Garland Grange Hall
[off Maine Route 94 on Oliver Hill Road] In the center of a northern Maine farming community, the Garland Grange is typical of the many late 19th century grange halls that once dotted the state's rural landscape. Built two decades after the Grange movement was organized in Maine in 1873, the Garland Hall ranks as the finest example of such structures in the state. It is also notable for its retention of architectural features of an earlier period, reflecting an important characteristic of Maine rural architecture. [See photo above.]
The interior has changed little. Typical 19th century finish of thin vertical boarding is found throughout. A pair of folding louvered shutters is at each window. The first floor is devoted chiefly to a large dining room and kitchen where grange suppers are staged. The second floor functions as the hall where meetings are held. Both floors are entirely furnished with late 19th century chairs and tables.
In the year following its founding, members began purchasing supplies cooperatively and, in 1879, a building was purchased as a grange store to promote agricultural and domestic economy. Holding an average of 25 to 30 meetings a year, the members were exposed to a variety of programs and discussions ranging from agriculture to home economics to self improvement in various fields.
From the beginning women played a very active role. They organized entertainments, planned suppers, provided ceremonial regalia and helped to acquire and create furnishings for the new hall. In a most unusual action, the members in 1889 installed a Mrs. Merrill as grangemaster for the year.*