| Year | Population |
| --- | --- |
| 1970 | 2,208 |
| 1980 | 2,715 |
| 1990 | 2,968 |
| 2000 | 3,083 |
| 2010 | 3,449 |
Geographic Data
N. Latitude
44:03:08
W. Latitude
70:56:12
Maine House
District 70
Maine Senate
District 19
Congress
District 2
Area sq. mi.
(total) 65.9
Area sq. mi.
(land) 58.3
Population/sq.mi.
(land) 59.2
County: Oxford

Total=land+water; Land=land only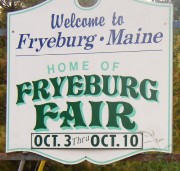 [FRY-burg] is a town in Oxford County, incorporated on January 11, 1777 on the site of an Indian settlement known as Pequawket, the home of Nescambious, the only Indian knighted by the French.
He was so honored in 1795 for his fighting leadership and the French desire to make an alliance with the Indians.

The Battle of Lovewell's Pond was one long day in 1725, during which the leader of the white volunteers, Captain Lovewell, was slain along with the Indian leader Pangus.
The large pond is in the narrow southeast of town, not far from Fryeburg village.
The war-whoop is still, and the savage's yell
Has sunk into silence along the wild dell;
The din of the battle, the tumult, is o'er,
And the war-clarion's voice is now heard no more.
— from Longfellow's "The Battle of Lovell's Pond"
Following a serpentine route, the Saco River enters the town from New Hampshire (see 2013 photo at left), flows generally east in the northern portion before plummeting directly south, passing east, then south, of Lovewell's Pond.
Walker's Bridge spans the river just south of Mount Tom.
Just north of the busy fairgrounds the old Fryeburg Town Hall, built in 1847, sits quietly in Fryeburg Center.  The small Chandler family cemetery is next to the Town Hall.
A canoe trip on the Cold River begins in Stow, passes through Lovell, and terminates on the Harbor Road in North Fryeburg.
North Fryeburg is a village more than six miles from Fryeburg village, with its distinct character. It hosts the well-kept 1838 North Fryeburg Community Chapel, Fryeburg Historical Society's Research Library, the former Sadie F. Adams school building and a small "downtown."
Native American Molly Ockett was born about 1740 into the Pigwacket tribe, whose ancestral home was near Fryeburg. Early 19th century member of Congress, James W. Ripley, was a longtime resident.
Daniel Webster was a teacher in the town at Fryeburg Academy in 1802 before pursuing his legal career. Long after losing his first case, he rose to international prominence for, among other things, his role in negotiating the state's boundary with Canada through the Webster-Ashburton Treaty.
Another famous resident was Clarence E. Mulford (1883-1956) author of the Hopalong Cassidy cowboy series, which extended to radio, television and motion pictures.
The Walker family farm was operated for three generations by James Walker, his son James and his grandson James. (See Papers in Additional resources below.)
The Fryeburg Fair, held each October, attracts thousands from long distances as one of the rites of Fall in Maine. It is the largest agricultural fair in the state.
Form of Government: Town Meeting-Select Board-Manager.
Additional resources
Barrows family. Papers, 1808-1940.  (Cataloger Note: William Barrows, a Revolutionary War soldier from Carver, Massachusetts, founded the Hebron Academy in 1803. His son, John Stuart Barrows, a native of Hebron, came to Fryeburg in 1810 and established a law partnership there with Col. Samuel A. Bradley. John Barrows married Anna Ayer Bradley in 1820. Their son, George Bradley Barrows, born in Fryeburg in 1822, graduated from Fryeburg Academy and Dartmouth College in the class of 1842. He read law with his father but did not practice. He was elected to the Maine House of Representatives in 1859 and 1862 and the Maine Senate in 1863-1864, serving as president in 1864. George B. Barrows died in 1904.) [University of Maine, Raymond H. Fogler Library, Special Collections]
Barrows, John Stuart. Fryeburg, Maine, An Historical Sketch. Fryeburg, Pequawket Press. 1938.
Beebe, Richard W. The First 200 Years: The History of the First Congregational Church, Fryeburg, Maine. c1975. (Center Conway, N.H. Walker's Pond Press)
Fryeburg Webster Centennial, celebrating the coming of Daniel Webster to Fryeburg 100 years ago to take the principalship of Fryeburg Academy. Fryeburg, January 1st, 1902. Fryeburg, Me. A.F. Lewis., 1902.
*Maine. Historic Preservation Commission. Augusta, Me.  Text and photo from National Register of Historic Places: http://pdfhost.focus.nps.gov/docs/nrhp/text/xxxxxxxx.PDF, http://pdfhost.focus.nps.gov/docs/nrhp/photos/xxxxxxxx.PDF
Barrows-Steadman Homestead: 82000771.PDF
Squire Chase House: 79000158.PDF
Church of the New Jerusalem: 86001274.PDF
District No. 1 Schoolhouse: 84001466.PDF
Registry of Deeds (former): 87002196.PDF
Old Fryeburg Town House: 92001295.PDF
Hemlock Bridge: 70000056.PDF
Main Street Historic District: 91000324.PDF
Osgood Family House: 90000576.PDF
Marion Parsons House: 86002432.PDF
Rivercroft Farm: 08000668.PDF [photos from http://www.maine.gov/tools/whatsnew/index.php?topic=mhpc_recent_listings&id=62351&v=article] (accessed April13, 2015)
Wiley House: 80000248.PDF
Maine. Justice of the Peace Court (Fryeburg).  Moses Ames, Justice of the Peace docket, c. 1795-1799. Maine State Archives, Augusta, Me.
Thompson, Kenneth E. Major General Joseph Frye of Maine: The Life and Times of a Colonial Officer. 1981. Thesis (M.S.Ed.)–University of Southern Maine. [University of Maine, Raymond H. Fogler Library, Special Collections]
Walker family. Papers, 1818-1871. (Cataloger Note: Diaries and memorandum books of three generations of the Walker family of Fryeburg, Maine. Included are diaries of James Walker (1772-1852) from 1818-Aug. 1852 in which he records his daily activities, work on his farm, weather observations and family events. Also included are his memorandum books covering topics such as work performed, 1813-1824; work and materials used in building his house, 1813-1819; a silk book, 1832-1852, in which he recorded raising silkworms; a hop book, 1813-1821; and a tree book, 1831-1850, both recording activities on his farm.  Also includes diaries of his son and grandson.) [University of Maine, Raymond H. Fogler Library, Special Collections]
"Weston's Farm & Market." http://www.uniquemainefarms.com/uniquemainefarms.com/Westons_Farm.html (accessed April 13, 2015)
National Register of Historic Places – Listings
Barrows-Steadman Homestead
[Main Street] The Barrows-Steadman Homestead is a rural Federal style house built around 1809. More important are the frescoes in its "Tree Room." Painted by Rufus Porter with the assistance of Jonathan D. Poor in 1830, they were (in 1982) in an outstanding state of preservation. The house has been owned by successive generations of the Barrows family since 1820 as least through 1982.
Porter attended Fryeburg Academy in 1804.  He became a "farmer-shoemaker-soldier-fiddler-drummer-painter-teacher-builder-portrait painter-dancing master-inventor-journalist-muralist." He is best remembered for the murals he painted on interior walls of homes and taverns. His style and subjects came from his own experiences. Porter's most often painted landscape is a Portland Harbor scene, a view from the then new Observatory. Trees often populated his landscapes. Full designs and rich colors were used in creating the trees that appear in "Quillcote" (Kate Douglas Wiggins House) in Hollis and the Barrows-Steadman Homestead.
The Barrows family has included a noted lawyer, a successful doctor, as well as a pioneer home economist. Their connection with Porter and Poor is unknown but the family has taken great pride in their "Tree Room" and has been extremely careful in the treatment and preservation of it. * [Frank A. Beard photo] (See Barrows Family Papers in Additional resources)
Chase, Squire, House
[Main Street] The Squire Chase House is directly connected with the first settlement of Fryeburg, the earliest upland township to be organized in northern New England. Architecturally, the main square section of the house is an unusually tasteful and well executed adaptation of a Federal house into the Italianate mode.
The first settler, Nathaniel Merrill, built a house around 1767 that now comprises approximately 2/3 of the ell that was later attached to the square Federal style portion. The large Federal house was moved by Squire Stephen Chase, who had married Mary Osgood the granddaughter of another early settler, from a site across the street to its present location where it was attached to the ell. The Federal house was probably new and unfinished since the interior is Greek Revival in style throughout. * [1978 is Frank A. Beard photo.]
Close inspection of the Federal portion in 2015 shows deterioration in this once well preserved house. (Click to enlarge.)
Church of the New Jerusalem
[4 Oxford Street] Designed by Portland architect Charles H. Kimball, the 1879 Church of the New Jerusalem is an outstanding example of Stick Style design. Kimball was perhaps the only architect in Maine to embrace this peculiarly American style. In his short career he made a distinctive contribution the architecture of the state. The Church of the New Jerusalem was the third of that denomination to be built in Maine. The building contained an audience room with an adjoining classroom, a library, kitchen, dining room and pantry.
Until his death in an accident in 1887, Charles Kimball managed a very successful practice in which he designed a variety of houses, churches, commercial blocks and resort hotels throughout the state. Several are either listed or eligible for listing in the National Register but the Church of the New Jerusalem is his finest work of ecclesiastic architecture. Gothic in massing and in some details, the church is distinguished for the variety of wooden trim associated with the Stick Style.*
District No. 1 Schoolhouse
[98 Main Street] Now the Fryeburg Library, the 1832 Schoolhouse of 1832 is one of two known stone district school buildings in Maine. The other in Georgetown was in a state of some decay in 1974. The Fryeburg school is far more carefully constructed than the other with very fine stonework.
It became the Library of the Fryeburg Woman's Club, founded in 1890. In 1950 it became the public library. The Mulford room added as a wing in 1957, was donated by Clarence E. Mulford the celebrated author of western novels featuring characters such as Hopalong Cassidy. The room contains Mulford memorabilia and his work dating back to the 1920s. He was a resident of Fryeburg during the latter part of his life. The Weston Wing, another wooden addition, was added in 1973.*
Fryeburg Registry of Deeds
[96 Main Street] The former Fryeburg Registry of Deeds is an historically important building as the only 19th century government office in western Oxford County. Its architectural significance stems from the Greek Revival style on a building of this size and material. Fryeburg was the first settled community in the area. In 1800, one year after York County was divided into two administrative districts, a registry of deeds office was established here for the convenience of recording land transactions in the northern half of the county.
In 1805, Oxford County was created from portions of York and Cumberland counties. County buildings were to be located at the designated "shire town" of Paris Hill. However, the county commissioners decided to keep the registry of deeds at Fryeburg. James Osgood, an early settler, became the first registrar. Although there was a registry building it soon became inadequate for the growing area.
Given the context of Greek Revival style architecture in Oxford County, it is likely that a new registry was built between 1840 and 1850. It continued to serve as the Registry of Deeds for the Western District of Oxford County until 1918. At that time a new Colonial Revival style facility was built on Portland Street and continues to serve as a Registry. The former 19th century Registry was used as the Fryeburg Town Office and then by the historical society.* [Kirk Mohney photo]
Fryeburg Town House/Town Hall, Former
[Maine Route 5 E side, .1 mile North of junction with Woodlawn Avenue, Fryeburg Center] The centrally located Town House was the site of town meetings from 1848 until 1983. During the seventy-five years following incorporation in 1775, Fryeburg had no major town center. As a result, the first two meeting houses, built in 1767 and 1778, and the Town House erected in 1847, were in the geographic center. Known as Fryeburg Center, this small hamlet never exceeded its peak of development in the 1830s when there were but three stores. By mid-19th century, growth in commercial activity and tourism centered in the village of Fryeburg in the southern part of the town. This left the old Town House relatively isolated from the population center. * [See photo above.]
Hemlock Bridge
[Northeast of Fryeburg Center, over the Old Course Saco River, Fryeburg Center] Seven wooden covered bridges once crossed the Saco River in Fryeburg. Today only one, the Old Hemlock Bridge, remains. It would never have been built if Benjamin Wiley, fellow lumbermen and farmers of North Fryeburg had not changed the course of the Saco River in 1816. In the early 19th century the river made such a meandering loop through the Fryeburg intervale that early settlers called it "thirty-six miles of river and six miles of country." Spring floods inundated fields and scattered logs that lumbermen had piled on the river banks.
In 1816, with permission of Massachusetts, the local folks made their first cut and diverted the river into a series of small ponds. From these it rejoined the south flow of the original loop. The canal was narrow but freshets soon widened the channel. Before the canal there were five covered bridges in Fryeburg. After the canal two more bridges were built. One of these was the Old Hemlock Bridge. This wooden structure is 116 feet long and 19 feet wide. It is built on granite block abutments which rise from the sides of the River bed for about 15 feet. The basic engineering concept is Paddleford Truss construction.* [State Park and Recreation Commission photo]
Main Street Historic District
[Main Street from Portland Street to about Swans Falls Road] The Main Street Historic District is a narrow long rectangular area of about fifty-five acres. Primarily residential, the district also contains three historic commercial properties, one significant religious structure, a park, and a private academy.
The frame and masonry buildings represent many of the popular architectural styles from the late 18th through the early 20th century. The earliest are the Federal style houses built from about 1790 to around 1820. By the mid-1830s the Greek Revival style marked a change to the earlier architectural pattern.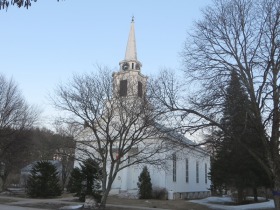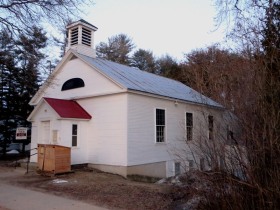 District properties described elsewhere in this article are the Barrows-Steadman Homestead, Squire Chase House, Osgood Family House, and Fryeburg Academy.
Osgood Family House
[Main Street] Probably built in 1810, the Osgood Family House is a substantial Federal period frame residence with notable exterior detailing. It was likely built for Henry Young Brown Osgood and remained in the Osgood family until 1940. Fryeburg village retains a diverse collection of 19th century buildings. These include the Squire Chase House and the Barrows-Steadman Homestead. The Osgood House is one of the most intact and least altered examples of the Federal style in town. In overall form, the building's square shape and hip roof are features typical of houses of the early and mid-Federal periods in Oxford County and Maine. In its local context the Osgood House is a significant architectural landmark.* [Kirk F. Mohney photo]
Parsons, Marion, House
[479 Main Street] This simple late Federal Cape Cod was home during her retirement to Miss Marion G. Parsons, a dedicated and decorated pioneering nurse. Her achievements loom large both for her service in World War I, for which she was internationally recognized, and for her dedication to nurses training.
Born and educated in Fort Fairfield, she entered nurses training at Boston City Hospital in 1902, remaining there as head nurse. In 1909 she became superintendent of nurses at the old City and County Hospital, later the San Francisco General Hospital. After attending Teachers College at Columbia University for two years, she was Instructor of Nurses at New York City Hospital.
In the years of World War I before the United States entered, she volunteered with the "Harvard Unit" formed in Boston to serve at the British base hospital at Camiers, France. When she learned Boston City Hospital was forming a unit for duty in France, she returned to lead training for the volunteers. She saw most of her war service with this group near Tours. The new republic of Czechoslovakia asked the Red Cross to set up a school of nursing under the American system in Prague. Parsons served there for 3½ years. The Czechoslovak government in 1923 decorated her with the Order of the White Lion, personally presented by President Thomas Masaryk. King George V of Great Britain had decorated her in 1919 at Buckingham Palace with the Royal Red Cross for service in the British Expeditionary Force in France.
After Prague she returned to the U. S. and acted as nursing instructor at Boston City Hospital until her retirement in 1940. The house, a large example of mid-19th century architecture, was built about 1838. Miss Parsons purchased the property for her retirement in 1937. She lived there, the only home she ever owned, until her death in 1968 at age 92.*
Rivercroft Farm Historic District
"Rivercroft Farm is an extensive agricultural complex with a long history. In 2015 seven generations of the Weston family had operated the farm since 1799 when Ephriam Weston arrived from Massachusetts and bought a 46 acre parcel along the Saco River from Captain Henry Young Brown the founder of nearby Brownfield. The property contains three residences, two major barns and twelve other agricultural structures erected from the 1830s through the 1980s, all set on over 185 acres of fertile land on the east and west banks of the Saco River.
Notable among these buildings is the Second Empire style John Weston House, designed by Portland architect Francis H. Fassett, which replaced the family's Federal-era home by 1873.
Currently a produce farm, the Weston family's agricultural history has included general farming, cattle trading and dairy production, as well as lumber and forest products."*
Wiley, Benjamin, House
[Maine Route 5, east side, .1 mile north of junction with Woodlawn Avenue] The earliest portion of the Wiley house complex is one of the oldest standing structures in Fryeburg, having been built in 1772. This farmstead has been the home of several individuals who played predominant roles in the history of Fryeburg. Benjamin Wiley, the builder, was one of the first to settle the town and was active in local affairs. Joseph Colby, owner from 1806 to 1853, was a lieutenant in the War of 1812 and was active in Fryeburg politics. His grandson, and owner from 1853 to 1856, Samuel Chandler, was a state representative in 1856. In 1882 Enoch Barker arrived, well known as a quality stone mason from his work on canals in Lowell, Massachusetts.
The original 1772 house has had a second floor added and is now incorporated as the ell of the connected structures. From this original building, a massive Federal house was built in 1792. Over the years sheds and a barn have been added to complete the typical New England connected farmstead.* [Frank A. Beard photo]
NOTE: Since  the National Register listings were nominated, properties along Main Street have been renumbered, so the original addresses no longer refer to these properties. House numbers shown here are the modern addresses.