| Year | Population |
| --- | --- |
| 1970 | 834 |
| 1980 | 1,000 |
| 1990 | 1,099 |
| 2000 | 1,204 |
| 2010 | 1,152 |
Geographic Data
N. Latitude
43:58:10
W. Latitude
69:20:41
Maine House
District 91
Maine Senate
District 12
Congress
District 1
Area sq. mi.
(total) 31.0
Area sq. mi.
(land) 14.0
Population/sq.mi.
(land) 82.3
County: Knox

Total=land+water; Land=land only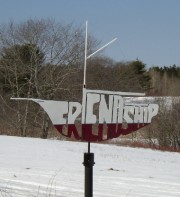 [FREND-ship] is a town in Knox County, incorporated on February 25, 1807 from Medunkook Plantation.
The area was also known as Medumcook, or "bay at the end of the sand bar" by the Indians, probably indicating a fishing place.
Settled in 1750, its boat building heritage began soon after and became best known for its specialty – the Friendship Sloop.
The town, whose islands extend far out into Muscongus Bay, hosts the Friendship Sloop Races each summer, organized by the Friendship Sloop Society.
Franklin Island Light, constructed in 1805, sits at the tip of a series of islands forming the easterly side of Muscongus Bay.
The harbor, with its wharfs, moorings, and public landing, is a central economic and social focal point for the community.
Maine author John Gould spent much of his adult life here.
Maine Routes 97 and 220 meet in the main village on Friendship Harbor. The Nelson Nature Preserve is in the immediate vicinity.
Form of Government: Town Meeting-Select Board.
Additional resources
Chronicles of Cushing and Friendship: containing historical, statistical, and miscellaneous information of the two towns. Rockland, Me. Maine Home Journal. 1892.
Cook, Melville Bradford. Records of Meduncook Plantation and Friendship, Maine, 1762-1899. Rockland, Me. Shore Village Historical Society. c1985.
Friendship Homes: If These Houses Could Talk. Friendship, Me. Friendship Museum. c2007.
MacLachlan, Courtney. The Amanda Letters: Civil War Days on the Coast of Maine. Bowie, Md. Heritage Books. 2003. (Cataloger Note: 46 letters, mostly written to Amanda Davis of Friendship, Maine during the Civil War. The author has constructed a narrative connecting and amplifying the letters, which depict life in isolated coastal communities during the war years.) [University of Maine, Fogler Library, Special Collections; Maine State Library]
Vogel, C. William. Friendship: 150 Years. Orono, Me. University of Maine. 1957.