| Year | Population |
| --- | --- |
| 1970 | 595 |
| 1980 | 582 |
| 1990 | 616 |
| 2000 | 685 |
| 2010 | 618 |
Geographic Data
N. Latitude
45:10:21
W. Latitude
70:29:22
Maine House
District 117
Maine Senate
District 17
Congress
District 2
Area sq. mi.
(total) 41.4
Area sq. mi.
(land) 15.8
Population/sq.mi.
(land) 52.5
County: Franklin

Total=land+water; Land=land only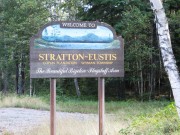 [YU-stiss] a town in Franklin County, was organized as a plantation on March 30, 1857 from a portion of Jackson Plantation. The name was changed in honor of Charles Eustis, an early landowner.
On February 18, 1871 it was incorporated as a town.
In 1775 the area had been the scene of Benedict Arnold's march to Quebec.
He was accompanied by Col. Timothy Bigelow, who returned to the area and for whom Bigelow Mountain is named.
On October 19th, Arnold's dwindling force reached Eustis and then pressed on via the north branch of the Dead River, now paralleled by Maine Route 27.
With the creation of Flagstaff Lake, the river at Eustis and Stratton is more like a lake than the modest stream Arnold encountered.
Eustis village in the north of the township, is on the North Branch of the Dead River and is the smaller of the two villages, the other being Stratton.
The view of the Bigelow Range from Eustis Ridge Road, just south of Eustis village, is spectacular.
Eustis Village is a small settlement with its own post office, chapel, and a few commercial establishments. The settlement has a forest ranger station near the Dead River.
Flagstaff Cemetery was re-located to the town of Eustis in 1950 when Central Maine Power Company dammed the Dead River and flooded the villages of Flagstaff, Dead River and Bigelow to create Flagstaff Lake.  Memorial Chapel adjoins the Cemetery.
Stratton is the main village in the town and is sometimes mistaken for being a separate community. It is located at the junction of the North and South branches of the Dead River where they enter Flagstaff Lake.
Form of Government: Town Meeting-Select Board.
Additional resources
Ruddick, William A. Eustis Genealogy: Family of Charles Lyman Eustis, of Eustis, Maine. New York. W.A. Ruddick. 1946. [Maine State Library]
Whittier, John F., 1834-1907. Papers, 1858-1895. (Cataloger Note: John Flint Whittier was born in Mount Vernon, Maine in 1834 and died in Eustis in 1907. He was a farmer in Eustis. Included are receipts, agreements to repay loans, insurance policies, tax bills, a bill of sale, and a letter from Isaac P. Whittier in 1862 to his brother and sister concerning the death of their brother and Isaac's experiences in the Civil War. [University of Maine, Raymond H. Fogler Library, Special Collections]
National Register of Historic Places – Listings
Blanchard, Ora, House, Main Street Stratton.  [A Queen Anne style structure.]
Coplin Plantation Schoolhouse, Maine Route 16, approximately 4.5 Southwest of junction of Maine Route 16 and Maine Route 27. [Though in Coplin Plantation, the schoolhouse is just a few miles southwest of Stratton village.]
---
Benedict Arnold's Expedition Route – click a Bateau


<== To Quebec To Beginning ==>