| Year | Population |
| --- | --- |
| 1970 | 1,148 |
| 1980 | 1,397 |
| 1990 | 1,476 |
| 2000 | 1,616 |
| 2010 | 1,607 |
Geographic Data
N. Latitude
45:15:56
W. Latitude
68:35:39
Maine House
District 142
Maine Senate
District 5
Congress
District 2
Area sq. mi.
(total) 33.2
Area sq. mi.
(land) 27.9
Population/sq.mi.
(land) 57.6
County: Penobscot

Total=land+water; Land=land only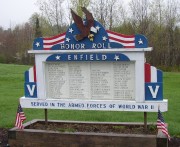 [EN-field] is a town in Penobscot County, incorporated on January 31, 1835 from a portion of "Treat's Tract," a grant held by the Treat family of Bangor. John Treat, Senior, came to Enfield in 1823, just a few years after the earliest settlers arrived in about 1819 or 1820. He established a mill and became a prominent local citizen.
Henry David Thoreau traveled through the town in 1846 on his way to Mount Katahdin. West Enfield Village, in the western edge of the town, is located on the Penobscot River; Enfield Village is on the shore of Cold Stream Pond in the east.
The town is located on the east side of the Penobscot River opposite the point where the Piscataquis River joins it. Cold Stream Pond, at four miles in length, dominates the eastern reaches of the town, taking up about one-sixth of its area. The Cobb Fish Hatchery is on Brady Brook, which empties into nearby Cold Stream Pond.
Along with other communities in the area, people in Enfield are heavily involved in forest management and logging. That is one reason the Maine Forest Service maintains a presence in the community. An office and wood yard of the Prentiss and Carlisle land management company is located in the town.
Running north from Brewer to southern Aroostook County, U.S. Route 2, the old "river road" or "military road," passes through at West Enfield.
Enfield is the birthplace of Arthur R. MacDougall, Jr., author of the Dud Dean stories of a fictional Maine Guide.
Form of Government: Town Meeting-Select Board-Manager.
Additional resources
Chadbourne, Ava Harriet. Maine Place Names and The Peopling of its Towns.
Cole, Galen. Memories of Enfield Railroad Station. 199-? [Bangor Public Library]
Enfield 1835-1985. Special Collections, Fogler Library, University of Maine. Orono.