The Great Egret and the Snowy Egret are both well-known birds along the Maine Coast. Egrets are part of the heron family.
Great Egret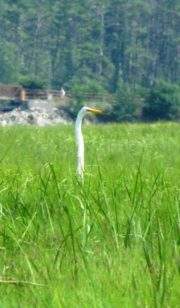 This egret is all white with a yellow bill and black legs. Its length of 35-41 inches is exceeded by it wingspan of 55 inches.  It has been known as the "American Egret," "Large Egret," "Great White Egret," and "Great White Heron," among other names.
In Maine it summers along the coast in York and Cumberland counties, including Scarborough Marsh in the town of Scarborough where these photos were taken.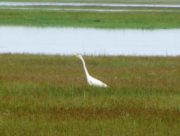 Marshes, marshy ponds and tidal flats are the prime habitats where it prefers to hunt alone.
According to the Birds of Maine Field Guide, "The name 'Egret' came from the French word aigrette, which means "ornamental tufts of plumes." The plumes grow near the tail during breeding season."
Snowy Egret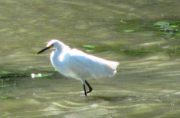 The Snowy Egret (20-27 inches long; 38 inch wingspan) is smaller than the Great Egret and has a black bill, black legs, and yellow feet. It likes salt marshes, shallow coastal bays, and streams entering tidal flats.  Unlike the Great, this egret forages for food in groups. The Snowy summers along the south coast of Maine and migrates to southern states in winter.
The Audubon Society Field Guide to North American Birds notes "Snowies are agile, often seen sprinting about in shallow water, or even hovering as they seek small shrimps and minnows."
Little Egret
In the summer of 2011 a rare, for Maine, "Little Egret" was spotted in Scarborough Marsh. Found in Southern and Central Europe among other locations, it is not often seen in the Western Hemisphere. This bird is about 24 inches long, with a wingspan of 36 inches, about the same as the Snowy Egret.
Additional resources
Bull, John and John Farrand, Jr. Audubon Society Field Guide to North American Birds. Eastern Region. Alfred A. Knopf. New York. 1977.

"Little Egret Egretta garzetta." British Trust for Ornithology. at http://blx1.bto.org/birdfacts/results/bob1190.htm (accessed September 19, 2011)
Tekiela, Stan. Birds of Maine Field Guide. Cambridge, MI Adventure Publications, Inc. 2002., p. 267.