| Year | Population |
| --- | --- |
| 1970 | 1,358 |
| 1980 | 1,769 |
| 1990 | 1,947 |
| 2000 | 2,052 |
| 2010 | 2,225 |
Geographic Data
N. Latitude
44:49:48
W. Latitude
68:376:08
Maine House
District 129
Maine Senate
District 8
Congress
District 2
Area sq. mi.
(total) 26.5
Area sq. mi.
(land) 25.1
Population/sq.mi.
(land) 88.7
County: Penobscot

Total=land+water; Land=land only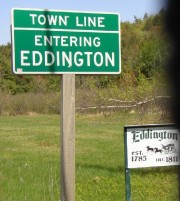 [ED-ing-tun] is a town in Penobscot County, settled in 1780 and incorporated on February 22, 1811 from Eddington Plantation.
It annexed land from Jarvis Gore in 1823 and from Brewer in 1846 and 1855.
The town is named for a Massachusetts native, Jonathan Eddy, who moved to Nova Scotia about 1758, became successful and prominent there.
Eddy returned to Boston to volunteer his services in the Revolutionary War. In 1785 he and nineteen other refugees from Nova Scotia were given 9,000 acres of land in what was to become Eddington.
Eddington and Clifton, its neighbor east on Route 9, share two ponds and a community center in East Eddington, near their mutual town lines.
Eddington village has been known as Eddington Bend for the sharp curve in the Penobscot River.
It is at the junction of the old river road, or military road, to Houlton and the old "Airline" stage route to Calais.
Alewives, once plentiful in the Howland area, were gone after a dam at Eddington Bend barred their migratory progress upstream after 1834.
Natives known as the  "red paint people," lived in the area, as indicated by a burial site discovered in the town.
Eddington has frontage on two major ponds, Chemo [cheemow] and Davis, which it shares with adjoining communities.  The shore of Fitts Pond (the pond is in Clifton) is the site of the Katahdin Scout Reservation known as Camp Roosevelt.
According to one account in Isaacson,
In the days before modern refrigeration, inhabitants of inland villages like Eddington made several trips to the coast for barrels of sand and quantities of clams. A hole was dug in the dirt cellar, then filled with sand in which the clams would stay alive for use in the cold months. One old sea captain is said to have used the clams as rat-catchers; he said he often went to the cellar and found a rat struggling with a clam that had closed its shell in a tenacious grip on the rat's tail." (p. 393)
Form of Government: Town Meeting-Select Board-Manager.
Additional resources
Chadbourne, Ava Harriet. Maine Place Names and The Peopling of its Towns.
Isaacson, Dorris. Maine:A Guide Downeast, p. 393.
*Maine. Historic Preservation Commission. Augusta, Me.  Text and photo from National Register of Historic Places: http://pdfhost.focus.nps.gov/docs/nrhp/text/xxxxxxxx.PDF, http://pdfhost.focus.nps.gov/docs/nrhp/photos/xxxxxxxx.PDF
East Eddington Public Hall: 03001503.PDF
Porter, Joseph W. Memoir of Col. Jonathan Eddy of Eddington, Me.: with some account of the Eddy family, and of the early settlers on Penobscot River. Augusta Me. Sprague, Owen & Nash, printers. 1877.
Wood, Carolyn A. History of Eddington. Eddington Bicentennial Committee. 1976.
National Register of Historic Places – Listings
East Eddington Public Hall
[Airline Road, 0.4 miles West of its junction of Maine Route 46] In this small town no building is more connected to the community than the 1879 East Eddington Public Hall, known also as the Grange Hall, Comins Hall and Eddington-Clifton Civic Center. The two story frame building, with a dining room and kitchen on the first floor and large hall and stage on the second floor, has been the site of town meetings and a variety of community events.
Formed in 1878, the East Eddington Farmers' Club promoted the development of the Hall by forming the East Eddington Public Hall Company in 1878. The Hall was completed the next year.
The club was entitled to a small amount of financial support through the Maine Board of Agriculture. It sponsored annual agricultural exhibitions, giving local farmers a chance to exhibit products and livestock and educate each other about the latest techniques and machinery. The Club ran its first fair in about 1878 and its last about 1901. In 1889 the East Eddington Grange, # 301 Patrons of Husbandry was formed at the Public Hall. The Hall evolved to serve the Grange and the community at large, as the Farmers Club disbanded in the early 20th century.* [See photo above left.]
Eddington Bend
(Site 74-8), Address Restricted