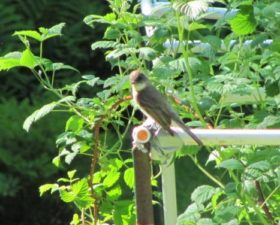 This seven-inch gray bird with brown wings returns to southern Maine in early spring to build its nest, often in the usual place unless it has been destroyed.
The insect eating Phoebe makes its news under overhanging structures, such as eaves, second floor decks, and bridges. It perches on branches or posts awaiting the unsuspecting flying lunch, often bringing the prize to its demanding young nestlings.
In late fall this summer visitor follows the human "snowbirds" south to the states that border the Gulf of Mexico or to Mexico itself.