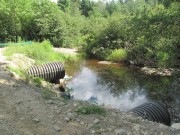 The Erle R. Kelley Wildlife Management Area encompasses most of Dresden Bog, within the town of Dresden, and much of the adjoining land, some of which is in Alna. The Bog, one of Maine's many nature preserves, is accessible from the south side of Bog Road in Dresden, where a nondescript, very narrow stream leads away from the road near several large culverts.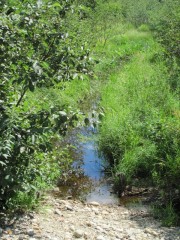 In the narrow stream leading to Dresden Bog, a canoe needs some constant urging to move through the shallow water and brush along the way. Before long one is surrounded by lush growth in a slowly expanding stream. Then the first of two low and narrow beaver dams appears; the second is only a few yards from the first. Both are easily forded.
After a brief winding paddle, the "stream" becomes a pathway through water plants in what emerges as a substantial pond.
Emerging from the marshy entrance, you will be struck by the varied beauty of this place, with many islands dotting the surface, emergent vegetation covering the pond, and mature trees lining the shore. [Wilson and Hayes, p. 47]
Vegetation is close along the access stream until the waterway broadens as one approaches the lake.
Even in "open water" the surface of the pond is frequently host to a wide variety of vegetation. They include lily pads and a budding water lily.
The many wood duck nesting boxes are evidence of a restoration program that has resulted in the bird's return to the area. Unusual for its cousins, the wood duck may be seen perching in trees along the shore.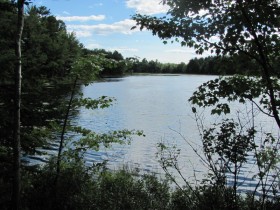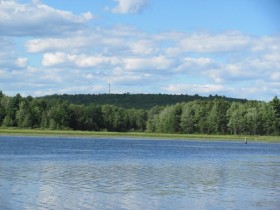 Additional resources
Wilson, Alex and John Hayes. Quiet Water Canoe Guide Maine: Best Paddling Lakes and Ponds for All Ages. Boston, MA. Appalachian Mountain Club. 1995.
Perry, Michael. "Canoeing: Dresden Bog offers ideal early paddling." Portland Press Herald. April 11, 2010. See http://www.pressherald.com/life/outdoors/Dresden-Bog-offers-ideal-early-paddling-.html (accessed 10/14/2010).