| Year | Population |
| --- | --- |
| 1970 | 4,178 |
| 1980 | 4,323 |
| 1990 | 4,657 |
| 2000 | 4,211 |
| 2010 | 4,213 |
Geographic Data
N. Latitude
45:11:03
W. Latitude
69:12:14
Maine House
District 120
Maine Senate
District 4
Congress
District 2
Area sq. mi.
(total) 71.2
Area sq. mi.
(land) 68.2
Population/sq.mi.
(land) 61.8
County: Piscataquis

Total=land+water; Land=land only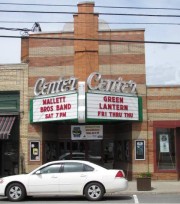 [DOE-ver-FOX-kroft] a town, the county seat of Piscataquis County, was born of the union of Dover and Foxcroft on March 1, 1922. Foxcroft was incorporated on February 29, 1812 from township T5 R7 NWP. Nearby Dover followed suit on January 19, 1822 from T3 R6 NWP.  Dover served as the county seat before the towns combined.
Foxcroft Academy was established as a private secondary school on January 30, 1823, and became the first school to be chartered after Maine became a state. Named for Colonel Joseph Ellery Foxcroft who had purchased the township, it later became the name of the township itself.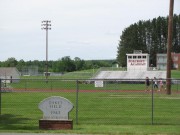 Foxcroft's economy in 1886 featured "a wollen-mill, lumber and grain mills, a door, sash and blind factory, an iron foundary, a shoddy mill, tannery, carriage-factory and several others."
Dover at the time had a woolen mill, two flour mills, a wood pulp and pasteboard mill, and a lumber mill.
"Other manufactures at the village are carriages, boots and shoes, harnesses, pumps, trunks, tin-ware, etc."  In 1880 Dover had a population of 1,687, while Foxcroft was home to 1,264.*
From the titles below of the work by Haynes and Lewis' Booming!, the late 19th century truly was a good economic time for the towns.  But Ainsworth's thesis (cite below) depicts the difficulties that emerged in the 20th century.
While many of the classic 19th century buildings remain downtown, the combined community of over 4,000 retains a vital village center.
Though once separated by it, the Piscataquis River now runs through the joined towns. A dam spans the river in the midst of downtown.
The "old mill" (above right) sports a faded sign: A.W. GILMAN & CO FLOUR, GRAIN, FEED, SEEDS, LIME, CEMENT, HAY, STRAW, WHOLESALE AND RETAIL.  The street side of the establishment appears below left.
Dover-Foxcroft is the birth place of Lillian M. N. Stevens, (1844-1914) who helped found the Women's Christian Temperance Union and served as its president.
Frenk Guernsey, member of Congress and the Maine State Legislature, was born in Dover in 1866. Resident and attorney James S. Wiley was a U.S. Representative in the mid 19th century. Charles E. Littlefield attended Foxcroft Academy and later, in 1899, became member of Congress. He also served in the Maine State Legislature, and as state Attorney General. The town is also the birthplace in 1893 of Clarence Blethen, who played baseball for the Boston Red Sox in 1923, and the Brooklyn Robins (later Dodgers) in 1929.
For a glimpse of local issues in the mid-20th century, from the Annual Town Reports, see the Report of the County Nurse (1942) and the Town Warrant (1944).
The town lies 35 miles north of Bangor on Maine Route 15.
Form of Government: Town Meeting-Select Board-Manager.
Additional resources
Ainsworth, George E. Impact of the Closing of a Textile Mill on the Labor Force of Dover-Foxcroft, Maine. 1954. (Thesis (M.S.) in Business Administration–University of Maine, 1954)
Haynes, George H. Souvenir of Dover and Foxcroft: The Busy, Thriving, Flourishing, Up-to-date Twin Towns. Foxcroft, Me. Press of Fred D. Barrows. 1899.
*Maine. Historic Preservation Commission. Augusta, Me.  Additional text and photos at National Register of Historic Places: http://pdfhost.focus.nps.gov/docs/nrhp/text/xxxxxxxx.PDF and http://pdfhost.focus.nps.gov/docs/nrhp/photos/xxxxxxxx.PDF
American Woolen Company Foxcroft Mill: https://www.nps.gov/nr/feature/weekly_features/2012/ME_12001068.pdf
Chandler-Parsons Blacksmith Shop: 89001702.PDF
James Sullivan Wiley House: 76000111.PDF
Observer Building: 98000724.PDF
"Mission and History of Foxcroft Academy." http://www.foxcroftacademy.org/showpage.aspx?RelId=606782 (accessed November 9, 2011)
Sawtell, William R. The Blethen House: Tale of a Survivor. Brownville, Me. W.R. Sawtell, 1984? (Printed by Printing Impressions)
Stevens, Louis E. 200 Years of Dover-Foxcroft History. Somersworth, N.H. New Hampshire Printers. c1999.
Stevens, Louis E. Booming!: Dover and Foxcroft from 1881-1892. L.E. Stevens. c1980-1996. (Newport, Me.? Newport Print Shoppe)
Stevens, Louis E. Dover-Foxcroft: A History. Somersworth, N.H. New Hampshire Printers. c1995.
*Varney, George J. A Gazetteer of the State of Maine. 1886. pp. 202-204; 235-236.
National Register of Historic Places – Listings
American Woolen Company Foxcroft Mill
After 1830, the American wool industry grew as new machinery lowered the cost of cloth manufacturing. By 1837, woolen textile production had doubled from what it had been in 1830. By 1840 nearly 60 percent of American wool production came from New England and Mid-Atlantic States. lt is within the context of this rapid growth of wool manufacturing in New England that the Mayo & Son mill was built in 1844.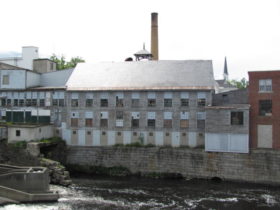 The American Woolen Company Foxcroft Mill complex buildings document the evolution of building techniques, materials, and architectural styles typical of textile mills in Maine. The complex includes ten buildings and structures ranging in date from 1844 to 1941. Originally called the Mayo & Son Mill, the complex achieved its fully developed state with the construction of the shipping building under the ownership of the American Woolen Company in 1941. The American Woolen Company Mill is located on East Main Street, beside the Piscataquis River bridge, at the heart of Dover-Foxcroft, and was occupied by companies that provided employment to a significant number of local residents over a period of 160+ years.
Chandler–Parsons Blacksmith Shop
[Dawes Road] The Blacksmith Shop apparently was built in the early 1860s. Within this modest wood shingled building is a complement of original tools and mechanical devices used in a once common small-scale 19th century industrial enterprise. The blacksmith shop was apparently constructed by Nicholas A. Chandler for use in his horse breeding business for an undetermined period.
Tradition holds that the shop came into the possession of Chandler's sister Cynthia Chandler Parsons whose husband, Henry L. Parsons, was a blacksmith. Parsons was listed as a blacksmith in the 1869 Maine Business Directory. In 1883 he was listed as the agent of the Cooperative Blacksmithing Company, a local organization that filed annual returns of stockholders (including Parsons) between 1882-87. Parsons is thought to have practiced his trade in the building until 1905. For about the next sixty years it was occasionally used by residents of the neighborhood for their smithing needs and storage. In 1964 it came into the possession of the Dover-Foxcroft Historical Society.*
Observer Building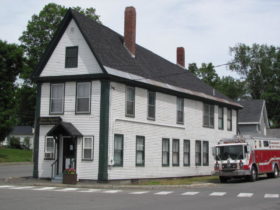 [126 Union Square] Constructed in 1854 for William Sargent as a tenement, the Observer Building is one of only a very small number of so-called "flat iron" buildings in Maine. It is capped by a gable roof whose variable roof slope gives it a curved appearance like that of the hull of a ship. It was in long time use housing the offices and printing press of The Piscataquis Observer.
In 1903 the owner remodeled the first floor and then leased the space to the Observer Publishing Company, printers of the weekly newspaper The Piscataquis Observer. The company acquired the building in 1917 and continued to publish the newspaper from this location until 1996. On July 14, 1997, Northeast Publishing Company, which had acquired the Observer Publishing Company, gave the building to the Dover-Foxcroft Historical Society.* (See the D-F Historical Society building above.]
Wiley, James Sullivan, House
[Main Street] James Sullivan Wiley, who built this Greek Revival temple style house in 1849, was born in Mercer in 1808 and spent his boyhood in Fryeburg. In 1826 he was apprenticed to a blacksmith in Bethel while attending Gould Academy. In 1829 he walked to Bangor, some 133 miles, where he acquired further education and taught school in Brewer.
He graduated with honors in 1836 from Waterville (now Colby) College and became principal of Foxcroft Academy, a position he held for three years. He read law with a local attorney and, upon admission to the Bar, established a practice in Dover. In 1846, after a sharply contested vote, he received the Democratic nomination for the congressional district composed of Penobscot and Piscataquis Counties. He was elected and served one term in the Thirtieth Congress. He then returned to Dover in 1849 and built the beautiful residence on Main Street where he remained until 1889. He spent the next two years in Fryeburg where he died in 1891.* [See Wiley Greek Revival house photo above.]