| Year | Population |
| --- | --- |
| 1970 | 559 |
| 1980 | 812 |
| 1990 | 1,007 |
| 2000 | 1,065 |
| 2010 | 1,181 |
Geographic Data
N. Latitude
44:21:09
W. Latitude
69:07:52
Maine House
District 100
Maine Senate
District 10
Congress
District 2
Area sq. mi.
(total) 36.5
Area sq. mi.
(land) 36.3
Population/sq.mi.
(land) 32.5
County: Penobscot

Total=land+water; Land=land only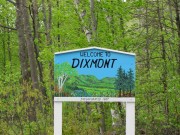 [DIX-mont] is a town in Penobscot County, incorporated on February 28, 1807 from township T3 R1 NWP.
Once known as Collegetown, the township had been donated to Bowdoin College.
Maine Routes 9 and U.S. Route 202 travel through the villages of Dixmont and Dixmont Center, with long views of the surrounding area, including locally known "Dixmont Hill," actually Peaked Mountain.
The mountain can be seen for miles with its communications antennas a distinctive marker.
Dr. Elijah Dix, a substantial landowner in the area, bought the town (and Dixfield) which bears his name.
His son, Joseph, lived in Hampden where his daughter, the future social reformer, Dorothea Lynde Dix was born in 1802. In 1804, Samuel Butman moved to Dixmont from Massachusetts.
He later became a member of the State constitutional convention, a legislator, and member of Congress.
In 1880 the population was 1,132, about what it was in 2010.
In 1886 Dixmont had two mills for long lumber, two shingle mills and one grist mill.  It also had thirteen schoolhouses.
Form of Government: Town Meeting-Select Board.
Additional resources
Chadbourne, S. J. History of the Old Meetinghouse and New Union Church at East Dixmont. Maine. 1900.
Dixmont, 1807-2007. Dixmont, Me. Dixmont Historical Society Committee. 2007.
*Maine. Historic Preservation Commission. Augusta, Me.  Additional text and photos at National Register of Historic Places: http://pdfhost.focus.nps.gov/docs/nrhp/text/xxxxxxxx.PDF and http://pdfhost.focus.nps.gov/docs/nrhp/photos/xxxxxxxx.PDF
Louis Bussey School: 76000108.PDF
Dixmont Corner Methodist Church: 83000468.PDF
Dixmont Town House: http://www.maine.gov/tools/whatsnew/index.php?topic=mhpc_recent_listings&id=624149&v=article
Toothaker, Llewellyn P. The History of Dixmont, Maine. Dixmont, Me. Bi-Centennial Committee. 1976.
Varney, George J. A Gazetteer of the State of Maine. 1886. p. 202.
National Register of Historic Places – Listings
Bussey, Louis I., School
[U.S. 202] Dixmont was one of five townships granted by Massachusetts in 1794 to the trustees of Bowdoin College. After receiving the deed, the trustees sold the major portion, "Collegetown," to Dr. Elijah Dix of Boston in 1801. The town grew rapidly taking the name Dixmont in honor of the proprietor and for its the hilly terrain. Dr. Dix took great interest in the development of the town, making frequent trips from Boston. While on such a visit in 1809 he was taken sick and died, his remains being interred in the town cemetery.
Such was his concern with the welfare of the town, that in 1808 he contributed funds to the town for the erection of five schoolhouses. The one at Dixmont Corner, District # 2, is the sole survivor. The Louis I. Bussey School, named for a community benefactor, is now a social center owned by the Dixmont Ladies Club.
Dixmont Corner Church
[US Route 202] The Union Church at Dixmont Corner is one of the oldest and finest churches in rural Penobscot County. Designed and built by Dixmont carpenter-builder Rowland Tyler, it was among the earliest carpenter-gothic buildings in the Penobscot region, an unusually sophisticated example for so remote a town. Tyler was the manager of the Elijah Dix land-holdings as well as a respected carpenter-builder. The 1812 Bangor City Hall is the only other work attributable to him but its importance suggests that he was a major Penobscot region builder.
The Church was probably modeled on either the 1832 First Congregational Church of Bangor, a brick structure with a wooden cupola or the 1832 Orrington Methodist. Both churches applied Gothic Revival ornaments on a classically proportioned mass and are perhaps the first in Maine that can be linked to the "Gothic Church Revival" of the post-Federal period. It was likely the inspiration for the dozen or more carpenter-gothic churches that appeared in surrounding towns in the next two decades.*
Dixmont Town House
The c. 1836 Dixmont Town House is an example of an early municipal building that was not a general "meetinghouse" for both secular and religious purposes. This small structure served as the town government center until 1952 when it hosted its last town meeting.*
The 2003 photo was taken before the building was restored to a much improved condition, with the shed in foreground removed.