| Year | Population |
| --- | --- |
| 1970 | 559 |
| 1980 | 812 |
| 1990 | 1,007 |
| 2000 | 1,065 |
| 2010 | 1,181 |
Geographic Data
N. Latitude
44:21:09
W. Latitude
69:07:52
Maine House
District 100
Maine Senate
District 10
Congress
District 2
Area sq. mi.
(total) 36.5
Area sq. mi.
(land) 36.3
Population/sq.mi.
(land) 32.5
County: Penobscot

Total=land+water; Land=land only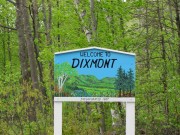 [DIX-mont] is a town in Penobscot County, incorporated on February 28, 1807 from township T3 R1 NWP.
Once known as Collegetown, the township had been donated to Bowdoin College.
Maine Routes 9 and U.S. Route 202 travel through the villages of Dixmont and Dixmont Center, with long views of the surrounding area, including locally known "Dixmont Hill," actually Peaked Mountain.
The mountain can be seen for miles with its communications antennas a distinctive marker.
Dr. Elijah Dix, a substantial landowner in the area, bought the town (and Dixfield) which bears his name.
His son, Joseph, lived in Hampden where his daughter, the future social reformer, Dorothea Lynde Dix was born in 1802.
In 1804, Samuel Butman moved to Dixmont from Massachusetts.
He later became a member of the State constitutional convention, a legislator, and member of Congress.
In 1880 the population was 1,132, about what it was in 2010.
In 1886 Dixmont had two mills for long lumber, two shingle mills and one grist mill.  It also had thirteen schoolhouses.
Form of Government:
Additional resources
Chadbourne, S. J. History of the Old Meetinghouse and New Union Church at East Dixmont. Maine. 1900.
Dixmont, 1807-2007. Dixmont, Me. Dixmont Historical Society Committee. 2007.
Toothaker, Llewellyn P. The History of Dixmont, Maine. Dixmont, Me. Bi-Centennial Committee. 1976.
Varney, George J. A Gazetteer of the State of Maine. 1886. p. 202.
National Register of Historic Places – Listings
Bussey, Louis I., School, U.S. 202
Dixmont Corner Church, US Route 202, Gothic Revival style, 1834-1835, United Methodist Church