| Year | Population |
| --- | --- |
| 1970 | 48 |
| 1980 | 30 |
| 1990 | 32 |
| 2000 | 30 |
| 2010 | 33 |
Geographic Data
N. Latitude
44:41:06
W. Latitude
70:21:04
Maine House
District 118
Maine Senate
District 3
Congress
District 2
Area sq. mi.
(total) 40.6
Area sq. mi.
(land) 38.8
Population/sq.mi.
(land) 0.9
County: Somerset

Total=land+water; Land=land only
[DEN-ihs-town] a plantation in Somerset County, was organized on April 12, 1873 and its organization was confirmed by the Legislature on March 3, 1895.
From catalogers notes regarding the Graffte Papers, cited below:
Amos A. Graffte was born in 1871 on a farm in Dennistown where he spent his entire life. In addition to farming, he was a successful lumberman, having logging crews in Skinner and Holeb, Maine, in the early 20th century. He was also associated with the Jackman Lumber Company and was foreman at the Kellogg Lumber Company in Long Pond, Maine. He was the town clerk of Dennistown for 52 years and town treasurer for 51 consecutive years. He was also superintendent of schools in Dennistown. . . .
Octavia Moulton Graffte was born in Embden, Maine, and came to Dennistown in about 1889 to teach school. She continued to teach in Dennistown for many years and also held town offices there. She was the first woman assessor elected in Maine. She was also active in the Red Cross and in various Liberty Loan and other campaigns during and following World War I.
Located 84 miles north of Skowhegan on U.S. Route 201 and Maine Route 6, it is adjacent to Jackman and just north of Attean Township, which offers fishing, camping, and hiking opportunities to the adventurous. Dennistown has been touted as a scenic location for mountain bicyclists.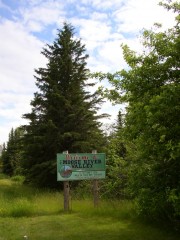 With less than one person per square mile of woods and ponds, Dennistown has no bustling downtown.  It does have a network of unimproved private roads that lead deep into the woods for timber harvesting.
A 1,000 acre section of Maine Public Reserved Lands is located in the extreme northeast corner, immediately below Sandy Bay Township. Boat launches are at Little Big Wood Pond, accessible through Jackman through Dyerville village on Gander Brook Road, and at Crocker Pond on unimproved roads west of U.S. 201 in Dennistown village.
The East and West Branches of Sandy Stream merge to Sandy Stream in the eastern portion of the plantation.  Shallow, sometimes obstructed, the West Branch offers challenging but relatively safe training for running rapids by canoe.
A May 16, 2014 trip began just downstream of a logging road bridge.  Expect several portages, usually over gravel bars, to avoid fallen trees.  Wet feet are guaranteed.
Just off the highway stands a small meeting house  in a well-mowed clearing, awaiting the next gathering of local residents.
Form of Government: Assessors-Annual Meeting.
Additional resources
Graffte, Amos A., 1871-1945. Amos and Octavia Moulton Graffte Papers, 1890-1974. (bulk 1897-1926) (From Cataloger Note: Items about education in the Dennistown school, farming and lumbering in Dennistown.) [University of Maine, Raymond H. Fogler Library, Special Collections]
The History of Moose River Valley: Jackman, Moose River, Dennistown, Long Pond, Parlin Pond, Holeb, Skinner and Lowelltown. Jackman, Me.  Jackman Bicentennial Book Committee. 1976.
Maine. Department of Conservation. Bureau of Parks and Lands. "Flagstaff Region Management Plan." Augusta, Me. 2007. http://www.maine.gov/dacf/parks/get_involved/planning_and_acquisition/management_plans/flagstaff_region/docs/FlagstaffPlan6-12-07corrected8-27-07.pdf (accessed March 10, 2014)