"There is something about it that opens no door to words."
— Steinbeck

| Year | Population |
| --- | --- |
| 1970 | 1,211 |
| 1980 | 1,492 |
| 1990 | 1,829 |
| 2000 | 1,876 |
| 2010 | 1,975 |
Geographic Data
N. Latitude
44:13:43
W. Latitude
68:42:46
Maine House
District 134
Maine Senate
District 7
Congress
District 2
Area sq. mi.
(total) 123.7
Area sq. mi.
(land) 29.7
Population/sq.mi.
(land) 66.5
County: Hancock

Total=land+water; Land=land only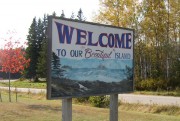 [deer ISLE] is a town in Hancock County, incorporated on February 2, 1789 from Deer Isle Plantation. Much later it set off land to form the towns of Stonington (1897) at the southern tip of the island of Deer Isle, and Isle au Haut (1874), an off shore island.
Settled in 1762, one of it's notable early residents was the Reverend Peter Powers (1728-1800), first regular minister of the Congregational Church (1785-1800) and a fervent revolutionary. A 1965 monument to him recites his contributions:
Distinguished Clergyman Courageous Pioneer
Eminent Scholar
FEARLESS LEADER FOR THE CAUSE OF AMERICAN INDEPENDENCE, HE WAS FIRED UPON BY THE TORIES AFTER PREACHING TWO HISTORIC SERMONS, "TYRANNY" AND "TORYISM EXPOSED." SEPTEMBER 10, 1780, AT NEWBURY, VERMONT, A PRICE WAS SET UPON HIS HEAD AND HIS ASSASSINATION ORDERED. ALTHOUGH SEVERELY PERSECUTED, HE CONTINUED TO PROMOTE THE CAUSE OF LIBERTY, FIRING THE COLONISTS TO NEW RESISTANCE. FIVE SONS AND FIVE BROTHERS BORE ARMS AND SERVED WITH HONOR AND DISTINCTION IN THE CONTINENTAL ARMY.
A GRADUATE OF HARVARD, A.B., A.M., HE HELPED TO FOUND DARTMOUTH COLLEGE, WHERE HE RECEIVED AN HONORARY A.M. DEGREE. HE PIONEERED THE ESTABLISHMENT OF NUMEROUS CHURCHES THROUGHOUT NEW ENGLAND AT GREAT PERSONAL AND PHYSICAL SACRIFICE AND GAVE THE FIRST ELECTION SERMON TO THE FIRST LEGISLATURE OF VERMONT IN 1778. HE WAS THE FIRST SETTLED PASTOR OF DEER ISLE, MAINE IN 1785, WHERE HE SERVED UNTIL HIS DEATH IN 1800.
The town of Deer Isle occupies the northern two-thirds of the island of Deer Isle and all of Little Deer Isle. The Town of Stonington sits on the southern end of Deer Isle.
An amateur film from the archives of Northeast Historic Film offers a view of both towns in the 1940s.
The Deer Isle-Sedgwick Bridge, which can be see from Sedgwick, is a spectacular suspension structure arching over Eggemoggin Reach, which separates the island from the mainland.  It was constructed in 1938 and opened to traffic in 1939. Its main span is 1080 feet long, while the two side spans are 484 feet in length. With 100-foot approach span on each side, the total length is 2,248 feet. Originally, the deck was supported only by vertical hangers from the main cables. Later additional bracing was added to increase resistance to the wind.
In 1960, John Steinbeck described it thus:
First, there was a very high iron bridge, as high-arched as  a rainbow, and after a bit of low stone bridge built in the shape of an S-curve [the causeway], and I was on Deer Isle. . . .
There is something about [Deer Isle] that opens no door to words. But it stays with you afterward, and, more than that, things you didn't know you saw come back to you after you have left. One thing I remember very clearly.  It might have been caused by the season with a quality of light, or the autumn clarity. Everything stood out separate from everything else, a r0ck, a rounded lump of sea-polished driftwood on a beach, a roof line.
Barred Island nature preserve, managed by The Nature Conservancy, is a .2 acre island with spruce-fir and shrub-cover and extensive granite shore ledges. Accessible by landing on inter-tidal sandbar or across private property with permission of Goose Cove Lodge owners, the island has no trails though one may walk along the shore. Little Eaton Island is also a sanctuary managed by the Conservancy. The Town of Deer Isle has 77 coastal islands including rock outcrops, ledges, and the large 100-acre Conary Island.
At Northwest Harbor, the Island of Deer Isle is almost split in two. The remaining narrow land area, at the village, is known as the "Haulover," used by Indians and white settlers alike. The huge buildings below are located in the village on Route 15 in its "Historic Harbor District."  The district encompasses over twenty named structures.
---
---
Form of Government: Town Meeting-Select Board.
Additional resources
Deer Isle and Stonington. The Deer Isle-Stonington Historical Society. Charleston, SC Arcadia Publishing. 2004.
Deer Isle Comprehensive Plan: November 2006. http://www.hcpcme.org/deerisle/DICompPlan1106.pdf (accessed May 28, 2011)  Includes a town history.
Deer Isle Conservation Commission (Me.). Wild Flowering Plants of Deer Isle. Deer Isle. Deer Isle, Me. Deer Isle Conservation Commission. c1996.
Gross, Clayton H. Steel over Eggemoggin: a History of the Deer Isle-Sedgwick Bridge. Stonington, Me. Penobscot Books. c1989.
Hooke, Roger LeB. A Geologic History of Deer Isle, Maine: a Thumb Nail Sketch. 2003.  University of Maine, Orono, Special Collections, Raymond H. Fogler Library.
Hosmer, George L. An Historical Sketch Of The Town Of Deer Isle, Maine: With Notices Of Its Settlers And Early Inhabitants. Sunset, Me. Deer Isle-Stonington Historical Society. 1983.
Marsh, D. W. et al. "Analysis of Wind and Wind Effects Revisited – A Case Study of the Deer Isle-Sedgwick Bridge" NIST SP 931. Gaithersburg, MD: National Institute of Standards and Technology. August, 1998.
Rittenhouse, Caroline Smith. An Island Woman: Salome Sylvester Sellers, Deer Isle, Maine, 1800-1909. Stonington, ME Peg Mitten Press. [1998?]
Steinbeck, John. Travels with Charley, pp. 50, 54.
National Register of Historic Places – Listings
Haskell, Squire Ignatius, House, Maine Route 172A
Olmsted, Frederick Law, Summer Home, southwest of Sunset on Deer Isle Sunset
Pond Island Archeological District, Address Restricted
Powers, Peter, House, Maine Route 15 and Sunshine Road
Pumpkin Island Light Station, Pumpkin Island, on Little Deer Isle, Eggemoggin Reach
Sellers, Salome, House, south of Deer Isle on Maine Route 172