| Year | Population |
| --- | --- |
| 1970 | 105 |
| 1980 | 146 |
| 1990 | 161 |
| 2000 | 250 |
| 2010 | 309 |
Geographic Data
N. Latitude
45:00:12
W. Latitude
70:34:38
Maine House
District 117
Maine Senate
District 17
Congress
District 2
Area sq. mi.
(total) 40.4
Area sq. mi.
(land) 39.0
Population/sq.mi.
(land) 7.9
County: Franklin

Total=land+water; Land=land only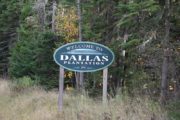 [DAL-iss] is a Franklin County plantation whose organization was confirmed on March 5, 1895. Prior to that several adjoining townships were known as Dallas.
In 1870 there were 159 people in the Plantation's 23,040 acres; only 172 in 1900. Although the abundant timberlands represented a valuable resource, the difficulty of removing it to market was a barrier that was not overcome until the early 20th century.
Limited agriculture and sheep raising existed but apparently not on any commercial scale. The low income of the residents is indicated by valuation statistics that show the total value of real and personal property was $11,148 in 1866 and $33,981 in 1899.
Adjacent to Rangeley, and near the Rangeley Lakes and the Saddleback ski area, Dallas is now a small but growing community, having nearly tripled its population in the 1970-2010 period.  Most of its population forms part of the extended village of Rangeley.
Rangeley Lakes Trail Center, billing itself as a "four-season trail system," with trails for cross-country skiing, hiking and mountain biking, is located in Dallas. The plantation is home to two public lots within the Mahoosuc/Rangeley Region. The region is managed primarily for forest products and dispersed recreation, such as hunting and fishing.
The 380-acre Dallas Plantation North Lot has been managed for forest products for many years. It is characterized by gentle slopes and mid-aged northern hardwood and mixed forests, with softwoods along a central meandering stream that drains from the Greeley Ponds to Loon Lake. Three small beaver meadows lie along the stream.
A large area of inland waterfowl and wading bird habitat lies around the Greeley Ponds. Approximately 110 acres have been mapped as a deer wintering area.
The 66-acre Dallas Plantation South Lot lies on lowland forest just a few miles outside of Rangeley. The lot is forested with mid-aged mixed wood stands and includes a small stream that drains into Bull Pond.
Saddleback Lake is located northwest of Sandy River Plantation's Saddleback Mountain and ski area.. A number of small inlets enter the pond from the south. The lake's shoreline is lightly developed. Water quality is marginal for cold water game fish. Despite critically high summer water temperatures, a wild population of brook trout survives and provides a fishery. The Lake is accessible by foot off a gravel road near the west end of the pond. It is open to fishing with artificial lures only in the summer and is closed to ice fishing. Motorboats are prohibited.
Saddleback Lake in Rangeley is the source of the South Branch of the Dead River, which flows north through Dallas and then Lang Township, ultimately emptying into the Dead River and Flagstaff Lake near Stratton.
---
Even in March with snow on the shore, the Dead River's South Branch offers scenic rewards for the enterprising canoeists.
Form of Government: Assessors-Annual Meeting.
Additional resources
Historical Records Survey (Maine). Inventory of the Town and City Archives of Maine: No. 4 Franklin County, vols. V & VI Coplin and Dallas. Portland, Me. The Historical Records Survey. 1939.
Maine. Department of Agriculture, Conservation and Forestry. "Natural Resource Inventory of the Mahoosuc and Rangeley Region: Small Units." "Dallas Plantation Lots – North and South." http://www.maine.gov/dacf/parks/get_involved/planning_and_acquisition/management_plans/docs/5SmallUnits.pdf (accessed March 6, 2914)
Maine. Department of Inland Fisheries and Wildlife. "Saddleback Lake." https://www1.maine.gov/ifw/fishing/lakesurvey_maps/franklin/saddleback_lake.pdf (accessed May 25, 2017)
*Maine. Historic Preservation Commission. Augusta, Me.   Text condensed and edited and photos from National Register of Historic Places: http://pdfhost.focus.nps.gov/docs/nrhp/text/89002345.PDF and http://pdfhost.focus.nps.gov/docs/nrhp/photos/89002345.PDF
National Register of Historic Places – Listings
Upper Dallas School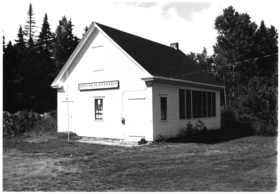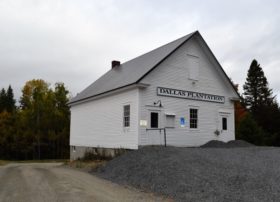 [436 Dallas Hill Road] Probably built in the fourth quarter of the 19th century, the Upper Dallas School is well preserved. It has served as the town hall for many years and is one of the Plantation's most significant architectural landmarks.
In 1861 a district schoolhouse was apparently built on or near the site of the existing building. It seems likely, based on its architectural features, that the present school is a later replacement, probably built after 1888 when a deed was made for a lot on the northeast side of the County Road. The map of Dallas in the 1894-1895 State Atlas of Maine indicates that the location in the deed matches the present one. The original school was known as the Perry School. A second schoolhouse was built in Dallas in 1895. Known as the Lower Dallas School. it has been converted into a residence.
How long the Upper Dallas School was used for educational purposes is not certain. Its use as a town hall, however, continued from the date of construction until at least 1929. Local tradition holds that it has always been the space used for town meetings.  In any event,  the school building has served for much of its history as the center of plantation government.
Given the sparse settlement and economic condition of Dallas Plantation in the 19th and early 20th centuries, it is not surprising that this modest but little altered building is one of the community's most significant architectural resources.*  It was still the Town Office in 2011.
[Kirk Mohney black & white photos]