| Year | Population |
| --- | --- |
| 1970 | 588 |
| 1980 | 726 |
| 1990 | 779 |
| 2000 | 623 |
| 2010 | 507 |
Geographic Data
N. Latitude
44:38:09
W. Latitude
67:13:48
Maine House
District 139
Maine Senate
District 6
Congress
District 2
Area sq. mi.
(total) 116.3
Area sq. mi.
(land) 47.0
Population/sq.mi.
(land) 10.8
County: Washington

Total=land+water; Land=land only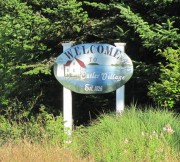 [KUT-ler] is a town in Washington County, incorporated on January 28, 1826 from Plantation Number 11 ED. This small community has become even smaller in population during the period 1990-2010.
This coastal community is east of East Machias and boasts a large, protected harbor known as Little Machias Bay. It shares Holmes Bay, in upper Machias Bay, with the adjoining town of Whiting.
"Little River" is in fact a long, narrow cove, east of Little Machias Bay, protected by a small island on which Little River Light Station has operated since 1847. The harbor is a convenient, safe location for recreational boaters on a long "downeast" cruise.
Once a destination for coastal steamers from Boston in the late 19th century, that heavy tourist traffic has been replace by the occasional yachts, usually carrying their own food and lodging. The Little River Lodge, overlooking the harbor, was built to serve the steamer trade, but was for sale in 2010.
A Very Low Frequency antenna system is located on a peninsular forming the west side of Little Machias Bay.  Operated by the U.S. Navy, its exists to communicate with U.S. Navy submarines.  The system, a 2,000,000 watt transmitter, was completed in 1961 with over 20 towers ranging from 800 to nearly 1,000 feet in height. It was upgraded in 2007.
Maine Route 191, the "Cutler Road," leaves East Machias and runs through the main village at Little River, then turns northeast to Trescott and Lubec.  The harbor is strategically located for those who wish to visit Machias Seal Island with its colony of puffins and many other sea birds. The village hosts the town office, public library, and the elementary school.
Cutler Coast Public Preserved Land, in Cutler and Whiting, contains almost five miles of dramatic cliff-bound ocean shore. The 12,000-acre area represents the eastern tip of Washington County where peatlands, blueberry barrens, partially forested ledges, and thick, swampy woods dominate the countryside. Unusual features like grasslands and meadows, windswept coastal headlands and steep, jagged cliffs that jut into the ocean hug the 4.5 miles of totally undeveloped coastline. Access is from Route 191 in Cutler.
Form of Government: Town Meeting-Select Board-Administrative Assistant.
Additional resources
Holmes, Jim. "New Insulators Keep Antenna System Up & Running." http://www.navy-radio.com/commsta/cutler/Cutler-antwork.pdf (accessed November 3, 2011)
*Maine. Historic Preservation Commission. Augusta, Me.  Text and additional photos from National Register of Historic Places: http://pdfhost.focus.nps.gov/docs/nrhp/text/88000156.PDF, http://pdfhost.focus.nps.gov/docs/nrhp/photos/88000156.PDF
"NAA Cutler Maine – Navy VLF Transmitter Site." 2 MW, 14-24 kc. http://www.navy-radio.com/commsta/cutler.htm (accessed November 3, 2011)
National Register of Historic Places – Listings
Little River Light Station
[Little River Island] Built in  1847, rebuilt in 1876 and 1888, the Station on Little River Island is at the mouth of the Little River. It consists of a tapered cylindrical iron light tower (one of only a few in Maine), a detached frame keeper's house, a boathouse, and an oil house.
A guide to Cutler Harbor, it  is also a navigational aid between the lights at West Quoddy Head in Lubec, Libby Island Light off Machiasport and the Canadian light at Machias Seal Island. Machias Seal Island is a favorite  destination to view Atlantic puffins.
The small community is focused on Cutler Harbor, known for its deep, ice free character and the high protective bluffs. Local 19th century industries included fishing, ship building and a herring box factory. The station was automated in 1975 and the beacon removed from the tower to a skeletal frame.*
Both the Eastern Nubble (on the northeast entrance to Little River), and the Light Station are exposed to the open Atlantic.