| Year | Population |
| --- | --- |
| 1970 | 522 |
| 1980 | 795 |
| 1990 | 988 |
| 2000 | 1,322 |
| 2010 | 1,534 |
Geographic Data
N. Latitude
44:00:37
W. Latitude
69:15:32
Maine House
District 92
Maine Senate
District 12
Congress
District 1
Area sq. mi.
(total) 26.1
Area sq. mi.
(land) 19.4
Population/sq.mi.
(land) 79.1
County: Knox

Total=land+water; Land=land only
[KUSH-ing] is a town in Knox County, incorporated on January 30, 1789 from St. Georges Plantation.
In 1803 is set off a portion of its land to form the new town of St. George. From 1807 through 1909 Cushing swapped land with Friendship, Thomaston, and Warren.
The town was named for Thomas Cushing, founder of the American Academy of Arts and Sciences, who was also Lieutenant Governor of Massachusetts (1783-1788) just prior to the towns founding. It is the birthplace of 19th century U.S. Representative Edward Robinson.
Cushing is just south of Thomaston, via South Warren and the River Road, and lies on the western shore of the St. George River.
A rapidly growing community, its population has almost tripled between 1970 and 2010.
In the 1880's, when the population numbered about 800, Varney noted,
Broad Cove and Maple Juice Cove are its principal harbors, lying on the eastern side.
The town tapers southward to a point. Directly south of the mainland and separated only by a narrow passage, is Gay's Island, forming part of the town.
The manufactures consists of boats, and cooper's ware. The occupation of the people is largely on the sea.
The village is on the stage line from Thomaston to Friendship.  It is 10 miles from the railroad station at Rockland.
The number of public schoolhouses is six.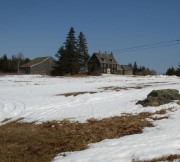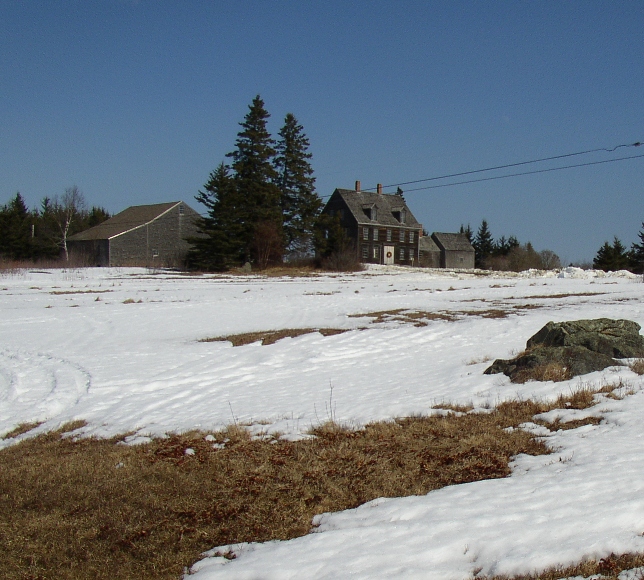 Cushing has become famous as the home of Anna "Christina" Olson, Andrew Wyeth's subject in his now classic 1948 painting "Christina's World." The weather beaten house overlooks the Georges River and the family cemetery.
The Olson family cemetery sits on the banks of the Georges River. It contains the graves for Christina Olson her parents, John and Kate, her brother Alvaro, and several other family members.
Form of Government: Town Meeting-Select Board.
Additional resources
Brooks, Jean Olson. Christina Olson: Her World Beyond the Canvas. Camden, Me. Down East Books. c1998.
Chronicles of Cushing and Friendship: containing historical, statistical, and miscellaneous information of the two towns. Rockland, Me. Maine Home Journal. 1892.
*Maine. Historic Preservation Commission. Augusta, Me.   Text and photos from National Register of Historic Places: http://pdfhost.focus.nps.gov/docs/nrhp/text/xxxxxxxx.PDF and http://pdfhost.focus.nps.gov/docs/nrhp/photos/xxxxxxxx.PDF
Olson House: 93001114.PDF
Miller, Frank Burton. Soldiers and Sailors of the Plantation of Lower St. Georges, Maine, who Served in the War for American Independence. Rockland, Me. 1931. [Cushing, Me. Cushing Historical Society. 1974.]
Of a Place Called St. Georges. [Maine] Bradley A. Beckett. c1989. (Rockland, Me. Courier-Gazette)
Varney, George J. A Gazetteer of the State of Maine. 1886. p. 188.
Wentworth, Barbara Copeland. No Boughs on My Bonnet: the journal of the times of Barbara Copeland Wentworth of Cushing, Maine, 1811-1890. edited by Ruth M.J. Aiken. Augusta, Me. [Maine Historic Preservation Commission]. c1983.
National Register of Historic Places – Listings
Burton, Benjamin, Garrison Site, Address Restricted
King, Thomas, Inscription, Address Restricted
Olson House

, National Historic Landmark
[Hathorn Point Road, East side, South Cushing] (See photos above.) A weathered 19th century farmhouse whose rural setting remains largely undisturbed, the Olson House has achieved significance in the history of American art by virtue of its association with the work of Andrew Wyeth. For nearly thirty years, from 1939-1968, Wyeth depicted the house, its immediate environment, and its occupants, Christina and Alvaro Olson. Its inspirational role for Wyeth, insured the historical importance of the house.
Alexander Hathorn and his two brothers of Salem, Massachusetts received a grant of the property and adjoining lots in 1743. A series of Alexander's descendants lived on the lot for over 200 years, including Christina Hathorn Olson.
The house, with the exception of its gabled upper story, is presumed to be the one built by Samuel Hathorn II in the late 1700s, but with many structural changes since then. In 1892, a young sailor, John Olson, is said to have come ashore as a result of an early freeze on the St. George River. Here he met Kate Hathorn whom he married. They remained at the Hathorn house until they died. Their two oldest children, Christina (1893-1968) and Alvaro (1894-1967) inherited the property in 1929.
Andrew Wyeth was introduced to Christina Olson in 1939, by his soon to be wife Betsy James. Crippled in childhood, Christina became the subject of numerous Wyeth studies, watercolors, and paintings including "Christina Olson"(1947), "Geraniums" (1960), "Wood Stove" (1962), and the most famous: "Christina's World" (1948).*