| Year | Population |
| --- | --- |
| 1970 | 1,700 |
| 1980 | 1,887 |
| 1990 | 2,196 |
| 2000 | 2,145 |
| 2010 | 2,198 |
Geographic Data
N. Latitude
44:56:44
W. Latitude
69:15:25
Maine House
District 100
Maine Senate
District 10
Congress
District 2
Area sq. mi.
(total) 39.4
Area sq. mi.
(land) 38.7
Population/sq.mi.
(land) 56.8
County: Penobscot

Total=land+water; Land=land only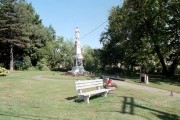 [ko-RIN-ah] is a town in Penobscot County, incorporated on December 11, 1818 from T4 R4 NWP township.
On January 26, 1852 the boundary between Corinna and Dexter was established by Private and Special Law 460.
George Varney noted the many mills that once dominated the local economy. The main village at the outlet of a pond formed by the Sebasticook River East Branch.
From the mid-1930s to 1996 the Eastland Woolen Mill provided employment in Corinna.  However, it discharged contaminated water into the East Branch of the Sebasticook River. It became a Superfund Site because its hazardous wastes were a threat to human health. It has been substantially cleaned and restored.
Dr. John Warren of Boston bought the township from Massachusetts in 1804 and encouraged settlement by giving away some land and erecting a combination grist/saw mill. Although the inhabitants had asked for it to be named North Woods, the town was named in honor of Dr. Warren's daughter.
Corinna is the birthplace of Gilbert Patten (1866) who wrote the Frank Merriwell series of boys books under the name Bert L. Standish.
Just south of Dexter, the main village is at the junction of the Sebasticook River and Maine Routes 7, 11, 43, and 222.
Form of Government: Town Meeting-Select Board-Manager.
Additional resources
Chadbourne, Ava Harriet. Maine Place Names and The Peopling of its Towns.
Eastland Woolen Mill, Corinna, Maine. EPS Facility ID: MED980915474. http://response.restoration.noaa.gov/book_shelf/244_Eastland.pdf [link no longer accessible]
Knowles, Ruth M. Warren's Four Towns: St. Albans, Hartland, Palmyra, Corinna. St. Albans, Me. R.M. Knowles. c1988.
*Maine State Archives. George French Photo Collection.
**Maine. Historic Preservation Commission. Augusta, Me.   Text and additional photos from National Register of Historic Places: http://pdfhost.focus.nps.gov/docs/nrhp/text/74000190.PDF and http://pdfhost.focus.nps.gov/docs/nrhp/photos/74000190.PDF
National Register of Historic Places – Listings
Stewart Free Library
[Maine Routes 11 and 43] The Stewart Free Library and Town Hall has been described by the Maine Historic Preservation Commission as
a highly ornamental late Victorian building in a virtually original state of preservation. The style is an eclectic one, reflecting the High Victorian Gothic in its decorative surface treatment of varied materials and textures, the Colonial Revival in the presence of the Palladian motif, and the French Second Empire in the mansard roof of the belfry. All of these elements combined to create a dramatic architectural statement which dominates the rural Maine village of Corinna.
The Library/Town Hall was designed by an architect from Minneapolis, commissioned by Levi M. Stewart, a Minneapolis millionaire. He was the son of a Corinna minister who followed a typically Maine gospel of temperance and abolition. Stewart started as a teacher, later becoming a fisherman in Searsport where he saved enough money to put himself through Dartmouth College. He graduated from Harvard Law School with the financial assistance of his brother who was also a lawyer. In 1858 he and his brother moved to Minneapolis and established a law office. Stewart was an early speculator in Minneapolis real estate and by the end of his career had become one of the leading authorities in that field and amassed a fortune estimated between $12 and $20 million.
In 1895 Levi, "The Elder" as he was called by townspeople, commissioned the Stewart Free Public Library as a memorial to his mother and father. When it was finished, "The Pride of Corinna" was considered one of the finest public buildings in the state. Stewart personally donated the first 3,000 volumes upon its completion in 1898. At his death, Stewart left his own private law and literary collection consisting of 10,000 volumes to the Library and a $50,000 trust fund for its operation.**