| Year | Population |
| --- | --- |
| 1970 | 162 |
| 1980 | 275 |
| 1990 | 437 |
| 2000 | 459 |
| 2010 | 486 |
Geographic Data
N. Latitude
44:40:17
W. Latitude
67:48:39
Maine House
District 138
Maine Senate
District 6
Congress
District 2
Area sq. mi.
(total) 36.3
Area sq. mi.
(land) 36.0
Population/sq.mi.
(land) 13.5
County: Washington

Total=land+water; Land=land only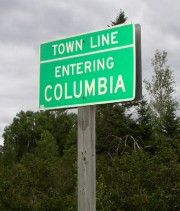 [kol-UM-bee-ah] a town in Washington County, incorporated on February 8, 1796 from T12 and T13 SD, BPP townships. Initially endowed with a large double township area, between 1818 and 1881 it ceded land to Harrington (twice), Centerville, Columbia Falls, and Cherryfield. It also annexed Number 19 Plantation, then gave part back (1838, 1859) and obtained part of Jonesborough in 1840.
The northern portion of the town is a lowland area home to the "Great Heath" and the Pleasant River as it winds itself toward Columbia Falls.
According to its Comprehensive Plan,
The history of Columbia is to a large extent based upon the natural resources that drove the local and regional economy, including logging, saw mills, fishing, boat building, bean farming and blueberries. Early residents engaged successfully in a variety of businesses. Many current residents can trace their families back to the town's early days. Columbia still enjoys many of the benefits from our past, as a small town with a strong sense of community, where people look out for one another. . . .
The earliest settlers in the Pleasant River Valley came for the marsh hay and the lumber. To enhance the quality of the salt hay, boxes and dikes were built in the marshes to reduce the salt water content. These were called "aboiteaux" and that area is now called "the abadors".
As lumber mills sprang up, boat building followed. At one time there were three shipyards at the Branch (Four Corners area). The early settlements near the mills were Epping, Saco Falls, the Branch, Little River, Webb District and Georgetown. There were stores at Epping Corner.
When the railroad was built a settlement grew up near the train station. Here a factory was built for canning blueberries, then string beans and finally freezing fish. The factory burned in 1972, but by that time all the commerce in Town had moved out to Route 1 near the Branch [corner of U.S. Route 1 and the Station Road, near the West Branch of the Pleasant River].
U.S. Route 1 cuts the southeast corner of this small but growing community, bucking the trend of population loss in much of Washington County.
The town's Comprehensive Plan, developed in cooperation with the Washington County Council of Governments, is a source of detailed information. The map below is from the plan. The main village, Columbia is at H5, Epping at H2, and Georgetown is near Friendship Cemetery. (click to enlarge)
Form of Government: Town Meeting-Select Board-Administrative Assistant.
Additional resources
Columbia, Town of. Columbia Comprehensive Plan. Columbia, Me. 2004. http://www.wccog.net/columbia-comprehensive-plan.htm (accessed March 5, 2014)
Day, Clarence Albert, 1883-1981. Papers Relating to Towns in the Pleasant River Valley: Addison, Columbia, Columbia Falls. 195-? [University of Maine, Raymond H. Fogler Library, Special Collections]
Greene, Nancy H. A History of Columbia and Columbia Falls: in Honor of the American Bicentennial, 1776-1976. 1976? (Cherryfield, Me. Narraguagus Printing Co.)
Leighton, Levi, 1818-1912. Centennial Historical Sketch of the Town of Columbia, as gathered from the town records, family records and traditional history from the memory of its aged citizens, from 1796-1896. Cherryfield, Me. Narraguagus Printing Co. 1974?
Leighton, Levi, 1818-1912. Levi Leighton's "Life Journal" [copied by Clarence Day] 1839-1859. [University of Maine, Machias]
Leighton, Levi, 1818-1912. Sketches in Columbia, Maine. Portland, Me. S. M. Watson. 1898.
*United States. Department of the Interior. National Park Service. "Columbia Union Church." https://npgallery.nps.gov/GetAsset?assetID=cf78c7b5-40c1-4ec9-bb80-a15dc69ba706 (accessed February 7, 2017)
National Register of Historic Places – Listings
Columbia Union Church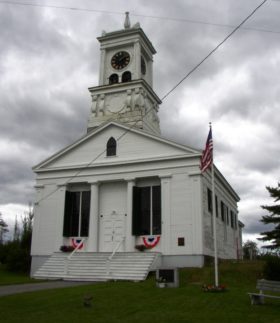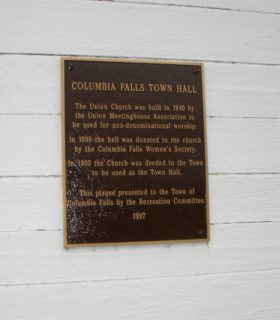 ---
[North side of ME 29-608, .05 miles East of junction with ME 29-610] Built in 1829 and extensively remodeled in 1870, the Columbia Union Church in Epping village, is a Greek Revival style frame building with Gothic Revival detailing around its window and door openings as well as on its two stage tower. In its remodeled state, the church is remarkably similar in form to the Union Evangelical Church  in neighboring Addison, a building that was erected in the early 1860s.
It was first known as the Epping Baptist Church, the first religious building in the town of Columbia, which had been settled by Anglo-Americans prior to the Revolution. At the taking of the 1800 census its inhabitants numbered 357 persons. The Baptist congregation traces its origins to 1788, and until the church building was constructed, meetings were held in private homes and school houses.
Baptists abandoned the building at some time before 1840 when a new meeting house was built. The Columbia Union Society was organized in 1866 with the intent of repairing the Union Meeting House making it suitable for public meetings. The extensive remodeling in 1870 was carried out under the direction of this organization. The Union Society has held title to and maintain the church, through the 20th century.*