| Year | Population |
| --- | --- |
| 1970 | 367 |
| 1980 | 517 |
| 1990 | 552 |
| 2000 | 599 |
| 2010 | 560 |
Geographic Data
N. Latitude
44:40:23
W. Latitude
67:42:49
Maine House
District 138
Maine Senate
District 6
Congress
District 2
Area sq. mi.
(total) 24.7
Area sq. mi.
(land) 24.5
Population/sq.mi.
(land) 22.9
County: Washington

Total=land+water; Land=land only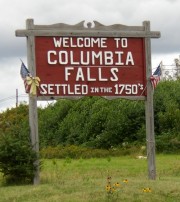 [kol-UM-bee-ah FALLS] is a town in Washington County, incorporated on March 25, 1863 from a portion of its sister community to the west, Columbia.
This former lumbering and shipbuilding community boasts several notable homes from the bygone era. The Ruggles House on Main Street, built for lumberman and judge Thomas Ruggles, is an example of superb workmanship. Aaron Simmons Sherman was the architect and builder.
The town was home to the first woman admitted to the bar in Maine in 1872, Clara Hapgood Nash. She practiced law with her husband F. C. Nash. In possibly her first court appearance on October 15, 1873 in Machias, she defended the Town of Jonesboro regarding damages to a horse. She also participated in the women's suffrage movement, circulating a petition to the Maine Legislature in 1873.
The blueberry industry has sustained the local economy to keep the population stable and sometimes growing, however modestly, in this economically challenged part of Maine.
In 1877 future major league baseball player Irving "Irv" Melrose Young was born in Columbia Falls. His six year career (1905-1908, 1910-1911) included the Boston Beaneaters, Boston Doves, the Pittsburgh Pirates, and the Chicago White Sox. As a pitcher he won 66, lost 95, with an earned run average of 3.11.
Form of Government: Town Meeting-Select Board-Administrative Assistant.
Additional resources
Bucknam family. Family papers, 1821-1925. Papers of residents of Columbia Falls, Maine, and records of a temperance society in Columbia Falls. (University of Maine, Orono, Special Collections.)
Day, Clarence Albert, 1883-1981. Papers Relating to Towns in the Pleasant River Valley: Addison, Columbia, Columbia Falls. 195-? [University of Maine, Raymond H. Fogler Library, Special Collections]
Greene, Nancy H. A History of Columbia and Columbia Falls: in Honor of the American Bicentennial, 1776-1976. Cherryfield, Me. Narraguagus Printing Co. 1976?
Leighton, Levi. Levi Leighton's "Life Journal." 1839-1859 [copied by Clarence Day] (Available at University of Maine at Machias, Merrill Library)
*Maine. Historic Preservation Commission. Augusta, Me.  Text and photo from National Register of Historic Places: http://pdfhost.focus.nps.gov/docs/nrhp/text/xxxxxxxx.PDF, http://pdfhost.focus.nps.gov/docs/nrhp/photos/xxxxxxxx.PDF
Columbia House: 00001203.PDF
Ruggles House: 70000080.PDF
Union Church (former): 00000759.PDF
Mills, Paul H. Interview "Historical Research and Early Maine Women Attorneys: Part 2." July 17, 2002. Interview Archives. July/August 2002. LawInterview.com. http://www.lawinterview.com/interviewmaster_archive_07_02.html accessed 10/19/2004. [Clara Hapgood Nash]
National Register of Historic Places – Listings
Bucknam House, Maine Street
Bucknam, Samuel, House, U.S. Route 1
Columbia House
[Main Street at junction with Church Hill Circle] The 1834 Columbia House is a two-story Federal style frame house with a rear ell connected to a two-story wing and carriage shed. Apparently built for Gowin (sometimes Gowen) Wilson, it began to be used as an inn in 1847. Wilson was the proprietor of the Columbia House until 1882, apparently the only inn or hotel in Columbia Falls at the time. The House is one of the last of a long line of Federal style houses in the community. Its Greek Revival trim in one room reflects the emerging fashion soon to dominate the architectural styles in Maine.*
Ruggles House
[Main Street] (see photo above) The 1820 Ruggles House is unlike other houses of its style in that it is only one room deep. The modest two story building has some outstanding architectural features.
"The most distinctive feature of the house is the 'Flying' staircase which rises from the front hall, then divides into two reverse stairs without lateral support. Mantles and other interior wood finish were carved. Much of the fine work was completed with a pen knife, including the rope beading on the cornices of the fireplace and a swastika design below the mantle in the dining room. The elaborate carvings are over ornate, but this was typical of the architecture of the time of the Ruggles House construction. The doorway that opens into the front hall is an example of the change that was in progress when builders were going from the Georgian to the neo-classic style of architecture."
Thomas Ruggles came to Columbia Falls in 1770 from Rochester, Massachusetts. He became the area's largest owner of timberland, owned a sawmill and ships to transport his lumber. Ruggles was postmaster, merchant, captain of the militia and justice of the court in Machias. He died soon after the house was completed in 1820.*
Union Church
[Main Street, 0.1 mile Northeast of junction with Addison Road] Set back from Main Street in Epping village, the 1840 former Union Church is a Greek Revival style frame building with a striking three-stage bell tower. In 1889 a clock was installed in the tower, resulting in the removal of the original rectangular louvered openings. The interior was converted in 1949-50 to a gymnasium for use by the nearby school. It was used for school functions such as plays, graduation ceremonies, and physical education classes, and for annual town meetings until 1987 when a new community building was completed.*