| Year | Population |
| --- | --- |
| 1970 | 643 |
| 1980 | 869 |
| 1990 | 1,012 |
| 2000 | 1,170 |
| 2010 | 1,352 |
Geographic Data
N. Latitude
44:33:12
W. Latitude
70:05:22
Maine House
District 114
Maine Senate
District 11
Congress
District 2
Area sq. mi.
(total) 37.6
Area sq. mi.
(land) 36.5
Population/sq.mi.
(land) 37.0
County: Franklin

Total=land+water; Land=land only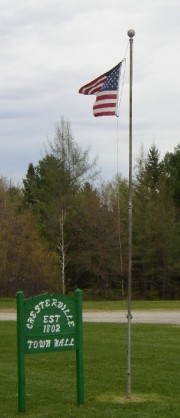 [CHES-ter-vil] a town in Franklin County, incorporated on February 20, 1802 from Chester Plantation. It annexed land from Wilton in 1811 and Vienna in 1847 to complete its current area. The village of Farmington Falls is partly in Farmington and partly in Chesterville.
Chesterville increased its population between 1970 and 2010 by 110 percent, during which time the state added only 25 percent.
Norridgewock Stream runs north through the town and enters the Sandy River at Farmington Falls. Several ponds (Norcross, North, Sand, Locke and Crowell) dot the landscape, and add to the water access provided by frontage on the larger Parker Pond in the south.
George Varney noted "There is a beautiful village Union church [in Farmington Falls], containing a bell that was given by Rev. Jotham Sewall, – widely known as the 'Apostle of Maine,' – whose remains lie entoumbed in the outskirts of the village."
It is the birthplace of 19th century U.S. Representative Samuel Morrill.
Though a small, rural community distant from metropolitan centers, Chesterville has grown modestly, but consistently, over the past forty years.
The Chesterville Wildlife Management Area is just south of the main village.  According to the Maine Department of Fisheries and Wildlife,
If a quiet canoe trip and the excitement of jump shooting appeal to you, consider the Chesterville WMA located in Franklin County. Chesterville is a long narrow marsh that follows the winding course of Little Norridgewock Stream. Narrow tracts of forested upland parallel to the marsh complete the 1340 acre area. Gunning is best early in the season when woodies, black ducks, and hooded mergansers are plentiful, or maximize your hunting experience by visiting Chesterville in November and bag a deer and a limit of ducks in one outing.
Form of Government: Town Meeting-Select Board-Administrative Assistant.
Additional resources
Butler, Ben. Father Sewall and his Zion's Hill neighborhood, Chester (Chesterville, Maine) c1800. Farmington, Me. Farmington Historical Society. 1967.
Chesterville, Maine Records. Hallowell, Me. Mary Kelton Dummer Chapter, D.A.R. 1940-1941.
French, Ervin J. Diary and Account Book, 1882-1924. (bulk 1882-1884, 1923-1924) (Cataloger Note: Ervin J. French was a farmer in South Chesterville, Maine. He was born around 1856. He later moved to Livermore Falls, Maine. A diary and account book of a farmer in South Chesterville, Maine and later in Livermore Falls. The accounts begin on Jan. 1, 1882 and continue to April 12, 1884. The diary and account book begin on May 12, 1923 and continue to March 17, 1924. The diary records the weather and daily activities.
Historical Records Survey (Maine). Inventory of the town and city archives of Maine : no.4 Franklin County, vol. IV Chesterville. Portland, Me. Historical Records Survey. 1939.
Maine. Department of Inland Fisheries and Wildlife. "Wildlife Management Areas." http://www.maine.gov/ifw/hunting_trapping/regional_information/regiond.htm (accessed March 4, 2014)
Sewall, Oliver. History of Chesterville, Maine. Farmington, Me. J.S. Swift. 1875.
Whittier, Cindy. Chesterville Memories: A Bicentennial History Scrapbook, 1802-2002. Me. 2005 (Portland, Me. Walch Publishing)