| Year | Population |
| --- | --- |
| 1970 | 199 |
| 1980 | 300 |
| 1990 | 271 |
| 2000 | 324 |
| 2010 | 332 |
Geographic Data
N. Latitude
45:00:45
W. Latitude
67:16:09
Maine House
District 140
Maine Senate
District 6
Congress
District 2
Area sq. mi.
(total) 34.1
Area sq. mi.
(land) 31.3
Population/sq.mi.
(land) 10.6
County: Washington

Total=land+water; Land=land only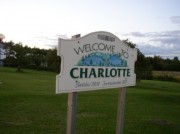 [SHAR-lot] is a town in Washington County, incorporated on January 19, 1825 from Plantation T3 ED, PS.
Bisected by Maine Route 214 connecting Pembroke and Meddybemps, Charlotte is bounded on the east by the Dennys River.
The first settlement was established about 1807-1810 by several men by the names of Bridges, Damon, Truesdale and Fisher. In 1886 it had five public schools and, in 1880, a population of 489.
At Blanchard Corner on Route 214, both Round Lake and Pennamaquan Lake are accessible by the road leading eastward. According to Eckstorm, the Indian word Pennamaquan in its various forms essentially refers to a maple ridge as a source for maple syrup.
Beginning in Charlotte's Pennamaquan Lake and extending through Pembroke along the Pennamaquan River is the Pennamaquan Wildlife Management Area. This 1,500-plus acre site offers opportunities for boating, canoeing, hunting, fishing, and viewing of eagles, deer and waterfowl.
Form of Government: Town Meeting-Select Board.
Additional resources
Charlotte Sesquicentennial Committee. Charlotte, Maine Sesquicentennial, 1825-1975. Charlotte, Me. The Committee. 1975.
Eckstorm, Fannie Hardy. Indian Place Names of the Penobscot Valley and the Maine Coast.
Fisher, Lewis Beals. Story of a Down East Plantation; Facts and Fancies about the Pine Tree State, by one of the Tribe of Fishers. Chicago. 1915?
Maine. Department of Inland Fisheries and Wildlife.  "Pennaquam WMA." http://www.maine.gov/ifw/wildlife/management/wma/region_c/pennamaquam.htm (accessed February 16, 2012)
Starboard, Henry. Account Book. 1860-1862. (Cataloger Note: A volume used by Starboard to record purchases made by customers presumably at a general store in Charlotte, Maine. Goods purchased include cotton, buttons, tea, soap, candles, potatoes, etc. Entries are headed both Charlotte and Pembroke, Maine. The volume also records Starboard's work for others, much of which involved making barrels, hoop poles, and tubs. Another part of the volume contains records of Enoch Fisher of Charlotte, Maine, and details his activities as justice of the peace, assessor, overseer of the poor, and selectman in Charlotte.)
Varney, George J. A Gazetteer of the State of Maine. 1886. p. 170.