| Year | PopulationView post |
| --- | --- |
| 1970 | 1,256 |
| 1980 | 2,243 |
| 1990 | 3,018 |
| 2000 | 3,469 |
| 2010 | 3,742 |
Geographic Data
N. Latitude
43:57:58
W. Latitude
70:30:50
Maine House
Dists 66,67
Maine Senate
District 26
Congress
District 1
Area sq. mi.
(total) 36.4
Area sq. mi.
(land) 31.3
Population/sqmi
(land) 119.6
County: Cumberland

Total=land+water; Land=land only
[KAS-ko] settled by Europeans in 1771, is a town in Cumberland County incorporated on March 18, 1841 from a portion of Raymond. It went on to annex more land from Raymond the following year, from Poland in 1858, and from unincorporated land in 1876.  Casco is separated from Naples by the Crooked and Songo Rivers.
The town shares the north shore of Sebago Lake with surrounding towns. The Crooked River winds its way through the western portion of the town to Sebago Lake State Park, which is accessible by the Park Access Road in Casco.
The Songo Lock, built about 1830, linked Long Pond and Brandy Pond with Sebago Lake, thus allowing passage of boats from Harrison to Portland through the Oxford-Cumberland Canal in Standish. The Lock straddles the Songo River, shared by Casco and Naples, in Sebago Lake State Park.
One of its most prominent residents was author and Bowdoin College graduate Nathaniel Hawthorne.
Webb's Mills was a small community near Crescent Lake where corn canning factories prospered in during the late 1870's.
Casco is served by U.S. Route 302 and Maine Route 35 north from North Windham, and by Maine Routes 11 and 121, which cross at Pikes Corner near Parker Pond.
It is a rapidly growing community, whose population was up by 15 percent 1990-2000, and by over 300 percent 1970-2010.
Hacker's Hill Preserve on Quaker Ridge Road, managed by the Echo Loon Land Trust, is a 27 acre space providing 360 degree views of the White Mountains and Lakes Regions.
---

Congressional Medal of Honor winner:
EDWARD M. PIKE
Form of Government: Town Meeting-Select Board-Manager.
Additional resources
Crescent Lake Canning Company (Webb's Mills, Me.). Records, 1917 Sept. 4-1921 June 6. (Cataloger Note: Records of a corn canning company in Webb's Mills, part of the town of Casco, on Crescent Lake during the early 20th century.) [University of Maine, Raymond H. Fogler Library, Special Collections]
A History of Casco, Maine, 1976. Casco, Me. The Casco Bicentennial History Committee. 1976?
Kluge, Melissa Jill. The History of Casco, Maine. State College, Pa. Jostens Printing and Publishing. c1991.
Knight, Ernest Harmon. Historical Gems of Raymond and Casco. Raymond, Me. Raymond-Casco Historical Society. 1996.
*Maine. Historic Preservation Commission. Augusta, Me.   Text and photos from National Register of Historic Places: http://pdfhost.focus.nps.gov/docs/nrhp/text/xxxxxxxx.PDF and http://pdfhost.focus.nps.gov/docs/nrhp/photos/xxxxxxxx.PDF
Friends Meetinghouse: 75000095.PDF
Friends Schoolhouse: 6000650.PDF
Hawthorne, Nathaniel, Boyhood Home: 69000030.PDF
Manning, Richard, House: 93000639.PDF
Watkins House and Cabins: 92000792.PDF
National Register of Historic Places – Listings
Friends Meetinghouse
[Quaker Ridge; N43° 58′ 8.92″  W70° 31′ 52.60″] This modest structure on Quaker Ridge is the oldest Society of friends meetinghouse in Maine. It was built in 1813 when Casco was part of Raymond and Maine part of Massachusetts. It is well preserved, retaining a considerable amount of its original interior. The only modification occurred in the late 19th century when the west wall was enlarged slightly to provide for a harmonium (small organ), an unusual feature for a Quaker congregation.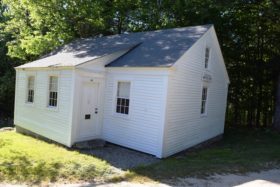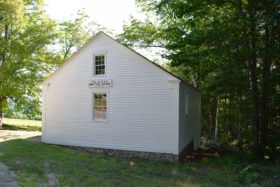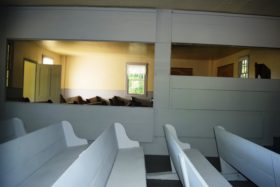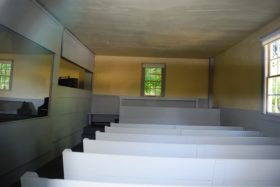 Quaker meetings were generally quiet affairs with speaking and especially singing rare. The Friends Meeting at Casco was organized in 1802 by settlers from nearby Windham, whose own meeting dates from 1779. Quakerism in Maine made its first appearance in 1662 when a group of Friends, escaping persecution in New Hampshire, held a meeting at what is now South Berwick. This group soon left for Boston, however, and the first established religious worship by the Society was at Eliot in 1730. The Falmouth (now Portland) Meeting dates from 1740 and was a source of much discontent among the town's Congregationalists and other more conservative sects well into the 1780s. In spite of such intolerance, Quakerism continued to spread throughout what is now York and Cumberland Counties, then Maine's most settled areas. Meetings were founded at South Berwick (1742), Harpswell (1751), Durham (1771) and Windham (1779). After the end of the Revolutionary War and creation of the Federal government, persecution became rare.
With the opening of the Maine hinterlands in the last decade of the 18th century and first decades of the 19th century, a Quaker meeting became a feature of many communities in Southern and Central Maine. Nathaniel Hawthorne spent much of his Casco childhood in the home of his uncle, Richard Manning. In his first diary, written as a boy, Hawthorne paid the Friends of Casco a gracious compliment, noting that "They never cheat". The Friends Meeting House was used as the site of Casco's first town meeting when it was set off from Raymond in 1841. Regular Sunday meetings were discontinued in 1921 until 1956 when one annual meeting was held there. Since then it has been used for Sunday meetings during July and August by Friends who are largely summer residents of the Sebago Lake area.*
Friends School
[Off West side of the Meadow Road (Route 121), behind Public Library; N44° 0′ 14.57″ W70° 31′ 23.58″]Built about 1849, the Friends School is a one room, wooden frame schoolhouse, in 2017  managed by the Raymond-Casco Historical Society as a museum. Originally located on Quaker Ridge where it was built and used by several Quaker families, the school was moved to South Casco village in 1971.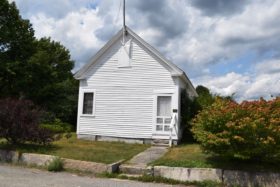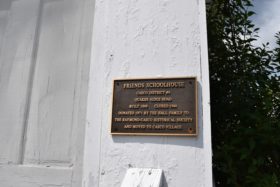 Shortly after its incorporation in 1841, the Town of Casco created eleven separate school districts. The Friends School was located in District #4. In 1859 there were ten schoolhouses in the town at a time when the population stood at 1,046 persons. The number of buildings had dropped to eight and the population to 908. Consolidation of the several rural schools took place in the early 1940s, at which time all of the remaining one-room schoolhouses in the town were closed. The Friends School (vacated in 1942) was acquired at auction in 1946 by Charles Gould, who gave it to his sister Ellen, a former teacher in the school. In 1968 Ellen Gould bequeathed the property to Hacker Hall and Leona Hall Edwards who presented it to the Raymond-Casco Historical Society.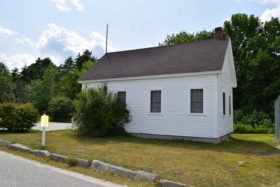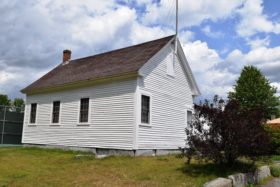 The one-room schoolhouse was a familiar object in the rural landscape of 19th and early 20th century Maine, as towns subdivided themselves into school districts, each containing a schoolhouse. Although the district school system became a target for 19th century school reformers, it produced a vast number and variety of buildings; a figure which at the beginning of the 20th century totaled more than 4,000. School consolidation has taken a dramatic toll on the number of these buildings. In 1960, for example, it was reported that only 226 schools in Maine were being held in one-room buildings, a figure that has since dropped to a mere handful. Typically constructed of wood with gable roofs, Maine's one-room school buildings were modest architecturally; the schoolhouse of 1900 may have looked very much like one several decades older. Mid-19th century reformers were suggesting that two entrances to prevent "much confusion and rudeness" and to promote "orderly habits. This feature did not become a universal characteristic of Maine schools, however, as is evident in the single door on the Friends School.*
Hawthorne, Nathaniel, Boyhood Home
[Hawthorne and Raymond Cape Roads South Casco] The Hawthorne House was built by Nathaniel Hawthorne's uncle, Mr. Richard Manning. It is in the village of South Casco in the Town of Casco.  When Hawthorne spent time there the village was part of the Town of Raymond.  Casco split from Raymond and became a new town in 1841, including South Casco village. The famous author spent many days there as a full time resident during the years 1818-1821 before he went off to Bowdoin College. After the Mannings moved to Salem, Massachusetts, the house was used as a local pub known as Scribner's Tavern.
Richard Manning left money for the erection of a church in South Casco but local citizens thought it best to remodel the old Hawthorne House, which was completed in 1839. Mrs. Manning later married Francis Radoux, a French dancing master and the house became known as Radoux's Meeting House. The Reverend Samuel Brann, a Baptist preacher, held services in the house as did the Bullochites, a religious sect in the area. In 2015 the house is used for occasional public functions and is administered by the Hawthorne Community Association.*
The Association notes: "The span of 1812-1825 which our Association uses is meant to describe the total period of the Hawthorne's association with this house, and not necessarily continuous residence in Raymond." http://www.hawthorneassoc.com/index.html (accessed March 10, 2015)
Manning, Richard, House
[Raymond Cape Road, West side, 0.3 miles south of US 302 South Casco] The Manning House is a substantial, well preserved Federal style home, built about 1813. Its original owner, Richard Manning, was a native of Salem, Massachusetts, who moved to Raymond (now Casco) to manage his family's large land holdings in the area. Manning, the uncle of Nathaniel Hawthorne, built a house nearby for his widowed sister and nephew.
Richard Manning (1782-1831) was the son of Richard and Miriam (Lord) Manning. In 1816 Manning married Susan Dingley, the daughter of Samuel Dingley, a mill owner and resident of a house diagonally across the street from Manning's. Two years later, his widowed sister Elizabeth Clarke (Manning) Hawthorne moved from Salem to the house built for her (her sea captain husband had died in Surinam in 1808). This is the Nathaniel Hawthorne Boyhood Home, heavily remodeled in the late 1830s into a community hall.*
Hill-Watkins House and Cabins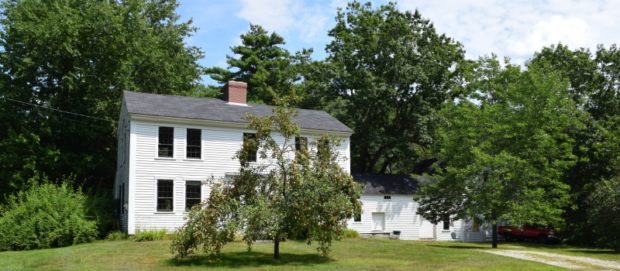 [Junction of Raymond Cape Road and US 302; N43° 54′ 45.76″ W70° 30′ 59.07″] The Federal period stylistic features of the two-story house places its date of construction around 1810. In both its overall form and detailing, the center chimney house was similar to many other old farmhouses in Maine. The original owner is unknown, but its next occupant was William Hill, who apparently acquired the farm in the late 1830s or early 1840s.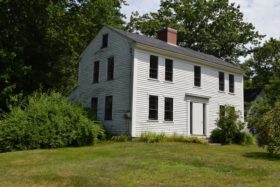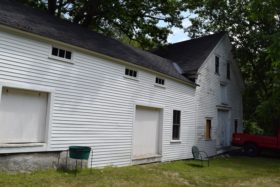 The change in ownership probably resulted in the first significant alterations to the house, adding the Greek Revival front entrance and similarly styled features in the second floor. Additions to the rear of the house resulted in the long, deeply recessed ell. Hill never organized his buildings into a true connected farm complex linking house and barn as was typical of the period.
The barn was destroyed by fire in 1883 and its replacement was built onto the end of the ell. In 1850 William Hill's farm contained 20 acres of improved land and 30 acres of unimproved land. This small farm supported five cattle and six sheep, producing wool, butter, cheese, and hay.
During the following decade Hill's land holdings had been enlarged but farm production declined. The one-story cape was built by Clark Watkins in 1837. He apparently built the house shortly thereafter since he married Mary Jane Jackson the following year. In 1876, three years after Clark's death, his widow purchased the adjoining Hill farm, including the two-story house. Mary Jane (Jackson) Watkins and her children Sumner and Josephine moved to the large house and rented the smaller one. This pattern of use continued in the 20th century when her grandson Charley Watkins incorporated it into his summer rental properties, naming it the Clark Cabin.
The Hill homestead began to lose its agricultural focus. Sumner Watkins established a small-scale carriage factory in 1877. Located on a site diagonally across the road from the main house, this wooden frame building housed an active business employing five or more men, until Sumner's death in 1907. The family's income during the late 19th century was also supplemented by a cottage industry in which coats were made for the local Dingley Brothers store. Although non-agricultural sources of income were of prime importance by the late 19th and early 20th centuries, the agricultural component was not entirely displaced. Until the mid-1930s, an orchard with about fifty Tolman Sweet apple trees produced a crop marketed in Portland and sold to summer tourists. Chickens, eggs, butter, milk, and cream were sold to augment the cash income.
The break from the property's early agricultural history came with the cabin rental business that Charley Watkins (1889-1974) established in the 1920s. Like many of his contemporaries, he filled an important niche in the rapidly developing post World War I tourism industry. As Maine's system of roads was improved and the automobile became popular, the State's recreational amenities, became far more accessible. As a result, roadside compounds of small frame cabins such as those on the Watkins property [N43° 54′ 44.88″W70° 30′ 55.42″]  sprang up along the principal highways to meet the new source of demand for lodging. The cabin rental business probably began to wane in the late 1950s with the advent of motels and when the reconstruction of Route 302 forced moving one of his cabins and the office and eliminated the well serving them. Four of the surviving cabins were pulled down in the 1980s. Upon the death of Charley Watkins in 1974, the property devolved to his niece. She placed it under a conservation easement held by a local land trust with specific provisions to protect the stone walls and the architectural integrity of the historic buildings.*