| Year | Population |
| --- | --- |
| 1970 | 354 |
| 1980 | 438 |
| 1990 | 458 |
| 2000 | 520 |
| 2010 | 560 |
Geographic Data
N. Latitude
44:37:18
W. Latitude
70:25:14
Maine House
District 112
Maine Senate
District 17
Congress
District 2
Area sq. mi.
(total) 33.3
Area sq. mi.
(land) 33.2
Population/sq.mi.
(land) 16.9
County: Franklin

Total=land+water; Land=land only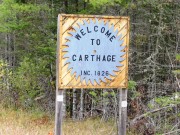 [CAR-thij] is a town in Franklin County, first settled by William Bowley and a Mr. Winter.  Bowley built "Boley's Mills" on the Webb River.
Incorporated on February 20, 1826 from Plantation Number 4 in that county, it later (1849) set off land to form a new Plantation Number 4.
The town, named for the classical North African city, is north of Dixfield on Maine Route 142, which follows the winding Webb River to the southern tip of Webb Lake.
Here is how George Varney viewed the town in 1886:
Across the broad pine-covered plain in the northern and middle part, runs, in a tortuous course southward, Webb's River, the outlet of Webb Pond.  The eastern part of the town is hilly, but the soil in general is moderately good. There is much limestone in the town; and near the centre is a quarry which has been worked to some extent. . . . The principal village is Berry's Mills, on Webb's River, in the western part of the town.  It is 29 miles south-west of Farmington, and is connected by stage-line with the Androscoggin Railroad at North Jay.
In 1886 Carthage had six public schoolhouses.  In 1870 its population was 486; in 1880 is was 507 – both about the same as in recent decades.
Form of Government: Town Meeting-Select Board.
Additional resources
[All images 2013 unless otherwise noted]
Campbell, N. H. "Carthage is Nearly 130 Years of Age." 1932 Feb.5 (Cataloger Note: Newspaper article from the Franklin Journal. [Maine State Library]
Varney, George J. A Gazetteer of the State of Maine. 1886. pp. 164-165.
National Register of Historic Places – Listings
Coburn, John G., House, 360 River Road