| Year | Population |
| --- | --- |
| 1970 | 10,419 |
| 1980 | 9,916 |
| 1990 | 9,415 |
| 2000 | 8,312 |
| 2010 | 8,189 |
Geographic Data
N. Latitude
46:52:00
W. Latitude
67:59:26
Maine House
District 149
Maine Senate
District 1
Congress
District 2
Area sq. mi.
(total) 80.2
Area sq. mi.
(land) 79.3
Population/sq.mi.
(land) 103.3
County: Aroostook

Total=land+water; Land=land only
Congressional
Medal of Honor winner:
Vietnam War
DONALD S. SKIDGEL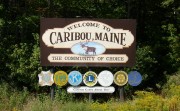 [KAR-ih-boo] is a City in Aroostook County, incorporated on April 5, 1859 as the town of Lyndon from Eaton Plantation and part of half township H. In 1869 Lyndon annexed Eaton, Sheridan and Forestville plantations.
On February 26th of that year its name was changed to Caribou, the back to Lyndon on March 9th! Finally on February 8, 1877 Caribou was confirmed as the town's permanent name. Ninety years later, It was incorporated as a city February 23, 1967.
Though Alexander Cochran visited the area in 1793 seeking a mill site, European settlers awaited the conclusion of the northern boundary dispute with Canada before arriving in force in 1843.
After the optimism of 1967, the City began a long-term population decline, associated with difficulties in the traditional potato industry and the closing of nearby Loring Air Force Base in Limestone.
The city is located on the northern bend of the Aroostook River before it heads southeast to join the St. John River in Canada just east of Fort Fairfield. In the sparsely populated "County," Caribou is at the hub of spokes serving the area via U.S. Route 1 and Maine Routes 89, 161, 164, 205 and 228.
The Nylander Museum of Natural History on Main Street offers collections include geology, paleontology, archaeology and, ironically in this inland area, mollusk shell collections.
Caribou is the birthplace of U.S. Senator Susan M. Collins.
Form of Government: Council-Mayor-Manager.
Additional resources
100 years of Lumbering by the Collins Family of Caribou, Maine. Edited by S. W. Collins, Jr. Caribou, Me. The S.W. Collins Co. 1944.
150 years of Building Aroostook, 1844-1994: S.W. Collins Co., The Pioneer Lumberyard. Edited, compiled, layout by Kitty Collins Wiesendanger. Caribou, Me. The Company. 1994.
Caribou Centennial, 1859-1959, week of July 19-25: historical program: a century of development in Maine. Caribou Centennial Committee. Caribou, Me. Caribou Publishing Co. 1959.
Grant, Rena V. Three Men from Aroostook: the story of the Hardison family. Berkeley, Calif. Brazelton-Hanscom. c1963.
Hardison, Grover M. Romance of the Eaton Grant, a Part of Caribou Township. Newspaper clippings from the Aroostook Republican 1947, April 3,10,17.
Hardison, Lewis M. Life and Times of Grover Merrill Hardison. Kerrville, Tex.?. The Author. 1986.
Hardison, Lewis M. Stories from My Growing Up Days in Caribou, Maine. Kerrville, Tex.? The Author. 1993.
History of Caribou. Caribou High School Civics Class 1933-4; Edited by Ella Mae Russell. Caribou, Me. The Class. 1934?
Kimball, Margaret T. The Neighborhood Store. Print Works. 1998.
*Maine. Historic Preservation Commission. Augusta, Me.   Text and photos from National Register of Historic Places: http://pdfhost.focus.nps.gov/docs/nrhp/text/xxxxxxxx.PDF and http://pdfhost.focus.nps.gov/docs/nrhp/photos/xxxxxxxx.PDF
Gray Memorial United Methodist Church and Parsonage: 95000725.PDF
McElwain House: 82000739.PDF
Milton, Jeanne. Life of Harry Dyer [sound recording]. Caribou, Me. The Author. 1970.
Shaw, Brenda. The Dark Well: Coming of Age on a Maine Farm. Brunswick, Me. Audenreed Press. 1997.
Tasker, William J. The Pioneer Homes of Caribou: a celebration of homes in Maine's northernmost city. Caribou, Me. Monkey Publishing. 2005.
They Went from Caribou: from the Civil War papers of George Whitneck. Edited by Avis M. Armstrong, Major (Ret) Wendell O. Doody, Juanita K. Knowlton, Allen J. Voisine. Caribou, Me. Caribou Historical Society. 1995.
White, Stella King. Early History of Caribou, Maine: 1843-1895. 1945?
National Register of Historic Places – Listings
Gray Memorial United Methodist Church and Parsonage
Completed in 1914, the Church is the most stylish historic religious structure in the City. With its tall tower and crowning spire punctuated on four sides by a clock, it is a prominent landmark.
The Church is a roughly L-shaped, wooden frame building with a tall two-stage tower that dominates the front. Arched windows as well as larger memorial windows lend the church a Gothic appearance.
Caribou's experience with Methodism begins in 1860 when the community's six Methodists were served by a circuit minister in a schoolhouse. As the region developed, the congregation grew to allow a rented house and later their own parsonage. In 1885 a Methodist Church was built one block west of the present site. By 1911 the growing congregation and need for instructional space forced the church to consider a new building. The present lot containing a residence was purchased and the house moved back to become the parsonage. Work on the church began immediately with the exterior completed in 1913 and the interior finished early in 1914. It was named in honor of Bessie Gray, the pastor's wife, who had been active in securing a new facility.
The building is an important architecturally as an early twentieth century church whose unaltered plan reflects a synthesis of two major nineteenth century developments in Protestant church design: the Auditorium Plan and the Akron Plan.*
McElwain House
[2 Main Street] The beautiful 1917 McElwain House was, for 30 years, the home of one of Aroostook County's most prominent farmers. John McElwain, combining an industrious nature with a taste for elegance, created an agricultural empire in the early 20th century. The Colonial Revival style home of this "country squire" is an imposing reminder of the era that produced it and, for all its remote location, was as elegant and refined as many of the "cottages" then being built along the coast. [Kristine Bull photo for the Northern Maine Regional Planning Commission.]
When McElwain came to Caribou from Woodstock, New Brunswick in 1902, he brought his young wife and the capital necessary to purchase 200 acres along the western side of the Aroostook River. Here he began a farm of livestock (hogs, cattle, and chickens) and cultivated crops (potatoes, buckwheat, and oats). By 1911, he was referred to as a "hustling farmer."
The social events at the McElwain House during the 1920's were well described in the local newspapers. Geneva's T-Garden, an old fashioned and elegant concession stand, was located in the sunken garden and was a success from the time of its opening in 1925. From all accounts the McElwain's social events were impeccable, the atmosphere festive, the decor flawless, and the food a delight. Such were the "Roaring 20's" even in remote Caribou.
As a result of the Great Depression, the family modified the house to accommodate tourists. In 1973 the Northern Maine Regional Planning Commission purchased the property to insure its preservation.*