These birds are colorful members of the finch family.  The male is well known for its bright red coat, and the female has tinges of red on her fine brownish feathers.  At 8-9 inches, they sport a distinctive tuft atop their heads.
Both males and females wear a black "mask" around their eyes. Cardinals are year-round residents of Maine who prefer edges of woodlands (but not deep woods), thickets, bushes, and gardens. Primarily seed eaters, they often show up at bird feeders, especially in the winter. Both males and females share in incubating the eggs and feeding the young. When Cardinals have a second brood, the male is the primary feeder while the female prepares a second nest, like the Song Sparrow.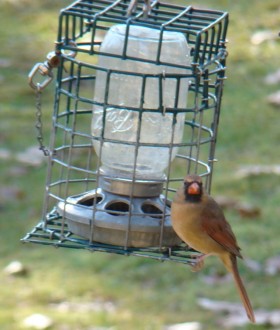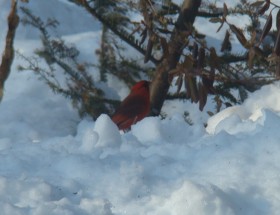 Male Cardinal's Song.

Call of the Cardinal
Scientists have described at least 16 different calls for the Northern Cardinal, but the one you'll hear most commonly is the loud, metallic chip in the second sound clip. Turn off the second clip to hear the first – the Cardinal's song.
Then turn on the second clip to hear this call. According to Cornell University's Lab of Ornithology, "Cardinals make [this] call when warning off intruders to their territory, when predators are near, as females approach their nests, and by both sexes as they carry food to the nest or when trying to get nestlings to leave the nest.
Additional resources
The Cornell Lab of Ornithology. "Northern Cardinal." http://www.allaboutbirds.org/guide/Northern_Cardinal/sounds (accessed April 20, 2013)