| Year | Population |
| --- | --- |
| 1970 | 7,873 |
| 1980 | 7,838 |
| 1990 | 8,854 |
| 2000 | 9,068 |
| 2010 | 9,015 |
Geographic Data
N. Latitude
43:33:37
W. Latitude
70:12:38
Maine House
Dist 30,32
Maine Senate
District 29
Congress
District 1
Area sq. mi.
(total) 58.4
Area sq. mi.
(land) 14.7
Population/sq.mi.
(land) 613.3
County: Cumberland

Total=land+water; Land=land only
Black Squall–1850
Snow Squall–1851
Warner–1851
Phoenix–1853
Portland–1853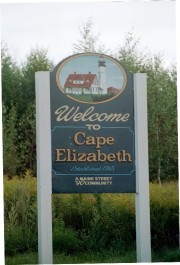 [CAPE ELIZ-ah-beth] a town in Cumberland County, incorporated on November 1, 1765 as a District from a portion of ancient Falmouth, most of which became Portland in 1786. On August 23, 1775 it was incorporated as a town.
On March 15, 1895 the town was split, a portion forming South Portland and the remainder retaining the name Cape Elizabeth. The sharp drop in population in the chart below documents the results of the division.
The earliest European presence was on Richmond Island, off the southern portion of the town.  It was visited about 1605 by Samuel de Champlain and was the site of a trading post in 1628.
The area was first settled by Europeans in the 1630's and shared the difficulties of frontier life and Indian raids as did the surrounding "ancient Falmouth" area. In 1635 John Winter, who had a fishing station there, established Maine's first shipyard on Richmond Island. Letters to his patron in England describe the scene, according to William Rowe:
We see the various buildings go up, the boats' crews arrive from England go out with their lines and bait, returning with their fare, sometimes good, sometimes light. . . . We read Winter's orders to his patron for clothing, strong waters, and fishing gear, or the iron work of a vessel he is building.
The clipper ship Snow Squall was built at the Alford Butler shipyard in 1851, along with others in Cape Elizabeth.
Currently a wealthy suburb of Portland, the town has a scenic coastline and a series of attractions including lighthouses at Two Lights State Park, Crescent Beach State Park, Fort Williams, and Portland Head Light. Just offshore shines Ram Island Ledge Light Station.
Olympic gold medalist runner Joan Benoit Samuelson was born in Cape Elizabeth, as was film director John Ford.
Form of Government: Council-Manager
Additional resources
See also South Portland
Cape Elizabeth (Me.). Collected manuscripts. 1730-1865. References are made to the following: Oakes Angier, John Avery, Henry Baldwin, Barrett Potter, Benjamin Blackman, Jonathan and Joseph Cobb, William Davis, Benjamin Dix, David Drowne, John Emery, Moses Gill, Rebecka Goodwill, Samuel Haines, Capt. Hammen, William Hammond, Edward Hines, Samuel Jackson, Eleanor Lee, North Proctor, Joseph Sawyer, Benjamin Thrasher, Samuel Treat, Nancy Thurston, Stephen Thurston, John Wadsworth, Joshua Webb, Lucy Wheeler. Access restricted to serious research. Includes receipts, official lists, military orders, memoranda, commissions, accounts, one each: indenture, license, deed and affidavit. [University of Maine, Raymond H. Fogler Library, Special Collections]
Cape Elizabeth: Past to Present. Portland, Me. Associated Graphics/Portland Lithograph. 1991.
Collections from Cape Elizabeth, Maine. Cape Elizabeth. Town of Cape Elizabeth. 1965.
Isaacson, Dorris. Maine:A Guide Downeast, p. 462.
Jordan, William B. A History of Cape Elizabeth, Maine. Bowie, MD. Heritage Books. 1987, 1965.
Jordan, William B. Chapters in the Early History of the Town of Cape Elizabeth, Maine. 1953.
Ledman, Paul J. A Maine Town Responds: Cape Elizabeth & South Portland in the Civil War. Cape Elizabeth, Me. Next Steps Publishing. 2003.
*United States. Department of the Interior. National Park Service. "Ram Island Ledge Light Station." https://npgallery.nps.gov/NRHP/GetAsset/68594c58-2669-4187-825b-e43388f0b654?branding=NRHP (accessed February 20, 2017)
Ray, Roger B. Cape Elizabeth and the American Revolution. Cape Elizabeth, Me. 1975.
Rowe, William Hutchinson. The Maritime History of Maine: Three Centuries of Ship Building and Seafaring. W.W. Norton. 1948. Reprinted: Gardiner, Me. Harpswell Press. 1989. Quote from p. 25.
Smith, Jared A. Sketch of Portland Harbor, Maine showing the improvements made in 1866-86, also projected improvements. [cartographic material] Washington, D.C. Government Printing Office. 1886. (including portions of Cape Elizabeth)
South Portland and Cape Elizabeth. Dover, N.H. Arcadia Publishing. 1995. (pictorial)
Thompson, Kenneth E. Portland Head Light & Fort Williams: an illustrated history with a walking guide map. Portland, Me. Thompson Group. 1998.
National Register of Historic Places – Listings
Beckett's Castle
[off Maine Route 77]
Brown, C. A., Cottage
[9 Delano Park]
Dyer–Hutchinson Farm
[1148 Sawyer Road]
Portland Head Light
[Portland Head off Shore Road] Portland Headlight is one of the four lighthouses in whose construction was authorized by President Washington and that has never been rebuilt. The main section of the tower remains in the same form as when it was completed in 1790. First lighted 1791, the tower was built of stone taken from nearby fields and the shore.
The original structure was 72 feet high with a 15 foot lantern. In 1813, twenty feet was removed from the tower and in 1883 another 21 feet was removed. Due to public reaction, it was raised again with brickwork in 1885. In 1900, it was repaired using the original stones from the section that had been removed in 1813. The first keepers' quarters was built in 1816. The current one was built in 1891 on the foundation of the old cottage.
Ram Island Ledge Light Station
[Ram Island Ledge, Portland Harbor] This Light Station was established in 1905 to mark the hazardous and frequently submerged shoals at the northern side of the entrance to Portland Harbor. After the steamship California ran aground on the ledge in 1900, Congress appropriated funds in 1902 to begin construction of a light station on Ram Island Ledge. Work had not begun before the British schooner Glenrosa struck the reef during a heavy fog September 22, 1902. She was followed less than three months later by the fishing schooner Cora and Lillian.
These mishaps clearly illustrated the need for a light and fog signal on the island in the busy shipping lanes near Portland. The light in the 77 fo0t tower operated for the first time on April 10, 1905. Sixty years later it was automated.*
Richmond's Island Archeological Site
[Address Restricted]
Spurwink Congregational Church
[Spurwink Avenue]
Two Lights
[off Maine Route 77] The lighted eastern (black capped) beacon is one of the most important along the northeast coast. Marking the entrance to Portland Harbor, it is a key navigation landmark. The twin towers also represent an era when double lights were used for ranging (finding one's position at sea).
In 1811 a 50-foot rubblestone and lime mortar tower was built on the site of the east light by Revolutionary War General Henry Dearborn. In response to rapid growth in shipping, twin 65-foot stone beacons 129 feet above sea level were installed in 1827. Located 300 yards apart, the eastern tower showed a fixed light and the western, a flashing light 45 seconds on and off. In 1854, the new Fresnel lenses were added to both.
In 1855 the western light was discontinued. Protests, especially by fishermen who used the lights for triangulating the position of nets and traps, resulted in the light being restored in 1856.
In 1874, the stone towers were torn down and replaced by the cast iron structures now remaining. For economy in 1882 the western light was extinguished. Congressman Thomas B. Reed overturned the decision. Finally, despite protests, the western light was permanently extinguished in 1924. During the Second World War, it was stripped of its lantern and used as an observation post. In 1959, the tower along with 10½ acres, was sold by bid to the screen actor, Gary Merrill.* [See lighthouses.]